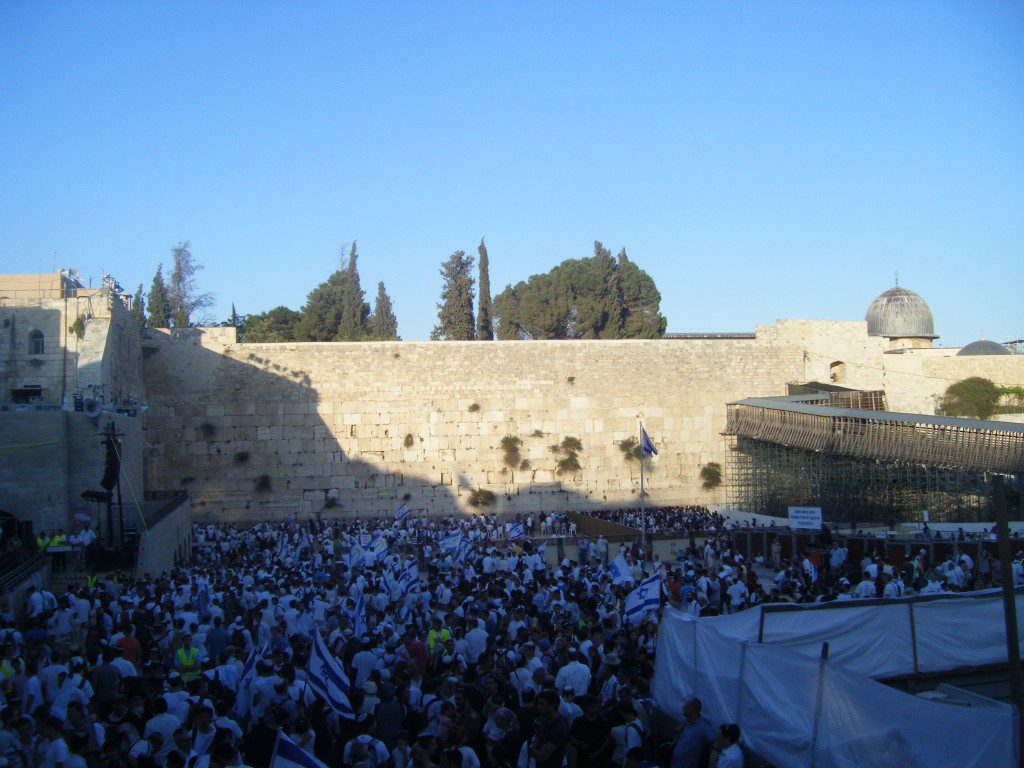 DEAL FACTS:
Groupon promo codes don't apply to this deal.
Questions about this Groupon offer and final bookings must be done with Gate 1 Travel: 1-800-682-3333
All available travel dates are between January – March 2017. Scroll down for all available options.
Flight upgrades for connecting flights to (ORD / JFK) nonstop flight are available for approximately $200-$300, call Gate 1 Travel for the exact price for your date.
Deal must be booked on GroupOn here, and redeemed/itinerary booked with Gate 1 Travel by 10/14/16.
This Groupon deal includes:
Round-trip airfare from Chicago/ORD or New York/JFK to Tel Aviv/TLV
Airline taxes and fuel surcharges included
1 night of accommodations at Prima City Tel Aviv Hotel or Tal Hotel Tel Aviv in Tel Aviv
2 nights of accommodations at Prima Galil Hotel, Maagan Kibbutz Holiday Village, or Ron Beach Hotel in Tiberias
3 nights of accommodations at Prima Park Hotel or Mount Zion Hotel in Jerusalem
All transfers
8 meals included: 6 breakfasts, 2 dinners (kosher & mehadrin food available upon request)
Sightseeing per itinerary in modern air-conditioned motorcoach
Services of English-speaking tour manager throughout
Entrance fees per itinerary
All options priced per person, based on double occupancy, or pay an additional $400 fee to travel solo
Stays can be extended for a fee. [I highly recommend extending your trip if you can and explore Israel on your own! You can easily get by with English.]
Cancellation policy & fees: $200 fee per person to cancel; 61-day cancellation required or fee of 50% Groupon price; 31-day or fee up to 90% Groupon price; 2-day or fee up to Groupon price. Airfare nonrefundable after booking.
Book by 10/4/16 or promotional value expires
ADVICE: Read ALL the fine print before purchasing the GroupOn on the deal page here. 
Itinerary at a Glance
Day 1: Depart for Israel from Chicago or New York
Day 2: Arrive in Tel Aviv
Day 3: Take a walking tour of Tel Aviv before departing for Caesarea and Tiberias
Day 4: Spend a full day at leisure in Tiberias along the Sea of Galilee
Day 5: See the archaeological site of Beit She'an en route to Jerusalem
Day 6: Tour Jerusalem's Old City
Day 7: Spend a full day at leisure in Jerusalem
Day 8: Return to the United States  //  OR extend your trip and stay longer!!
TIPS FOR YOUR TRIP … especially if you extend your stay. Make sure to bookmark these posts and save them for later:
---
DATE OPTIONS for the Trip, all are between January and March 2017:
Option 1: New York City: 6 Nights, Depart 1/7/2017 – $999
Option 2: New York City: 6 Nights, Depart 1/8/2017 – $999
Option 3: Chicago: 6 Nights, Depart 1/13/2017 – $999
Option 4: New York City: 6 Nights, Depart 1/14/2017 – $999
Option 5: New York City: 6 Nights, Depart 1/15/2017 – $999
Option 6: Chicago: 6 Nights, Depart 1/20/2017 – $999
Option 7: New York City: 6 Nights, Depart 1/21/2017 – $999
Option 8: New York City: 6 Nights, Depart 1/22/2017 – $999
Option 9: Chicago: 6 Nights, Depart 1/27/2017 – $999
Option 10: New York City: 6 Nights, Depart 1/28/2017 – $999
Option 11: Chicago: 6 Nights, Depart 2/3/2017 – $999
Option 12: New York City: 6 Nights, Depart 2/4/2017 – $999
Option 13: Chicago: 6 Nights, Depart 2/10/2017 – $999
Option 14: New York City: 6 Nights, Depart 2/11/2017 – $999
Option 15: New York City: 6 Nights, Depart 1/5/2017 – $1,099
Option 16: Chicago: 6 Nights, Depart 1/8/2017 – $1,099
Option 17: New York City: 6 Nights, Depart 1/11/2017 – $1,099
Option 18: Chicago: 6 Nights, Depart 1/11/2017 – $1,099
Option 19: New York City: 6 Nights, Depart 1/12/2017 – $1,099
Option 20: New York City: 6 Nights, Depart 1/13/2017 – $1,099
Option 21: Chicago: 6 Nights, Depart 1/14/2017 – $1,099
Option 22: Chicago: 6 Nights, Depart 1/15/2017 – $1,099
Option 23: New York City: 6 Nights, Depart 1/18/2017 – $1,099
Option 24: Chicago: 6 Nights, Depart 1/18/2017 – $1,099
Option 25: New York City: 6 Nights, Depart 1/19/2017 – $1,099
Option 26: New York City: 6 Nights, Depart 1/20/2017 – $1,099
Option 27: Chicago: 6 Nights, Depart 1/21/2017 – $1,099
Option 28: Chicago: 6 Nights, Depart 1/22/2017 – $1,099
Option 29: New York City: 6 Nights, Depart 1/25/2017 – $1,099
Option 30: Chicago: 6 Nights, Depart 1/25/2017 – $1,099
Option 31: New York City: 6 Nights, Depart 1/26/2017 – $1,099
Option 32: New York City: 6 Nights, Depart 1/27/2017 – $1,099
Option 33: Chicago: 6 Nights, Depart 1/29/2017 – $1,099
Option 34: New York City: 6 Nights, Depart 2/18/2017 – $1,099
Option 35: New York City: 6 Nights, Depart 2/25/2017 – $1,099
Option 36: New York City: 6 Nights, Depart 2/1/2017 – $1,199
Option 37: Chicago: 6 Nights, Depart 2/1/2017 – $1,199
Option 38: New York City: 6 Nights, Depart 2/2/2017 – $1,199
Option 39: New York City: 6 Nights, Depart 2/3/2017 – $1,199
Option 40: Chicago: 6 Nights, Depart 2/5/2017 – $1,199
Option 41: New York City: 6 Nights, Depart 2/8/2017 – $1,199
Option 42: Chicago: 6 Nights, Depart 2/8/2017 – $1,199
Option 43: New York City: 6 Nights, Depart 2/9/2017 – $1,199
Option 44: New York City: 6 Nights, Depart 2/10/2017 – $1,199
Option 45: Chicago: 6 Nights, Depart 2/12/2017 – $1,199
Option 46: New York City: 6 Nights, Depart 2/15/2017 – $1,199
Option 47: Chicago: 6 Nights, Depart 2/15/2017 – $1,199
Option 48: New York City: 6 Nights, Depart 2/16/2017 – $1,199
Option 49: New York City: 6 Nights, Depart 2/17/2017 – $1,199
Option 50: Chicago: 6 Nights, Depart 2/17/2017 – $1,199
Option 51: Chicago: 6 Nights, Depart 2/19/2017 – $1,199
Option 52: New York City: 6 Nights, Depart 2/22/2017 – $1,199
Option 53: Chicago: 6 Nights, Depart 2/22/2017 – $1,199
Option 54: New York City: 6 Nights, Depart 2/23/2017 – $1,199
Option 55: New York City: 6 Nights, Depart 2/24/2017 – $1,199
Option 56: Chicago: 6 Nights, Depart 2/24/2017 – $1,199
Option 57: Chicago: 6 Nights, Depart 2/26/2017 – $1,199
Option 58: New York City: 6 Nights, Depart 3/4/2017 – $1,199
Option 59: New York City: 6 Nights, Depart 3/1/2017 – $1,299
Option 60: Chicago: 6 Nights, Depart 3/1/2017 – $1,299
Option 61: New York City: 6 Nights, Depart 3/2/2017 – $1,299
Option 62: New York City: 6 Nights, Depart 3/3/2017 – $1,299
Option 63: Chicago: 6 Nights, Depart 3/3/2017 – $1,299
Option 64: New York City: 6 Nights, Depart 3/8/2017 – $1,299
Option 65: Chicago: 6 Nights, Depart 3/8/2017 – $1,299
Option 66: Chicago: 6 Nights, Depart 3/10/2017 – $1,299
Option 67: New York City: 6 Nights, Depart 3/11/2017 – $1,299
Option 68: New York City: 6 Nights, Depart 3/9/2017 – $1,399
Option 69: New York City: 6 Nights, Depart 3/10/2017 – $1,399
Option 70: New York City: 6 Nights, Depart 3/16/2017 – $1,399
Option 71: New York City: 6 Nights, Depart 3/18/2017 – $1,399
Option 72: New York City: 6 Nights, Depart 3/23/2017 – $1,399
Option 73: New York City: 6 Nights, Depart 3/25/2017 – $1,399