Over the last few years, we've seen an influx of kosher gastropubs and a whole variety of bars pop up in Israel, mainly in Jerusalem and the Tel Aviv area.  Not only do they all sell kosher Israeli boutique beers, international beers, hundreds of types of whiskey, wine, and cocktails, but the food is really good as well!
We covered two main areas: the Jerusalem area and the Greater Tel Aviv area
Save this guide of 13 pubs & bars in Israel and share it with your buddies. Your problems of finding good food paired with good drinks are over.
Here's your guide to Kosher Gastropubs, Cocktail Bars, Brewpubs & Bars in Israel!

Jerusalem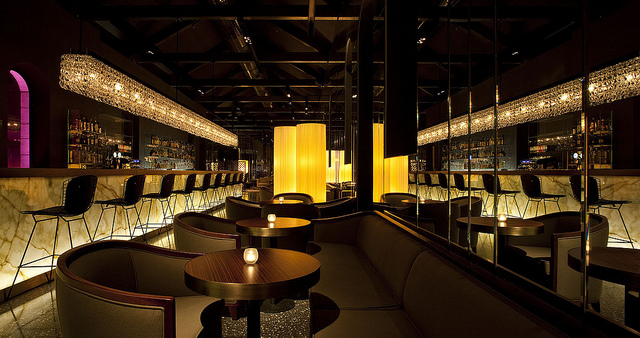 Mirror bar
Mirror Bar is a very stylish and modern bar that is one of the only bars in the city that has a cigar room. Located within the Mamilla Hotel, the bar offers a high quality cocktail menu, a huge selection of wines and a finely curated tapas menu. Mirror Bar is pricey, but a very elegant and classy venue to enjoy a night on the town with your friends or a date.
Kashrut under the Rabbanut Yerushalayim
Mike's Place
A veteran Jerusalem establishment, Mike's Place has been around for a long time and has been the place for Anglos to go out, enjoy a cold brew, and eat some of the best bar wings in Israel. Mike's Place is also a live music venue & sports bar where many enjoy one of the many American beers on tap. The food at Mike's Place is your run of the mill bar food: burgers, sandwiches, chicken wings, and one of the only places in Jerusalem to get tasty Mexican food.
Mike's Place Has opened up a new kosher location in Tel Aviv as well. Located on 14 Haarbah st. it has now switched over to a kosher kitchen under the Tel Aviv Rabbanute supervision.
Kashrut under the Rabbanut Yerushalayim
O'Connell
O'Connell is an Irish bar with a selection of over 40 types of Irish whiskey, 12 beer taps, and gastropub fare. O'Connell's menu offers burgers, salads, sandwiches, and a house specialty: fish n' chips served with a Guinness to wash it down.  The food is legit but on the pricier side.
Kashrut under the Rabbanut Yerushalayim
Zuta
Zuta is located in the back of the chef's restaurant, 1868, and is one of Jerusalem's up and coming cocktail bars. Being a part of the 1868 establishment, Zuta offers a large variety of high quality cocktails and a robust selection of gourmet dishes to accompany them like the gnocchi and veal short ribs or the duck, coriander and tomato salad. The bar is small and intimate, so make sure you reserve a spot before you enjoy an evening of good spirits and food.
Kashrut under the Rabbanut Yerhusahlayim
Resto Bar (Modiin)
Located in the city of Modiin, a couple of miles north of Jerusalem, is Resto Bar. Resto Bar is the first Kosher bar to open in in the city. It is a place where you can enjoy a cold one on the inside and smoke a hookah in the lounge outdoors. With a menu composed of sandwiches and dishes that fit the Israeli palette, like a chummus platter or a kebob on a ferena bun, you will find that the food is quite tasty and the ambiance fits the vibe as well.
Kashrut under the Rabbanute Modiin
Bell Wood Bar
Bell Wood Bar is designed as an English style pub, but other than the design & fish n' chips they're the only British things there. With an age restriction of 22+, it isn't your typical roudy bar. Bell Wood Bar offers a unique selection of beers on tap and a nice menu of bar food, which also makes it a great place to catch a live soccer match with your friends.
Kashrut under the Rabbanut Yerushalayim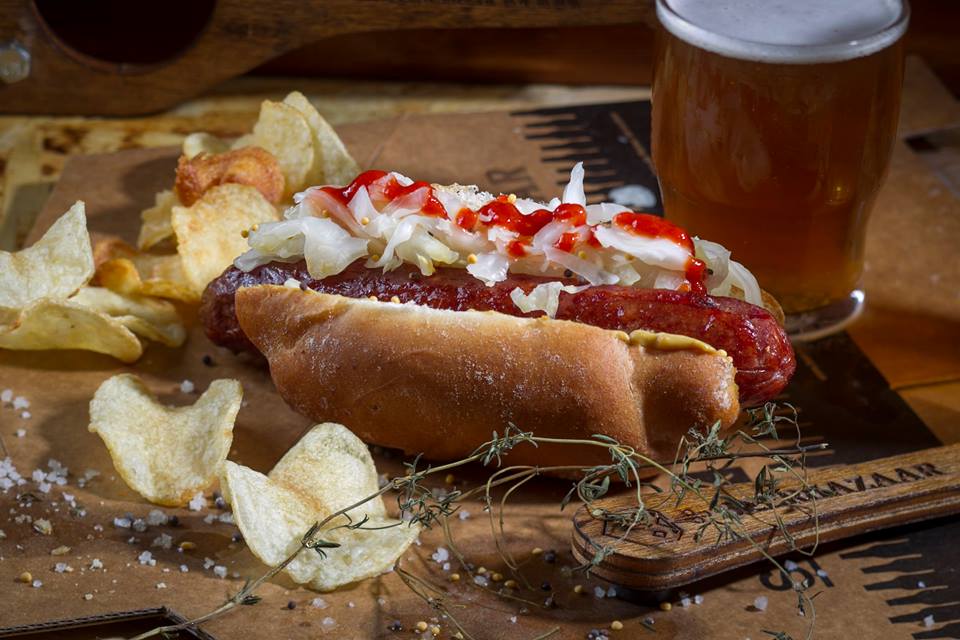 Beer Bazaar Jerusalem
New to the Machne Yehuda Market, the Beer Bazaar is a new and different concept to anywhere in Israel: one can purchase over 100 Israeli types of bottled beer to take home, or choose from one of the 11 beers on tap.  If you decide to stay and try the local beers, you can enjoy one of the best kosher chili-con-carne in Israel, or a great pastrami sandwich. Their very long and sophisticated beer selection is accompanied by a relatively simple food menu.
Kashrut under the Rabbanut Yerushalayim
The Greater Tel Aviv Area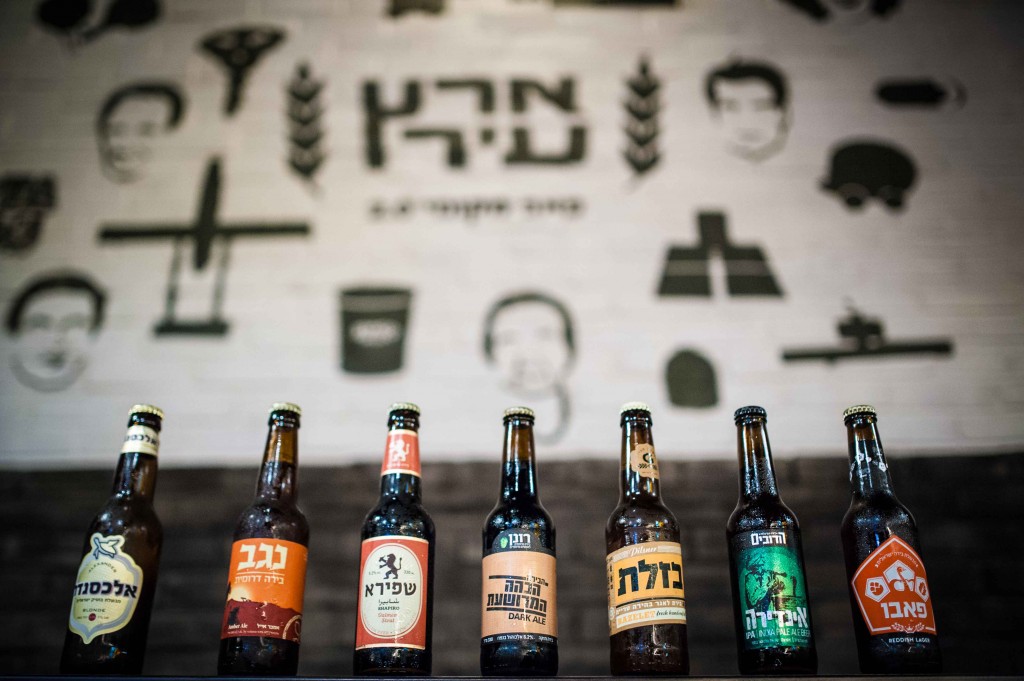 Eretz Ir
Eretz Ir has a persona of trying to be as Israeli as possible. They offer over 50 Israeli beers and a delectable meat menu. They incorporate a lot of Israeli food items in their menu including using crushed Bisli snacks to coat their schnitzel or using Israeli beers in their stew.
It's all about the local product here and being kosher in a neighborhood dominated by people that don't keep kosher – quite an impressive feat. If you are looking for a real taste of Israel then Eretz Ir is the place.
Kashrut under the Rabbanut Tel Aviv
Tarlach (Petach Tikva)
Tarlach in Hebrew (תרל"ח) was the year Petach Tikva was established. So having a very Zionistic name has had an impact on how the bar operates. Tarlach is an Israeli style bar with a dairy menu, that connects old Israel with the new. Visually, the pub is decorated with old Israeli art but its menu is filled with modern cocktails and Israeli beers. The menu includes a "Zionist" bagel toast or the Yoel Moshe Salomon: cured salmon on bruschetta. Strictly Hebrew music is played adding to its hipster vibe.
Kashrut under the Rabbanut Petach Tikva
Makom Mehasratim
Imagine a karaoke bar in the heart of Tel Aviv that has delicious kosher food prepared by a local chef and singing waiters! Open your eyes … you're experiencing Makom Mehasratim! In addition to karaoke, Makom Mehasratim has a dance bar, and a live DJ where the party doesn't really start until after 10pm. A very large venue that is great for private parties, its eclectic menu will satisfy everyone's tastes! An amazing experience if for the foodie and music lover.
Kashrut under the Rabbanut Tel Aviv
Jem's (Petach Tikva, Ra'anana, Kfar Saba)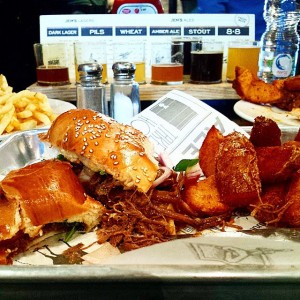 Jem's has three different locations to date, but the one you want to go to visit to have the full Jem's experience is in the original gastropub in Petach Tikva. [Read the YeahThatsKosher review on Jem's]
Jem's is a favorite among all pub goers and not only for the kosher crowd. It is always full and you should have a reservation (days in advance, sometimes weeks) when trying to go weekdays. Weekends can be first come first serve, although a Saturday night reservation is recommended.
Jem's is the only kosher microbrewery to have a full fledged restaurant-quality menu within. They pair the dishes very well with the types of beer that they make in house on a daily basis. The beer comes right from the vat to your table – it's truly a one-of-a-kind foodie experience.
Last but not least, one of the most unique things about Jem's is it outdoor half court basketball court, right out front! If you're waiting to be seated, or just want to shoot some hoops, there's nearly always someone out there willing to shoot with you.
Under the local Rabbanut supervision in each location (Petach Tikva, Ra'anana, and Kfar Saba)
Brener Wine Bar (Ra'anana)
The Brener Wine Bar is a new addition to the already fast paced foodie haven located in Brener square in Ra'anana. The wine bar is a very modern designed bar with a large wine selection from over 40 local wineries and a cocktail menu that won't disappoint any mixologist. They have a tapas style menu, small shareable dishes for the table. Each dish is paired beautifully with a local wine, and is just as delicious as the wine its accompanied by.
Kashrut under the Rabbanut Ra'anana
Dandi Bar
One of Netanya's only kosher bars, Dandi Bar is for everyone. A different special every day, from bottomless beers on Mondays to  buy one get one free hamburgers on Sundays.  Dandi Bar is a young and hip environment typically with a group of friends that came in to watch the game or just to enjoy some good food.
Kashrut under the Rabbanut Netanya
Resto Bar