Many Israelis take their vacations domestically, and for good reason. The combination of the high costs of air travel out of TLV and the amazing landscape that Israel has to offer keeps many Israeli vacationers from leaving the country, and attracts millions of foreigners as well.
So if you need a vacation from the yishuv, the Old City, non stop Tel Aviv, or are heading to Israel from abroad, you're going to need this ultimate guide for Spas in Israel with kosher restaurants for some true rest & relaxation.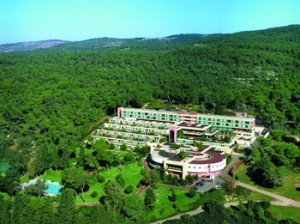 The Carmel Forest Spa Resort

This adults only spa restricts visitors from using their cell phones in public areas, showing that this is place is serious about escaping everyday life and helping guests focus on tranquility and relaxation. In addition to spa treatments, guests can enjoy yoga and meditation classes, as well as nature walks.Breakfast and dinner are included in the price for this spa resort. Lunch is available for additional fee. All food is made with your health in mind, providing nutritious and delicious options. Carmel Forest Spa Resort is certified by Chof HaCarmel, with veggies from Gush Katif, and Mehadrin chicken and cheeses.
Cramim Spa ResortA short drive out of Jerusalem, Cramim Spa Resort has both indoor and outdoor pools for guests to use. There are fitness and exercise rooms, dry and wet saunas, and a room for davening.

Cramim Spa

Cramim Spa Resort has a bountiful dairy breakfast buffet, with cold salads, and hot dishes. A meat dinner is available, but not included in your resort package. The Rabbanut Mateh Yehuda, Rav Avraham Charlap certifies the food.

Beresheet Resort at Mitzpe RamonThe Beresheet Resort provides guests with gorgeous desert and mountain views. It is family friendly and has a game room for kids, a movie theatre, tennis courts, and an outdoor waterfall pool.

Beresheet pool & view of Mitzpe Ramon

The Beresheet Resort's half board plan includes breakfast and dinner. Breakfast features a vast buffet of Israeli cheeses, salads, fish, breads, and prepared hot dishes. Dinner also includes a large buffet of salads, fresh veggies and antipasti. Food is available a la carte throughout the day for hungry guests. The hashgacha is under the Rabbanut Mitzpe Ramon.

Hamakom SuitesEvery room at this boutique hotel near the Lebanese border has a mini kitchen and dining area, an outdoor patio, and a private indoor heated pool and Jacuzzi.Hamakom Suites offers a large dairy breakfast, served in the main dining room. The local Rabbanut of the Moshav, Rav Ofer Kashani certifies the food. A bottle of wine is a standard complementary gift for all guests at Hamakom Suites.
The Shizen Lifestyle ResortThis resorts offers guests with breathtaking views of the sea in a relaxation getaway. Each guest also is treated to a complimentary 30 minute massage.Visitors enjoy a complimentary breakfast, served until 10:30am at the Shizen Lifestyle Resort. It is under Rabbanut Herzliya's hashgacha.
Amirey HagalilThe Amirey Hagalil, located in the Upper Galilee, is a beautiful boutique hotel, mimicking one that you might find on the French countryside. Each suite features a Jacuzzi and a mini kitchen.Guests on the half board plan at Amirey Hagalil are entitled to complimentary breakfast and dinner at Bein Kramim, a restaurant on site. The dinner menu options include meat, chicken, fish, and vegetarian options. It is certified by Mehadrin Rabbanut.
Europa 1917This unique boutique hotel is in a preserved historic building, located in Tiberias. It has been beautifully renovated into a modern hotel and spa.Guests are entitled to a complimentary breakfast and dinner, under supervision by the Rabbanut Tiberias. Europa 1917's breakfast features a large buffet of Israeli treats, including cold salads and hot dishes. Dinner takes place at Victoria Restaurant, located on the premises. It is truly a unique dining experience, featuring Balkan and Turkish dishes with a European flair. The restaurant serves breakfast and dinner under the hashgacha of the Rabbanut Tiberias. Mehadrin meat is available upon request.