One of Tel Aviv's hottest hangout spots for a couple of years now is the Port of Tel Aviv, aka the Namal. The port is frequented by those seeking a great place to take a date, a stroll along the boardwalk, and around the chagim there are many attractions for the whole family to enjoy. The port is very child friendly with lots of parking, parks for kids to play in, as well as bike rentals to travel around and see the whole port. There's also a large shopping center for clothing, food, and much more.
While enjoying a date or a family outing, here is a list of the kosher venues you can enjoy while visiting the port:
Lechem Basar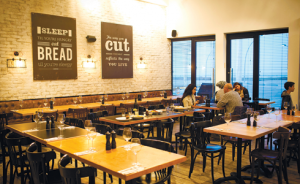 We have written in the past about Lechem Basar as one of Tel Aviv's top meat kosher mehadrin restaurants in Tel Aviv. This is the original branch of the chain that has three locations to date. Lechem Basar's concept is the fusion of fresh baked breads with quality meats. For example, the restaurant offers a dish called "Lachmagun," which is a fresh loaf of bread filled with ground beef or lamb and served with tahini sauce. A unique concept, located right on the water.
Kosher Mehadrin HaRav Machpoud
Halivanonit Banamal
The Lebanese at the Port it an authentic Lebanese meat experience. You can find dishes like fattoush salad – served with fried pita and a lemony vinaigrette, or Maschan – chicken thigh marinated in sumac served on a laffa bread with some really unique side dishes.
Kosher Rabbanute Tel Aviv 
Cafe Cafe
Cafe Cafe in the port of Tel Aviv is one of the coffee shops many locations around Israel. The biggest advantage that this cafe is its ambiance, located right on the Mediterranean. Cafe Cafe is an ideal place take a date or even to bring the family.
Kosher Badatz Chasam Sofer
Cafe Greg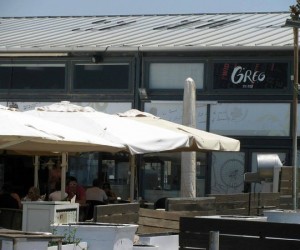 Cafe Greg was open seven days a week until recently, when the owners not only have gone kosher, they made it kosher Mehadrin. What you will find at Cafe Greg is a high end coffee shop with very good dairy dishes: pastas, salads, pizza and more. It is a child friendly cafe including a kids menu and coloring pages for when you sit down.
Kosher Mehadrin Rabbanute Tel Aviv 
Oshi Oshi
Oshi Oshi is a chain of Asian fusion restaurants offering many different types of Asian fare including sushi, kimchi, stir fries and meat dishes. The ambiance for this Oshi Oshi location is very attractive because of the port. Some of the dishes like the dim sum aren't made from scratch, but most of the food is made in-house and is a nice place to end your day.
Kosher Badatz Beit Yosef
Bariba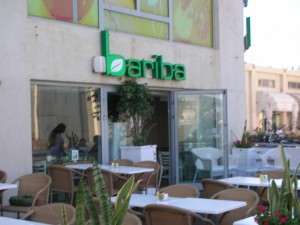 Bariba offers a very healthy approach to their cuisine with a variety of fish and dairy dishes with all of them are made on the healthier spectrum of the dairy scale. You can find poached fish with a quinoa side dish or a salad with low fat cheese or even goat cheese. Bariba is a great healthy alternative to the regular dairy restaurant fare.
Kosher Rabbanute Tel Aviv