In the center of Jerusalem, a few minutes walk from the Old City walls and central shopping area, lies a 19th Century train station with a route to Jaffa (that took 10 hours!) that has been dormant since 1998 when the line was closed down. [Read more about the history of the station here]
I visited this station with my yeshiva back in 2001 when it was merely a crumbling station and shoulder high weeds. The desolate station remained as such for much of the past decade until new construction activity began only a few years ago.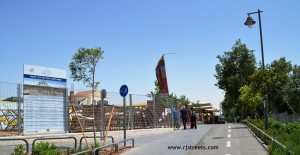 A month ago, a refurbished station was unveiled  not as a transportation hub, but as a commercial and cultural center for Jerusalemites and tourists to take advantage of and enjoy.
The area now features 4 kosher restaurants (not all of them have opened yet – see pictures below):
re:Bar – part of a chain of restaurants  across Israel
Fresh Kitchen – still under construction
Vaniglia Ice Cream – still under construction
Hamiznon Kitchen Station – Dairy and busy (though the inside photo does not show it), people were lined up outside as they were moving around tables for a group to come in; the outside was full and busy, portions looked fresh and large, word on street is very positive. They did not used to be kosher, but they are now.
(Special thanks to Sharon Altshul, Jerusalem resident, photographer, and tour guide: rjstreets.com)