Sarona Market is celebrating its first birthday! Sarona was opened to serve the people of Tel Aviv with an option for an air conditioned closed market with some of Israel's best and fresh produce, baked goods, and gourmet eats. It's based off Chef Mario Batali's Eataly, but in Hebrew and in Tel Aviv, with an Israeli flair. Expect more of these gourmet, foodie markets to be opening up around Israel in the next couple of years.
Sarona is split into two parts:
the outdoor section where there are designer shops and restaurants
the closed market that is all about food
We're writing about all the kosher locations in both areas.
Biga
Biga is a chain of restaurants/bakeries that offer fresh pastries and a full dairy menu to enjoy any time of the day. Not every Biga is kosher, so make sure before you head out there that it's a kosher branch. The food at Biga is a fairly standard dairy restaurant fare. The portions are very generous and they have an extensive fish menu. For the kids there are kids meals and for adults you will find a nice cocktail menu!
Kosher Rabbanut Tel Aviv
Lechamim
Lechamim is a bakery chain around the central area of Israel and has 3 locations in the USA as well known as Breads Bakery (which are not kosher certified). While walking around the market area, you can grab a quick bite in addition to buying some of the most amazing pastries in the Sarona. You will find the most amazing breads, cakes, cookies and pastries there to take home, but there is a nice menu of sandwiches, quiches, and pastries to go with a great cup of coffee.
Kosher Rabbanut Tel Aviv
Carmeli's
Carmeli's Bagels (CBB), a British import, has found a home in Sarona Market. Originating in London over 35 years ago, Carmeli's bagels, offers mainly bagels but other dishes like pastas and salad as well.  Carmeli's famous bagel are made from a unique mix of flour, are fully hand-made, and are meticulously maintaining the quality and freshness of the ingredients. Carmeli's is a great breakfast option.
Kosher Rabbanut Tel Aviv
Paradiso Cafe Sharona 
Paradiso Cafe Sarona took over for the previous dairy restaurant, Roy's Chocolate. One of the nice things with the new ownership is that they make most of the dishes from scratch, like the pasta's and pastries and salad dressings. Paradiso isn't located in the marketplace, but right outside in the Sarona complex where there is plenty of other shopping to find there. Open all day. Click here for the menu.
Kosher Rabbanut Tel Aviv
Deli Fleishman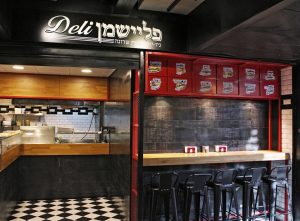 A new Deli stand has opened up in Sarona market called Deli Fleishman. This is not their first location, rather this is an expansion of their operations from their original restaurant on a Herzl street, in central Tel Aviv.Diners can get almost a half of pound of deli meat on one of three types of rolls: Sourdough, ciabatta or a Moroccan roll called ferena; condiments and as a side you get a baked potato and coleslaw, all for 42 shekels. Also on the menu: hamburgers, rib eye steak, sirloin steak or a schnitzel sandwich. The flagship sandwich is the shredded beef sandwich, made from fresh beef cooked hot to order. There are vegetarian options as well, like a salad that's served with ferena bread, roasted wild eggplant and tahini, a grated hard boiled egg all on top of a bed of lettuce and cut vegetables.
Kosher Rabbanut Tel Aviv
Netachim
We saved the only meat restaurant for last. Netachim isn't only a meat sandwich shop, they are meat specialists. Every type of meat, condiment, and sauce at Netachim is cold smoked in-house. In addition to being a gourmet deli sandwich shop, you can buy anything to take home. It isn't a restaurant, but it is definitely one of the best kosher meat sandwiches you will find in the city of Tel Aviv!
Kosher Rabbanut Tel Aviv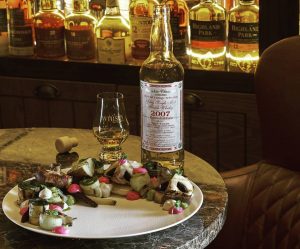 Whiskey Bar and Museum
When walking into the Whiskey Bar and Museum in Sarona Market Tel Aviv, you will be in awe. First, you head down two flights of stairs to an underground cellar built over 100 years ago by the Templars. Then through a dark tunnel leading up to the museum, and then out of nowhere, a golden wall offering over 1000 types of whisky from around the world! For any whisky lover this will be your new hangout spot. The menu that accompanies the drinks offers from a plate of charcuterie of prime rib sold by weight. A perfect place for those who love great meat and amazing whisky.
Kosher Hashgacha Pratit
Eco Lima
Eco Lima is a kosher chicken rotisserie made Peruvian style. What makes it Peruvian style? 2 things: The first is the unique spice blend they use on the chicken. The second is the unique Peruvian oven that cooks the chicken from the sides of the oven an not from the top. Some of the dishes you will find in Eco Lima are Muchu- a spring chicken on the bone, Pichu- a chicken breast served with two side dishes. There are also chicken sandwiches, chicken wraps, vegetarian options and short rib sandwiches, salads and rice and beans What makes the chicken very special are the sides and condiments all made in house. Like the campfire potatoes, 2 types of chili pastes to dip the chicken in, house made chimichurri and parsley pesto.
Kosher Rabbanut Tel Aviv