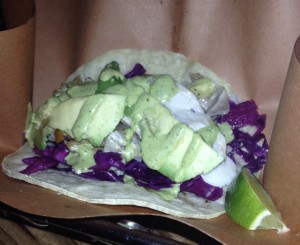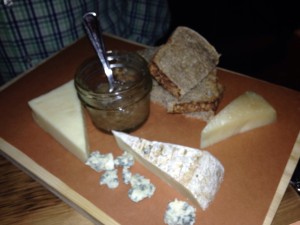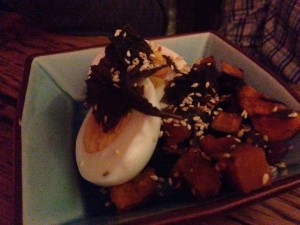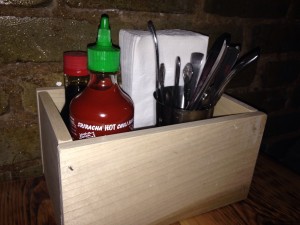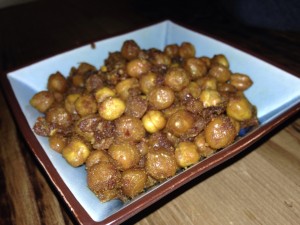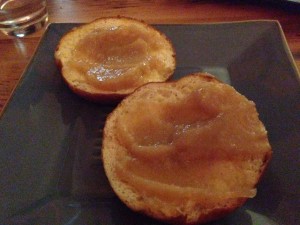 The brand new Mason & Mug just opened in the past 2 weeks in Prospect Heights, Brooklyn and despite the multiple posts I've already written about them, I wasn't entirely sure what to expect… beyond good food (as I've eaten Itta Roth's food at The Hester a few times before).
I paid a visit on a recent Saturday night with a few friends and my wife. From the exterior, there's little signage at the moment, its nondescript (for now). The first thing we noticed about the place on the inside is that it's small, but funky and cozy. It's also not a restaurant in the traditional sense. It's a bar … that happens to serve kosher food. But not just any regular kosher food; good, fresh, local, and innovative dishes.
The style of their menu is "tapas" or "small plates" which is Spanish style, but the cuisine is global. That means that compared to a typical restaurant (which again, this is not), the portions will be smaller, and you may need a healthy sampling of a few dishes to fill up.
The 2 places to eat/drink are on the stools, up against the bar, and in the back on high stools next to small high tables. Seating is limited, but it's that cozy feel that gives Mason & Mug its ambiance. Oh, and there's a bottle of Sriracha on every table. (Awesome!)
Our table of 4 tried the spicy chickpeas (yum), fish tacos (loved it), deviled eggs (unique), cheese plate (only for true cheese lovers), and a freshly baked donut with quince & cardamom for dessert (delicious and so different from any donut I've ever had).
I will say though, that despite all the awesome food, we were still hungry. My view on Mason & Mug is that it's not a restaurant, so it's not a place where you're going to have a full meal or stuff your face, unless you generally eat small portions. It's a place to chill with friends / Have a drink and a snack. Fortunately, it's the only bar in town with fresh kosher grub, and really tasty grub at that. It's also a great date place, assuming you or your date aren't starving and you want to actually get to know the other person. Otherwise, just get pizza and a movie.
View Larger Map