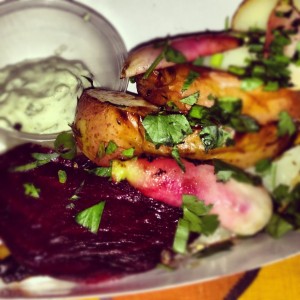 Review by @ArielleKlein
I love to eat and I love new experiences. Most kosher eating experiences are the same; a new place opens up, we try it out, food is anywhere from decent to amazing, service generally sucks, and as for ambiance, it often doesn't exist. Overall, apart from some restaurants with fabulous food, the kosher eating-out experience is nothing to write home about.
A few weeks ago when I read about "The Hester" in The Jewish Week I knew immediately that it was a unique kosher experience I had to try. The Hester is not a regular 5-6 day a week kosher restaurant. It's a once-a-month, invite-only, speakeasy run by Itta Werdiger Roth (a young Chabad mother of two) at her home in the beautiful and full-of-character Ditmas Park section of Brooklyn. In order to attend, you must get on the list and then RSVP (or keep tabs on their new website).
In order to "buy" food or drinks: tickets are purchased, which are then redeemed for the various food and drink options of your choice. 2 tickets are traded in for each of the 3 meals; 1 ticket for a beer, and 2 tickets for the mixed drinks. Water is free and served in old wine bottles, a fun touch. If you see that you havent purchased enough tickets more can be purchased on site.
The Hester features live music, but no dancing –  keeping in line with Orthodox views on modesty and mixed dancing. Itta, a personal chef, and her staff, prepare everything from locally sourced, organic, fresh ingredients. The menus usually feature dai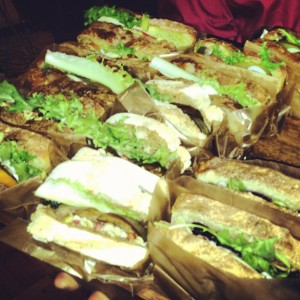 ry and vegetarian/vegan options, as well as delicious drinks.
Between the great kosher food, great music (and lack of dancing / women singing), it's actually the best of both worlds for many Orthodox Jews who want to maintain/explore both their religious and creative identities.
My experience at the Hester was everything I was expecting it to be and more. We got all gussied up and drove to Brooklyn. It felt really nice to dress up and get out … not something I do a lot these days with a young child at home. We were early, so we waited on the big wraparound porch till the doors opened. The crowd was mostly young, eclectic, stylish and a mix of all types of people, Jews and non-Jews. Definitely a departure from the typical kosher restaurant experience.
When we walked in we gave our names and received our tickets. The lighting was low and there were small tables with votives creating a really warm and cozy vibe. We got a table right up front near the music. Two servers came around and explained the menu. The night we were there (Sept 9th) the starter dish was a medley of roasted seasonal veggie wedges with parsley and garlic sour cream. The vegetables which consisted of baby multicolored carrots, spring radish, red potatoes, and red beets were roasted in butter and garlic. The colors made for a really pretty presentation and the butter added a richness that I'm not used to having with roasted veggies.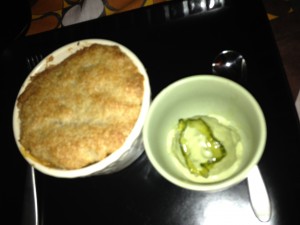 The main course was a choice of 3 sandwiches; one vegan option. I opted for the honey, fig, goat cheese and arugula sandwich, and Dani had the pastured egg, homemade dill pickle, spicy mustard, and greens sandwich. Both were served on delectable, thick cut artisan bread and neither of us left an extra bit over.
Since we shared the appetizer and each only had a sandwich we each opted for our own dessert: warm peach cobbler with basil-cucumber ice cream. The dessert was so good that we didnt lift our heads or talk until every drop was done. Dani and I also had a drink a watermelon jalapeño Margarita. It was a bit strong for us but neither of us are big drinkers.
The whole time at The Hester we got to people watch, listen to some great jazz, and chill with friends.   It was a unique, one of a kind experience and one of the best nights out I had, ever.
The next Hester event will be taking place on October 23rd.