For those reading this site for a long time now, you already know I'm a big fan of earning and using credit card points for travel, and it's no secret that Chase's Ultimate Rewards points are pretty damn good.
I consider the Chase Freedom card to be the best No Annual Fee credit card on the market and has been for a long time.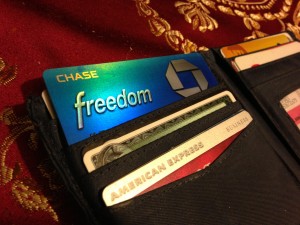 If you (or your spouse) do not have a Chase Freedom card in your wallet, now is the time to get it! The sign up bonus has just been doubled to $200 or 20,000 points (which can often be used for more than $200 worth of travel)!
(Sign up bonus is met after $500 is spent on the card within the first 3 months)
HURRY! This offer expires on June 15th. 
I've previously blogged about why the Chase Freedom card is an essential card that you should have in your wallet. A quick rundown of those points are:
It's FREE! No annual fee. Ever.
Earns 5x points (which I see as a minimum of 5% cash back, if not more) on different categories every quarter. This quarter it's restaurants (very useful for this kosher restaurant blogger!). Other quarters feature 5x points on gas, department stores, Amazon.com, and other useful places where you spend your money.

Earn an extra $25 when you add an

 authorized user and make your first p

urchase in your first 3 months from 

account opening.

Points that are earned are flexible, especially if you also have another Chase credit card like Sapphire Preferred or one of the INK cards. (Even if you don't, this card is still valuable).
There are other reasons this card is great, but these definitely suffice to pull the trigger and sign up for the card before this offer expires (on June 15th).
(Disclaimer: YeahThatsKosher receives a referral credit if you apply through our link. We thank you for the support. It is much appreciated.)