Coincidence? Prepare for the holiday about our freedom using Chase Freedom.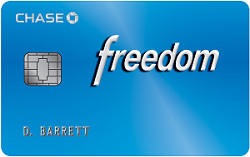 For those of you that have active Chase Freedom accounts, you have a few days to properly take advantage of it's quarterly 5x points bonuses, which for Q1 includes groceries and supermarkets (including Trader Joe's, Stop & Shop, ShopRite, and all the major national chain supermarkets as well as the larger kosher markets as well). For anyone making Pesach at home, spending on groceries this week will likely be the most you'll spend in this category all year, hence this reminder:
… Do as much of your Pesach grocery shopping on your Chase Freedom card before March is over (assuming you have activated it previously for Q1 bonuses). For those not keeping track, April (the beginning of Q2) starts on Wednesday, which means that you should attempt to do as much of your Pesach shopping as possible before 11:59pm Tuesday night, March 31st.
You will earn 5x Ultimate Rewards points on those grocery/supermarket purchases, which is worth a minimum of 5% cash back, but more if you end up using them for travel in conjunction with a Chase Sapphire or Chase Ink account. Small families tend to spend well over $1000 on groceries for the 8 day holiday, larger families can spend 2-3x that. That's a minimum savings of $50-150.
Furthermore, you should also think about how you'll be using the Chase Freedom card in Q2 (which you can activate now) which begins this Wednesday, April 1st. Using the Freedom card in Q2 will earn you 5x UR points at all RESTAURANTS (thank you Chase!), as well as all Bed Bath and Beyond stores (in case you need new Pesach utensils), Overstock.com, and at all H&M stores (for some new holiday clothes).
[If you don't have a Chase Freedom card, it's not too late to take advantage of the Q2 restaurant-earning 5x promotion. CLICK TO APPLY. The card has no annual fee & you'll receive 10,000 points for signing up.]
With your house all clean for the chag, or in case you're in Miami or otherwise away from home, we know you'll be eating out at restaurants more than usual. Be sure to use your activated Freedom card for 5x points in the days before the holiday at restaurants, during Chol Hamoed at these Kosher restaurants that will be open (in the U.S. only though), and obviously after the holiday at restaurants through the end of June.
If you have any other credit card maximizing tips, please share them in the comments below.
Wishing everyone a Chag Kasher V'Sameach!