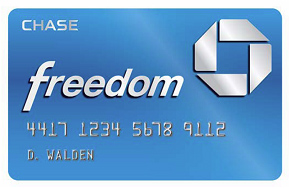 I haven't really blogged about credit cards often, although I should since they're a huge aid to the frequent (and even occasional) traveler.
One of the credit cards that both my wife and I use regularly, and that I have been recommending to friends personally, is the Chase Freedom card. While Chase has a handful of credit cards that I would recommend getting and using to rack up points to travel, the first of the cards I advise getting is the Freedom.
Here are some benefits:
FREE: No annual fee, ever.
10,000 point bonus after $500 spend within first 3 months. Very doable!  (FYI – Chase refers to the 10,000 points as $100 cash back. The points can obviously be used for other things like travel, but you can choose cash back as well)
5X points on selected categories each quarter (for first $1500 spent in those categories) – Categories change each quarter every year.

Q4 – which begins Oct 1st – the spend categories are: all purchases on Amazon.com AND via selected Department Stores including: Macy's, Sears, Kohl's, Nordstrom, JC Penney, Barney's New York, Bloomingdales, Loehmann's, Lord & Taylor, Saks Fifth Ave & Off 5th, and others.
This quarter – Q3 – which is too late to sign up for the bonus for – the categories included Gas Station (perfect for summer road trips), Theme Parks (also a perfect summer category for families, and Kohl's.

Earning UR (Ultimate Rewards) Points – a powerful points earning system that works well with Chase's other credit card products, and allows you to redeem points for travel at a great rate. (Works even better if you have a Chase Sapphire Preferred card or a business Chase Ink card – allowing you to transfer your points to various airlines).

Here are some reasons why UR points are awesome (via @ThePointsGuy):

There is no fee to transfer points.
Chase is flexible and instantaneous with external transfers. Chase just asks for the name of the person you want to transfer to (meaning you can transfer points to someone else's airline account). A couple clicks later and the transaction is done. This is amazingly helpful when family/friends need to top up accounts and you can come in and save the day, saving them potentially hundreds of dollars from having to buy miles directly from the airlines. Chase's transfers are all instantaneous, whereas some of American Express' can take several days (for partners like ANA and Singapore). American Express also lets you transfer to other people, but I just feel like Chase's process is easier and more efficient.
Chase is very flexible and instantaneous with internal transfers. Chase allows points to be transferred to anyone else that has a UR account. I could transfer my points to my wife, dad, friend in Brooklyn, cousin in Seattle, etc. Pretty awesome.
There are more reasons that UR points are pretty sweet … read them here.

While banks tend to value their points at $0.01 each, many travel bloggers tend to value these points at significantly higher, especially if you have another Chase credit card (as mentioned above).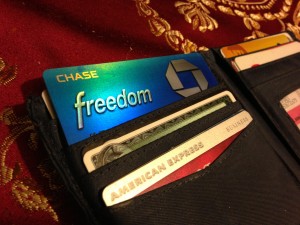 If you currently have a credit card that you put all of your spending on, chances are you are not properly taking advantage of the multiple ways you can be earning more points to help you travel for free. Consider getting the Chase Freedom card (both you and a spouse can each order one to maximize earning potential) as an initial way to earn extra points for free travel.
Full Disclosure: I earn a referral for sign ups for this card, but would not recommend it if I did not use it myself and recommend it to friends, which I do. ~Dani