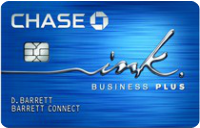 As I've mentioned on numerous blog posts previously discussing the Chase Freedom & Chase Sapphire Preferred cards, I like having the ability to earn Chase's Ultimate Rewards points en masse. The Chase INK Plus card allows me to do that in a multitude of ways.
The sign up bonus for the card is a healthy 50,000 points after spending $5000 on the card. There are times when the bonus has been a bit higher at 60 or 70k, but there is no way to know when these promotions will run in advance. At a bare minimum, you'll have 55,000 points in your account once the bonus is hit, if not more, depending on how you spend using this card.

Earn 5x points

on purchases made at telecom/cable companies (AT&T, Verizon, Sprint, T-Mobile, DISH, DirecTV, Comcast, Cox, Cablevision, etc.) on bills for your

home phone, internet, cable, cellular

, etc. This benefit is active year-round.

Earn 5x points

and at all office supply stores (Staples, Office Max/Office Depot, etc.). This benefit is active year-round.

Earn 2x points

at all gas stations and hotels.
All the other benefits are similar to the Chase Sapphire Preferred mentioned above including no Foreign Transaction Fees (FTFs), great customer service, points transfers between cards, etc.

The card is free for the first year

, and $95 yearly thereafter.
Another benefit of using the INK card is that purchases on this card will not count against your personal credit utilization, and thus actually benefit your credit score. (More on this below)
One thing that is important to note is that the INK card is a Business card, however, one is not required to have a registered business in their name in order to take advantage of this. This is why even if you use your social security number to sign up for the card it will not hit your credit score with the purchases you make (just the initial inquiry). You make apply for this card as a "Sole Proprietor" entity where you have a side project that you may turn into a business like running a blog, selling stuff online, organizing events, etc. Someone from Chase may call to discuss your finances with you, and this is very normal.
CLICK TO APPLY FOR THE CHASE INK PLUS CARD
There are other reasons this card is great, but these definitely suffice to pull the trigger and sign up for the card before this offer expires (on Sept. 15th). One way to maximize the signup bonus from this card is to have both you and your spouse sign up for it.
(Disclaimer: YeahThatsKosher receives a referral credit if you apply through our link. We thank you for the support. It is much appreciated.)