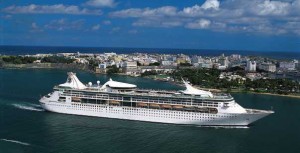 Having returned from a week long honeymoon cruise on the
Grandeur of the Seas
(
Royal Caribbean
) this past summer (July 2014), we wanted to share some advice and tips for kosher/shomer shabbos travelers. This was our second Royal Caribbean cruise together but each of us have been on others and on Carnival before.
This specific cruise was a round-trip cruise from Baltimore (where the Grandeur of the Seas is based) to the Eastern Caribbean.
When making a reservation for a cruise, you can select kosher meals. We followed up a couple times with both the travel agent and cruise line weeks in advance to confirm. We also requested a mini fridge by filling out a special needs form with Royal Caribbean directly. This helped with some items we brought with us like bottled drinks. In our experience, all meals came from Weberman which is a kosher catering company in Miami. You are not able to request anything specific prior to sailing. The longer cruises and ones with more people requesting the meals will likely result in better variety. On this cruise, we found out that some meals came from a company we had not heard of before called Sterling Glatt Kosher Catering, also in Miami.
In our experience, being proactive about the food with cruise staff results in a smoother experience. After we boarded, we went straight to the dining room to speak to one of the head waiters. Reji from India took personal care of us the entire time. That personal attention and planning each day made for a much better experience. It cut down on wait times during each meal (while others at your table may be eating) and any confusion present in the dining room or in delivering the meals to the buffet area when the dining room was closed. Reji showed us all the kosher meals that were on board and we selected which ones we wanted to eat during the entire cruise. He also brought out paper goods each meal.
Each night, we pre-selected the next day's lunch and dinner to cut down on wait time. We also explained to him what we were comfortable doing and what we were not comfortable with. For example, each day the dining room featured a salad bar for lunch. We were ok eating cut up cucumbers and tomatoes from there. We also checked the jar for the pickles and had those as well. The few fresh items that we could eat really enhanced each meal.
The staff was very accommodating in showing labels of things in the dining room or at the buffet. Many were not made on board. They include condiments (we carried around a bag with us each day), bagels (some were kosher), cottage cheese, pickles and fresh fruit. We also brought bagels and challah rolls with us and many other snacks to eat during the day. Sadly no cream cheese was kosher, but they had butter, jelly, peanut butter, and honey. Since one of us likes hot tea after some meals, we brought kosher tea bags with us (the brand they use on board has no heksher) and large to-go cups although they had disposable cups available in the dining room. We also brought parve cookies to have throughout the trip. It is worth mentioning that almost all kosher meals are meat. The only dairy options were gluten free pizza and veggie and cheese lasagna (which should be heated multiple times because it is very thick), and one type of salmon. You should check with your local Orthodox Rabbi on the above.
Since this was a honeymoon cruise, I had spoken for weeks to the Special Access Department about ordering a specialty kosher cake. While this took a lot of emails back and forth, in the end Royal Caribbean ordered the cake directly from Sterling Kosher Catering which we had to pay for. Originally we were told that we had to order it directly from the catering company, but Weberman catering instructed us that any order had to come from the cruise line. If this is important enough to you, try to arrange it far in advance. You could also carry on desserts from a local bakery.
Since this was a week long cruise, we were not able to avoid Shabbos. This took some coordinating, but we have done it before. In terms of the food, the Star K in Baltimore (our local kashrus agency) told us that packaged meals could be heated in the large ovens they use without a problem because it did not add any extra cooking to what was already going on. This applied to all meals except for the soup which is all liquid. We did not have any soup at any meal. We brought our own mini grape juice for kiddush and challah rolls. In terms of electricity on board, we spoke to guest relations before shabbos and explained to them that we would need their help getting into our room because of the key swipe card. We also spoke to our housekeeping attendant before shabbos and all were aware that we could not carry the key with us or open the doors. We also brought sticky notes and taped them to all the lights asking them not be touched. A do not disturb sign on the door could also be used to make sure no one enters your room and the lights are not changed during shabbos.
All in all this was a great cruise. We recommend Royal Caribbean for the excellent customer service and some experience with kosher travelers. This made a big difference for us. If you travel on the Grandeur of the Seas, please be sure to request Reji in the dining room!
–Noah and Fallon Saposnik
Baltimore, Maryland