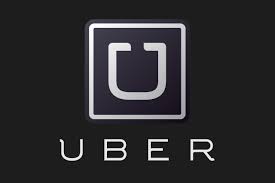 UPDATE: Receive $20 credit for your first Uber ride if used by Jan 20th, 2014.  Sign up to Uber using this link.  
---
The other night I attended the opening of a new kosher restaurant in NYC. As an invited guest on their press list, I was seated with my fellow kosher (media) colleagues and served privately at our own table. I had arrived a little after 6pm and planned on staying until I needed to leave for my 7:55 train at Penn Station, a ~20 minute walk away, or a ~4-8 minute cab ride away depending on traffic.
While the restaurant was beautiful, the service was awfully slow. So much so that there were multiple items I had yet to taste and I needed to leave in order to make my train home. The main course, which we had ordered with more than enough time for me to at minimum taste, had not arrived and I needed to leave.
I knew I was cutting it close. I took out my iPhone and opened the UBER app, which I had never used before beyond setting up my payment info. I had options to choose from a taxi, uberX (hybrid vehicles at a lower rate), black car (think Lincoln Town Car), and SUV. Each option shows a map of nearby vehicles, and the estimated time to get to my destination. I chose "black car" as there were multiple vehicles nearby. Once I selected it and confirmed, I received a text from Uber saying my car was less than 2 minutes away. It even gave me the option to text the driver to let him know I am getting my coat and will be out shortly. The driver responded and let me know where he was waiting.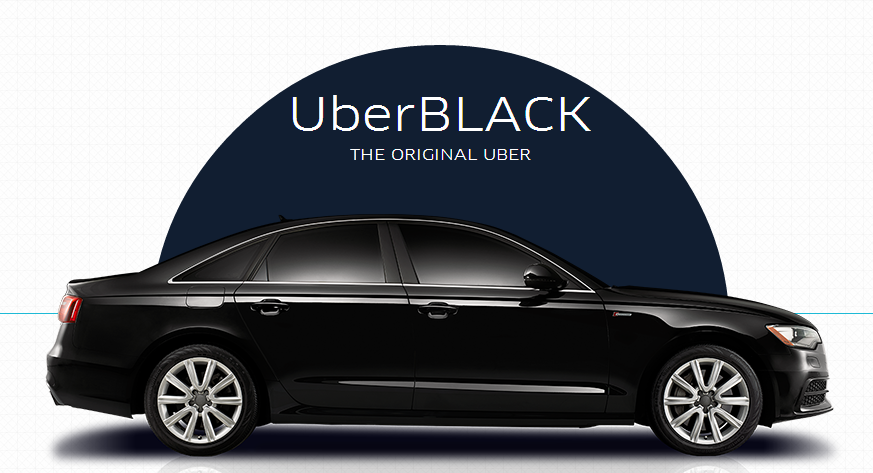 My food finally arrived where it was promptly thrown into a doggy bag (classy, I know), I grabbed my belongings and ran. Once in the car, I told him my destination and that was it. I was cutting it close and wasn't entirely confident I was going to make my train due to normal midtown traffic.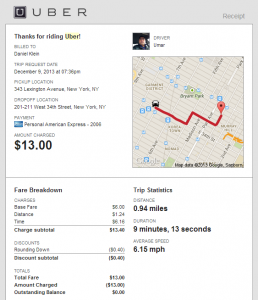 Upon arriving at Penn Station, I had between 90-120 seconds to jump out of the car and make my train. Typically, when riding in a typical taxi, the payment process begins once you've arrived at your destination, and then you need to swipe your credit card (or pay with cash) upon arrival. Not so with 3 of the 4 uber options (uber's taxi option is still only used to call the taxi – payment is still the same here) where your payment info is stored on the app. Once the trip was completed, I didn't have to fumble for my wallet, I grabbed my stuff and bolted, running for the train (that I ultimately made). Had I been required to wait and pay, I would have for sure missed it. This is a super-valuable technological feature that I know is and will be beneficial to countless commuters, travelers, and business people on the go.
Within minutes I had my receipt in my email inbox detailing my ride, including costs, route, timing, etc. I know that using this app was slightly pricier than a regular taxi. But there's no way I would have made that train if I had to first flag a taxi down and complete the payment process upon arrival. Everything with uber was seamless.
Here are a few more reasons that all types of travelers should download this app now:
Uber is available in dozens of cities in 22 countries (as of December 2013), including 31 metro areas in the U.S. & Canada alone.
By using THIS LINK TO SIGN UP, you will receive a $10 credit for your first ride. (and we will receive credit too, so thank you)
Their fine print states that there is no need to tip and that state taxes are already built into the price.
They will discount your fare by rounding down the price (it's not much, but it's nice nonetheless).
You can review your cab ride from your app after its completion. If you were not satisfied, you may receive a small credit for a future ride.
Here's sample uber pricing for NYC (pricing may differ for each city, so check with your city first):
UberTaxi: price as normal with taxi,
UberX: Base Fare: $6, $0.75 per minute below 11MPH / $3 per mile above 11MPH. Cancellation fee: $10.
UberBlack: Base Fare: $7, $0.95 per minute below 11MPH / $3.90 per mile above 11MPH. Cancellation fee: $10.
UberSUV: Base Fare: $14, $1.25 per minute below 11MPH / $5 per mile above 11MPH. Cancellation fee: $10.
Would love to hear your experiences using uber. Please comment below.