For Kosher travelers flying in to Newark Liberty International Airport hungry after a long flight, the Green Chicpea is a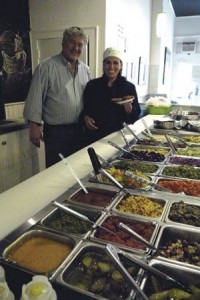 new, great option for satisfying those hunger pangs! Only a 10 minute drive from the airport, a 5 minute walk from Rutgers University, and a 15 minute walk from the Prudential Center, the Middle-Eastern style food at the Green Chicpea is a welcome addition to travelers and students alike, not to mention people working in the area.
Although they do offer chicken and meat, the Green Chicpea owners Martin and Ronit Weber of Fairlawn, NJ keep it separate from the other food so that there are plenty of vegan options in the restaurant as well, for what Weber calls a "vegan playground." Weber doesn't want people to come to his restaurant because it's convenient, he wants them to come because the food is good.
The Green Chicpea offers chicken shawarma, schnitzel, shish kebab, and falafel in addition to an array of salads– tahini, babaganoush, eggplant, etc.  The pita comes from a bakery in Queens and is soft and fluffy to compliment the Middle Eastern cuisine.  If you're looking for good service, fresh food, and a friendly atmosphere, the Green Chicpea is the place for you!
The Green Chicpea is under the kashrus supervision of the Va'ad HaKashrus of Flatbush.
Source: New Jersey Jewish News