UPDATE 10/27/13:  Burger Professor is now open!
---
The Burger Professor, a new fast-food Kosher burger place, is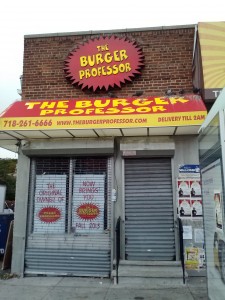 coming to Queens, NY at the corner of Main Street and Jewel Avenue very soon! Burger Professor is replacing the formerly innovative Pizza Professor by the same owner. (Pizza Professor was once a popular late night destination for Queens natives, but has gone down hill in recent years, largely due to poor service. See Yelp).
It will be open from 11am-2am from Monday-Thursday, and on Saturday night from 1 hour after Shabbos ends through "whenever!" With such late hours, the Burger Professor will service the needs of every person who usually craves a good burger around midnight, and will likely attract a loyal college-aged following.
Official opening date has not yet been announced.
See below for their menu: