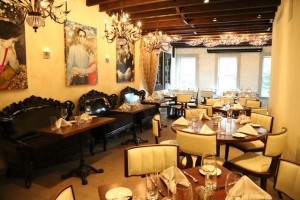 UPDATE: According to the restaurant's owners, they will be open this Saturday night (11/9), and they've been ambiguous as to whether or not they will be open beyond that. My gut says not likely. 
---
The posh downtown restaurant formerly known as Jezebel, "J Soho" or "The J", is closing its doors later this week (after Thursday). This may not come at a shock to those who have read their Yelp reviews and to many who have recently eaten there. (See below) While I did have a positive experience back in January, there were many who didn't share that experience.  The restaurant will reopen as a non-kosher entity after its close.
While its concept was definitely unique for the kosher world: the decor, bar (w/sommelier), menu items, etc., it did not fully catch on with the orthodox Jewish community and hit initial snags with problem chefs and a kosher supervision that was not as widely held as they would have liked. The prices were also a bit of a concern for most who visited the restaurant.
They removed the name Jezebel after switching kosher certifying agencies to the OU earlier this year.
The art from the restaurant was definitely unique and different. The decor was definitely a highlight of the quirky downtown restaurant.
Perhaps as a sign of what was to come, last week while hosting an event for ~100 kosher food writers and professionals (us included), the restaurant sent out lackluster dishes that disappointed most in attendance.
H/T Great Kosher Restaurants