Cherry Hill, NJ is a quaint town in Southern New Jersey right across the river from Philadelphia and even closer to Camden, NJ, a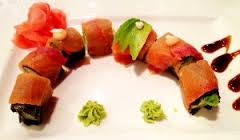 popular summer concert destination. Whether you live in Cherry Hill, Philly, or are just visiting, all will be excited to learn of Barclay Cafe, a new Kosher sushi bar that just opened this July 2013!
Primarily a sushi bar, Barclay Cafe also offers steaks, veal chops, and other decently priced entrees. Oftentimes they will post specials on their Facebook page  such as $19.95 for all you can eat sushi or half priced appetizers with the mention of their Facebook post.
Barclay Cafe is under the kashrus supervision of the OK.