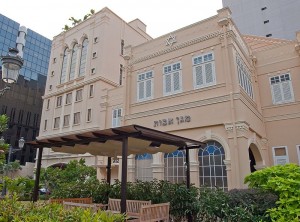 Post by Simon Daniels  |  Last Date of Travel: November 2012
Singapore, otherwise known as the republic of Singapore, is a southeast Asian city-state of the Malay Peninsula. Singapore has the third highest per capita income in the world, meaning it is . The people of Singapore are diverse and varied, consisting of Chinese, Malays, and Indians. The country has four official languages, English, Malay, Chinese and Tamil an Indian Dialect.
Kosher Info: The pocket sized island city-state of Singapore is blessed with two kosher restaurants – Awafi Restaurant (meat) in the Shul's community center (Jacob Ballas Centre), as well as a market (Elite Kosher Shop in the same building), and a supervised branch of Coffee Bean and Tea Leaf around the corner from the Shul, on the corner of Waterloo Street and Bras Bash (by the Manulife Center). The other Coffee Bean cafes in town are not supervised. The restaurants are priced well, have free wifi, and have decent opening hours. The Coffee Bean does have a range of hot breakfast and savory foods, but the menu is not clearly displayed, so check the card which is by the checkout. We had lots of dishes there, including pasta, a panini, waffles and scones.
Kosher food products can be found in the ubiquitous 7Eleven shops which have a variety of imported supervised snacks.
Tourist Info: Singapore is a developed, multi-ethnic English speaking country, with plenty to see and do. There is great shopping, from giant fancy malls on Orchard Road, to the covered markets of Chinatown, and old fashioned shop-houses in India-town.
Other attractions include the free and beautiful botanical gardens, Sentosa resort island, and the glitzy Marina Bay Sands entertainment complex. The airport itself is also pretty impressive, with around six different gardens, a movie theater  and a couple of koi ponds.
Jewish Info: There is a small, well organized community of veteran residents and ex-pats, with daily minyanim and Shabbat hospitality. We didn't stay for Shabbat, but the staff in our hotel a block away from the shul (Maghain Aboth Synagogue), did seem familiar with the key card and lift thing. The community center in the Shul courtyard is a new, multi story edifice housing a number of facilities, such as a shop, restaurant, sukkah roof terrace, mikvah etc, and bears the name "Jacob Ballas Centre" next door to the Maghain Aboth Synagogue.
Image credit: Wikipedia

View Jewish & Kosher Singapore in a larger map