Kosher Info:
There's a
Chabad in Seoul
in a very trendy area. They were great. Chabad has a shop with lots of essentials and they also make and sell bread/ challah (except summer). There are two or three Costco stores in Seoul where you can get frozen salmon and Philadelphia cream cheese with hechsher, plus snacks, tinned tuna, peanut butter, jams and pasta etc with OU. There's a chain of bakeries called
Paris Baguette
in Seoul, Busan, and Ulsan and I'm sure other cities that is worth looking in. All of their stores had OU Pepperidge Farm cookies and some Snyders pretzel items with an OU.
In Ulsan there's a good range of kosher stuff in the aisles of the giant Lotte department store and the Hyundai department store in the city centre – both have 'foreign food' sections in their basements, including cookies and Carrs Crackers with hechsherim,  pasta, Italian tinned chick peas and lentils, which clearly listed their ingredients.
In Seoul, the lovely
[email protected]

Travellers Lounge hostel
is near Chabad.  They had a little kitchen where I used their stove and my own pot to cook. (Turns out one of the owners went to a Jewish high school in the US and he sang me Hava Negilla to prove it!) The door to the hostel is electric and code activated, but I spoke to the owner who happily listened out for my knock and let me in on Friday night.
Travel Info:
Korea is beautiful, especially in the autumn and spring when the parks and public places are filled with color. Jeju Island is a great place to spend a few days, and if you are interested in North Korean relations you can take a tour to the DMZ in the northern section of the country. There are several pottery villages worth visiting, but if time is tight, some of the best pottery can be bought in Dandemun in Seoul.
(South) Korea is very tourist friendly and the people are helpful and often offered to carry my bags, point things out on maps, and give advice. I found the cities to be very safe. Koreans enjoy visiting sauna/spa places which are safe and clean places to relax. They usually have separate women's, men's, and family areas with cold and hot pools and tiled steam rooms. They are often open 24/7, with lockers, towels and pajama type outfits usually provided free to visitors. I used the one at the airport in Seoul and it was excellent.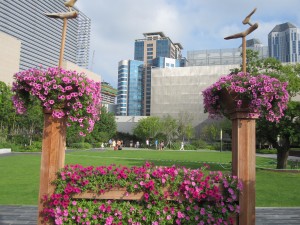 Seoul has several tourist information offices which have computers with free internet access. The tube system is great, though make sure to have a tube map on you. There are walking tours and hop on hop off tours around Seoul. The modern N Seoul Tower has beautiful views from the top and is surrounded by pretty grounds. Seoul is also home to several beautiful temples and a large food market at Nandemun (though for the kosher traveler this can be a bit of a depressing place. Everything smelled delicious and the cakes looked beautiful, but the only thing I could find to nibble on was watermelon.) My favorite place in Seoul was the high street in Dandemun where you can buy traditional Korean pottery and other arty things.
Busan has a huge shopping mall -the Shinsegae Centum City which is full of designer shops, a fantastic but pricey sauna/spa and a roof garden with lovely views. Across the city is Busan's famous aquarium. Here's a link to the Busan tourist information website.
Ulsan has a nice whale museum. I would recommend taking a tour of the Hyundai car factory, which is the largest in the world. The Ulsan Grand Park is fantastic, and there is also a zoo on site. Here's a great link with loads of tourist info for Ulsan.
Jewish Info:
The only known shul is the Chabad in Seoul. There used to be a Jewish chaplain in a US army base outside Busan, but I'm not sure if this is still the case. In Ulsan, I was working for Hyundai and lived in the accommodation village across the road from the main factory. I was in an older 1970's building which was great as there were no electric doors etc. All of the newer buildings had electric light sensors everywhere (making Shabbat a huge hassle), but also kitchens where I could have cooked (but my pot was not suitable for an induction stove so didn't work!).