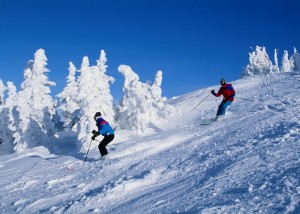 The arrival of winter in the northern hemisphere doesn't have to mean months of being stuck indoors. Many kosher travelers head down south towards warmer climates as soon as the thermometer hits below 70°F, while others hit the slopes to breathe in the cool air and cut loose in fresh snow. Here are five fantastic winter destinations to consider visiting in the coming months:
1. The Caribbean Islands
There's nothing like a getaway to hot sunshine and turquoise waters in the dead of winter. Whether you take a kosher cruise where everything is taken care of for you or pack a suitcase with travel-friendly kosher food, you're sure to unwind in the laid-back culture of island living. Some favorites include Aruba, the Bahamas, Jamaica, Puerto Rico, and the U.S. Virgin Islands.
2. Israel
Notwithstanding our prayers for rain, winter is actually a great time to travel to Israel. This is when you can avoid the heavy tourist seasons and spend quality time with just you and the Holy Land. Jerusalem has always had a huge selection of delicious Kosher restaurants, but recently added a new outdoor mall (Mamilla), and a brand new light rail system. Tel Aviv is seeing a resurgence in both tourism and kosher restaurants throughout the city. The Dead Sea is always a place worth visiting to escape and relax, especially with great hotel deals this winter.
3. Antarctica
Here's an adventure to out-travel all your friends! While the North bundles up for winter, the South Pole warms up just enough to allow us warm-blooded humans the chance to take a peek at the magnificent world of glaciers and penguins in Antarctica. Make it an expedition of a lifetime with an extended trip to nearby South American countries like Argentina and Brazil, both with lots of kosher options to stock up on before you head to the frozen continent (especially in Buenos Aires!).
4. Italian Alps
As revealed by the 2006 Turin Winter Olympics, the Italian Alps offer some of the best spots for winter sports in the world. Check out areas like Canazei in the Dolomites and Valle d'Aoste in the shadow of the Matterhorn. You will spend your day carving paths on alpine snow trails with the rush of wind on your face, then relax your muscles in the evening with the warmth of a steaming spa and a glass of wine. And don't forget Milan, the Jewish capital of northern Italy.
5. South Florida
There's a reason Florida is known as the "second home" of Jewish New Yorkers. It's easy to get to from all over the U.S. and it boasts an abundance of stunning beaches in close proximity to thriving Jewish communities (with tons of kosher restaurants to boot!). Miami is a popular gateway for cruises to the Caribbean and is a hub of kosher restaurants and kosher accommodations, presenting the perfect choice for an effortless vacation. Here's our full guide to Kosher Restaurants in South Florida (metro Miami).
6. The Rockies
Colorado and Utah have always been favorites of the avid skiiers, but now we're starting to see a growth in Jewish travel to region, which could be sparked by last year's opening of a kosher restaurant one of the major resorts in Park City, UT. Both states are easily accessible from both coasts and relatively inexpensive flights.
Wherever you go this winter, be sure to bring along your camera and plenty of sunscreen (yes, for the snow as well). You will be glad to have spent the winter days outdoors with many special new memories. And don't forget to share your experiences with fellow kosher travelers across the world!