Contributed by: Dani Klein | Last Date of Visit: November 2009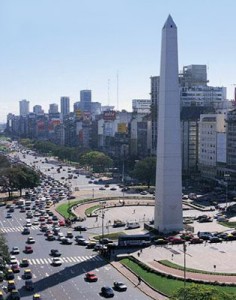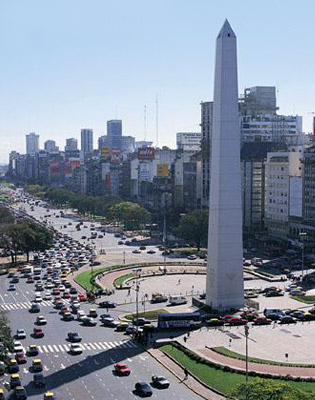 Kosher Info: Buenos Aires (a.k.a. BsAs) has the largest Jewish community in Latin America, so it is not shocking that we found plenty of kosher food throughout the city. Argentina is known the world over for their meat, kosher and non-kosher, and the rumors are true … Argentinian meat is amazing. Compared with American beef, Argentinian cattle are not fed corn, but rather grass which is what they should be eating, making for better meat.
Whilst spending a week in Buenos Aires, my wife and I got to experience some of the amazing culinary delights that Buenos Aires has to offer the kosher traveler. Before diving into the tasty treats that BsAs has to offer, it is important to note the late night eating out atmosphere that permeates the culture of the city. Most of the kosher restaurants are open relatively late, especially compared to wherever you're from … even New York.

Basically anything kosher in Argentina is covered by the Ajdut Kosher supervision, run by Rabino (Rabbi) Daniel Oppenheimer, who we had the pleasure of meeting. Rabbi Oppenheimer also helped us find accommodations for Shabbat.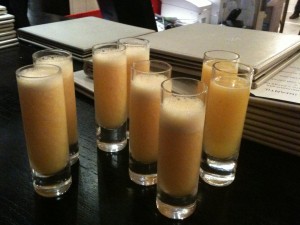 There was one restaurant that we ate at twice, since it was by far the best (and most expensive – but nothing compared to what it would've cost in NY!): ASIAN Grill Fusion Steak House located in the Palermo neighborhood. First of all, the restaurant is beautiful and modern. When you are seated they give you a shot, typically fresh fruit juices mixed with vodka. Both nights we went the shots were delicious! From there, the freshly made dips and breads were amazing, and the eclectic options on the menu tantalized our eyes and palates.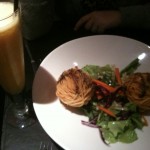 Back to back evenings we enjoyed 2 different sweet bread appetizers. While most people think that sweet breads are cow brains, they are actually glands in the cow's neck.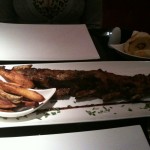 Both appetizers were amazing, and so different from what we're used to.
The steaks at Asian were unbelievable! Massive, juicy, delicious steaks rival any I've ever had. They were savory, tasty and so big that I couldn't finish either of them in one sitting. I definitely recommend visiting Asian. It is a great place for a date or just an amazing evening! Address: Cordoba 5288 Tel: 4116-5507/3399
Other places that we ate at were also really good. One evening we tried out El Galope in the Once neighborhood (the heart of the industrial garment district, where there are many Jewish businesses and restaurants). Be aware of your surroundings in this neighborhood in the evening. This restaurant is reviewed by Frommer's travel guides. It is described as the epitome of an Argentine parrilla (steak house), with Middle Eastern flavors. We were forewarned that the service in the restaurant is awful, and it was, but the food and prices were well worth it. Our steaks were thick and juicy (although not as tasty as Asian's steaks).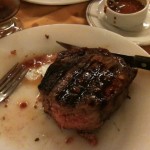 The papas fritas (French Fries) were good, but did not come with ketchup. In fact, the restaurant didn't even carry ketchup at all! Address: Tucumán 2637 Tel: 4963-6888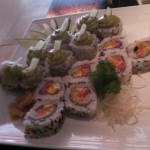 Another favorite was Dashi, a chain of sushi restaurants that has one kosher branch in Palermo Soho. We ordered a mix of sushi rolls and pasta. The salmon roll topped with guacamole was deliciously interesting, and our second roll had mango, salmon, and warm fried cheese which was one of the tastiest rolls of sushi I've ever had! Please keep in mind that only the Dashi branch at Salguero 2643 in Palermo Soho is kosher. You will see the "AK" symbol on the window. Tel: 4807-0633
While we ate at a few more places, I don't want to leave out the Kosher McDonald's in the Abasto Shopping Mall. We arrived in the mall on Friday after 2pm (Shabbat started after 7pm) and the McDonald's was already closed, so we tried El Pasaje Express.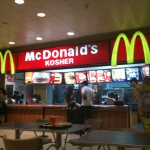 We had some empanadas, each were filled with different vegetables and cheeses. We didn't enjoy this as much.

Saturday night we headed back to the mall to have our kosher McDonald's fix. What we experienced was delicious but very different type of fast food meat. The burgers are fried, not grilled, so the taste is definitely different. Our 'Double McNifica' which is basically a double burger with all the veggies, was good, but not as filling as we would've hoped. We ordered Chicken McNuggets, which were really good, to help fill us up.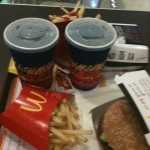 Watch our video on the Kosher McDonalds in Buenos Aires on Jewish Travel TV. Address: Abasto Shopping Mall Av. Corrientes 3247 Tel: 4959-5137
For kosher snacks found all over Buenos Aires, you'll find Freddo Ice Cream. Majority of their flavors are kosher certified by Ajdut Kosher. The kosher flavors will have a "AK" next to them to make it easy for you while ordering.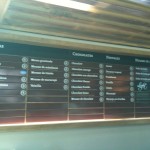 The ice cream is more like a gelatto, something we can't really find kosher in the U.S. The flavors are more robust and the texture is much thicker than ice cream in North America. It is definitely worth a try.
Here is a near full listing of the eating out options for the kosher traveler in Buenos Aires:
Restaurants
El Pasaje Address: Pasaje El Lazo 3141/51 Tel: 4806-0084
El Jaial Address: Tucumán 2620 Tel: 4961-0541
Kosher D&M Address: Ecuador 594 Tel: 4862-1408
Lalo Helueni Address: Tucumán 2755 Tel: 4966-1007
Mama Jacinta Address: Tucumán 2580 tel: 4962-9149 / 7535
Mediterráneo Address: S. Luis 2902 Tel: 4961-5137
Mi Parilla Address: Tucumán 2782 Tel: 4963-0415
Sucath David Address: Tucumán 2349 Tel: 4952-8878
Eshel Resto Y Cafe Kosher Address: Tucumán 727 Tel: 4393-2442
Tov Lev Address: Paso 745 Tel: 4962-0857
Kosher Bistro Address: Malabia 1530 Tel: 4831-8117
Sushi Go Address: Pueyrredon 2501-L 1009/10
Terrazas del Bs. As. Design Tel:5777-6110/6108
Aieka Bartolomé Address: Mitre 4390 Tel: 4982-9662
Noam Address: Monroe 2715 Tel: 4545-4621
Tib Tuna Address: Pueyrredón 795 Tel: 6240-3112
Tucson Address: Salguero 2741 Tel: 4804 – 1600
Pizza / Small Dairy Places
Pizzería El Pasaje Express Address: Abasto Shopping Mall Corrientes 3247
Pizzería Romini Address: Tucumán 2802 Tel: 4962-8177 / 5097
Pizzería Soultani Address: S. Luis 2601 Tel:4961-3913
Waflemania Address: Tucumán 2783 Tel:4963-8866
Bakeries
Malena Address: Pueyrredon 880/882 Tel: 4962-6290
Panadería Roberto Helueni Address: Tucumán 2418 Tel: 4964-3336
Star Kosher Address: Paso 741 Tel: 4963-9046
Galil Address: Boulogne Sur Mer 449 Tel: 4864-4960
Kokush Address: Tucumán 2663 Tel: 4963-9602 / 4966-2227
Ice Cream
Maichel Address: Paso 789 Tel: 4964-2261
Malena Address: Pueyrredon 880/882 Tel.4962-6290
Tuttim Address: S. Luis 2901 corner Ecuador Tel: 4964-3004
Freddo — found throughout the city
Travel Info:
Buenos Aires is a vast and exciting city, and is referred by many as the "Paris of the South", although don't mention that to the locals. The city is a happening metropolis with both expensive, fancy neighborhoods, as well as poor, rundown barrios. Every guide and local we encountered had warned us about specific neighborhoods to avoid, watch out for pickpockets – which apparently are common, and just be aware of our general surroundings at night. In our week spent in BsAs, we thankfully didn't have any specific issues to worry about.
A few notable things you will notice about the city: Costs, Tango, and Art.
The costs of most things in BsAs are really cheap or really expensive, depending on whether you're buying something local or imported. For Americans & Europeans, and even Israelis & Australians, your currency will go very far in Argentina, especially for those seeking to live on a shoestring budget.
Tango is played up throughout the city, with numerous theaters or dinner halls hosting nightly shows. From our discussions with the locals, this does not compare to a Broadway show in New York. Tango shows are mainly attended by tourists. While tango is a favorite past time for the city's residents, the areas where you'll find the locals dancing, aren't always the safest.
Between the architecture and numerous art stores and museums, BsAs is an art lovers dream (if only your suitcase can hold all the art you want to buy).
Here are a few neighborhoods worth checking out:
Recoleta was the neighborhood we resided in for our Buenos Aires stay. It is a relatively fancy urban area with high end apartment buildings and shops like Prada, Ralph Lauren, and comparable local Argentinian brands. There is a famous cemetery in the area (which doesn't really float my boat), however every Sunday a great artisan flea market is held right outside the cemetery walls. We found some really great local artisan made goods, clothes, and obviously artwork.
Microcentro is the center of the city, Argentina's financial capital, and also home to many government buildings and famous monuments, notably Plaza de la Independencia & Plaza de Mayo, which is home to the massive Obelisk of BsAs (locally known as Obelisco). Plaza de Mayo lives in the middle of the widest avenue in the world: Avenida 9 de Julio (9th of July Avenue) — try crossing the street in one shot! The 12 lane avenue typically takes pedestrians normally two to three green lights to cross it.

It is worth mentioning a specific store in this area, "Silvia y Mario", which is a Jewish owned leather goods store. We met the owners and they gave us a tour of their shop. If you're into leather goods – jackets, pants, bags, rugs, gloves, belts, wallets, etc., it is definitely worth a visit to this shop!

Palermo is a nice residential neighborhood filled with coffee shops and shopping. We only spent a few hours in the area, but wish we had stayed for longer.
Puerto Madero is a beautiful waterfront area with high priced shops and residential towers, some of the most expensive real estate in all of Latin America.
DAY TRIPS from Buenos Aires
Tigre – We spent a little more than half a day traveling to and in Tigre. Only an hour north of BsAs by commuter rail (and only a few pesos for the round-trip ride), we spent some time sailing the Rio Tigre (Tigre River) leaving from the town Tigre, which is cute and quaint. You have multiple options to navigate the river: private (tourist-only) boats, and a public boat (think public city bus – just a boat). As you could imagine, the private boats had tourist prices, and the public boat was über cheap. The boats navigate the river, which is flanked by houses, many of them beautiful, and restaurants. Eventually, they drop you off at a restaurant (which you can't eat at), but you can explore the nearby area until the next boat comes to pick you up off the dock. It wasn't an action packed day, but we got to see some nice sights, and got to experience the nature and culture of rural Argentina. One last thing to keep in mind – the river is brown – not because of dirt or pollution, but because of the loose earth & soil underneath the river.
Uruguay – Uruguay is not far from Buenos Aires by boat or flight. There are 3 notable places in Uruguay that were recommended to us to visit had we had more time.

Colonia – approximately 50 minutes from BsAs by ferry, it is a historical town with beautiful views and beaches, and was recently made a UNESCO heritage site.
Montevideo – Uruguay's capital and home to the country's Jewish community. Jewish history and kosher food can be found in the city. A ferry from BsAs is approximately 3+ hours.
Punta del Este – Latin America's premier beach resort town. Over a half million people flock to Punta del Este each Summer. Jews from all over Latin America frequent the town during their summer break, which typically starts in Nov/Dec (since it is south of the Equator). Chabad (Jabad) has a presence in the town, and there may be a kosher restaurant in the area as well (please check before going). Punta del Este is not accessible via ferry from BsAs, but is accessible by bus from Montevideo.
Jewish Info:
Although the Jewish population in Buenos Aires is shrinking, it remains the largest Jewish community in Latin America, with over a quarter million Jews.
We spent our Shabbat in Recoleta and found the Chabad house (Bet Jabad) in the neighborhood. Before our stay, we contacted the Chief Rabbi of Argentina, Rabbi Daniel Oppenheimer, who was extremely friendly and helpful and set us up with 2 families for the Shabbat meals. The Jews in BsAs were very friendly and welcoming. Since our Spanish wasn't too great, and many Jews did not speak English too well either, we conversed in a mix of Hebrew – English – Spanish. The younger generation, however, has a stronger knowledge of the English language.
Belgrano is a wealthier Jewish neighborhood with some restaurants of it's own. Unfortunately, we did not get a chance to visit the area, but we were told it is very nice.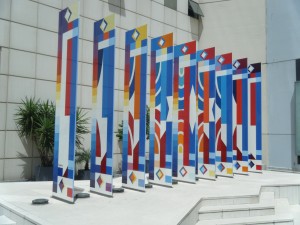 Another very Jewish neighborhood is Once (pronounced OWN-say), which has many shuls and kosher restaurants. The Jewish Community Center, AMIA, which was bombed by terrorists in 1994, is located in the Once neighborhood, and is heavily guarded. You can request special guided tours of the building, which I do recommend. You'll be able to learn a lot more about the history of the building, and of Jewish Argentinian history. The one thing you will notice about the Jewish community in Once, in contrast to the Jews in Recoleta & Belgrano, it is poor.
Click here for a Synagogue directory in Buenos Aires.
Here's a list of Mikvahs in the city:
Belgrano: "Ajdut Israel" Moldes 2449 Tel: 4784-6719
Villa del parque/Devoto: "Jabad" Helguera 2329 Tel: 4504-1908 /6785
Flores: "Khal Jaredim" Bogota 3015. Tel:4612-1050
"Jabad Flores" Aranguren 925 Tel:4612-5652
Palermo/Once/Center:
"Mikve Shoshana" Ecuador 741/743 Tel:4963-8780
"Yeshurun" J.M.Gutierrez 3976 Tel:4804-7577
Once: "Instituto Taharut" Larrea 732 Tel: 4962-7047
Barrio Norte: "Jabad Lubavitch Central" Aguero 1164 Tel: 4963-1221