Once you've had your fill of falafel and schwarma on the streets of Jerusalem, you'll be happy to know that there is more variety to be had in Israel's capital. Over the past couple of decades, Jerusalem has become a cosmopolitan city, with restaurants offering up cuisine from French to Chinese, Italian and Latin American.
In the early 90s, a new trend arrived in Israel – sushi. At the same time that the rice and seaweed rolls were sweeping the US, Tel Avivians were first sampling the Japanese delicacy. Today, there are hundreds of sushi restaurants throughout Israel.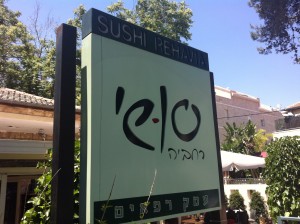 In Jerusalem the kosher sushi trend has been driven by the arrival of American immigrants who are used to sampling maki and nigri at everything from weddings to bar mitzvahs and kiddushim at shul (and a big part of the reason that Emek Refaim St. is the sushi center of Jerusalem).
So here is a list of where to pick up everything from California rolls to sashimi in Jerusalem:

View Kosher Sushi Jerusalem in a larger map