Contributed by Matt Erlandsen | Last Date of Travel: April 2011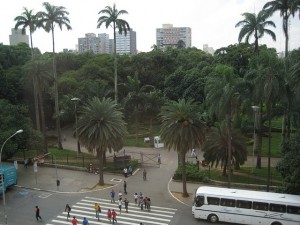 Kosher Info: Higienópolis is the Jewish neighborhood in Sao Paulo. With at least two kosher supermarkets (during Passover you can find all you'll need in a good price), the 'Super K' and 'All Kosher' you'll feel at home.

While 'All Kosher' is more like a neighbor store, 'Super K' incorporates two kosher restaurants: one for sushi and another for pizza. They also deliver.

Since Higienópolis is home to the biggest orthodox community in Sao Paulo, almost any block will contain a restaurant, a café, a Pizza store or even a Sushi bar. The best way to know the place is checking the Kosher Map website for Sao Paulo.

Centro da Cultura Judaica (see more info below under "Jewish Info") has a kosher cafeteria.



Restaurants at Super K Supermarket are nice and reasonably priced. Cantina do Berô offers a wide variety of home made pizza, pastas, fish and salads. You can eat in the place or take an order to go. They also deliver.

Sushi Bol is another good option, especially in the afternoon or at night, when they deliver faster. They have all kinds of sushi and and they just opened up a new burger shop. It's absolutely a worth to try.

Pizza is the basic dietary menu of the Brazilians, so when it comes to kosher food, you better think about this as first option. Actually, they use to eat it at least once a week, usually at night with the family. Pizza Parma (11-3825-2579) has a delicious variety of Italian food, including gnocchi, lasagna, and cannelloni. Of course their main business is pizza (try the sweet banana + chocolate pizza, for dessert).

Due to the big Japanese and Asian population of Brazil, Oriental food is also very popular. If you want to try the mix of those two cultures, you definitely need to order from Sushi Papaia (11-3824-0400). When on the phone, try to speak slowly and ask for someone who understands either English or Hebrew, their telephone assistants are not very good in understanding much beyond Portuguese.

Travel Info:

The very first stop you need to do when visiting Sao Paulo is Banespa Building. For one of the best sights of the city, head to the top of the skyscraper in the center of Sao Paulo (Rua João Brícola 24, Monday through Friday 10am and 3pm. Sao Bento metro station, blue line). The entrance is free and after taking the elevator for 33 floors you'll need to walk another 2 more to get to its observation deck. Note that you'll asked for an ID to sign in. The best time to go is in the morning since the line to the elevator could be much longer in the evening.

Right in front of Banespa Building you can find Bovespa, Latin America's largest stock exchange. They don't show the trading floor anymore but the main lobby is an excellent museum many times with good exhibitions.

Also close to the Banespa Building is Mercado Municipal (Local Market). This covered building opens at 6 in the morning and remains welcoming visitors up to 6pm. It's a great place to try exotic fruits from Brazil and also from many other places in the world. Beware they might be expensive.

Another two important building you don't want to miss are Edifício Italia (Av. Ipiranga 344) and Edifício Copan (Av. Ipiranga 200). The first one is the tallest building in the city. It's top floor has a restaurant with a 360° view. Strictly speaking, you are supposed to be a costumer to go there, but they don't sell any kosher food. Just to be fine, buy a Coca Cola and enjoy the panoramic; Edifício Copan was designed by the prominent and modernist master Brazilian architect Oscar Niemayer. Its serpentine façade became a symbol of the city. Unfortunately its top floors are only private apartments so you can't go up.

Right out of Luz metro station there are two good museums: Pinacoteca do Estado gives home to a very good collection of Brazilian art, especially Paulista. Museu da língua portuguesa celebrates the local language. Do not expect to find any instruction in English, they are proud to speak Portuguese.

'When in Rome act as the Romans do', they say. So in Brazil you must love soccer. Close to Higienópolis neighborhood you can find the Museu do futebol (Praça Charles Miller s/n; adult/student R$6/3; h10am-6pm, last admission 5pm Tue-Sun) with its multimedia show spread over two floors, even non fans of the sport will end loving it.

Avenida Paulista is home to Paulista financial center. It's full of offices, banks, shops, theatres and cafés. MASP (Museum of Art of Sao Paulo) is an absolutely must due to its Latin America's most comprehensive collection of Western art going from Goya, to El Greco, to Manet, to Van Gogh.

Right in front of MASP you can visit Parque Siqueira Campos, also known as Trianon. It's a remarkably tranquil refuge just of the city's busiest street. The park recreates the Atlantic rain forest that was leveled to build Sao Paulo.

To the south of Paulista Avenue lies Jardins, another very nice neighborhood of Sao Paulo and home to the most expensive street in South America, Rua Oscar Freire, the local Rodeo Drive. You can walk down the street and see almost any of the most known brand shops. With almost two guards in every front door, feel at home and relax, probably it's one of the safest places in the whole country.

Museu do Ipiranga is another worth stop. Placen within a very nice and big (sometimes also crowded) park, this is the palace where the independence of Brazil was proclaimed. The museum contains a wide variety of pieces and shows of the colonial times that will delight kinds and parents.

Parque Ibirapuera (Ibirapuera Park) is worth for a whole afternoon. Having a picnic in it is common for the Paulistas on Sunday. Try to get around noon and make good use of it big spaces (do not neglect your kids, Sao Paulo is dangerous). Besides being the bigest green area in the city, Ibirapuera is home to several museums, such as: Museu de Arte Moderna, Museu Afro Brasil, The Bienal Building, Auditório Ibirapuera (designed by Oscar Niemayer), Bosque da Leitura, Pavilhao Japones and Obelisco de Sao Paulo.Close by Parque Ibirapuera, you'll find Museo Lasar Segal, (Rua Berta 111. Free entrance. Tuesday to Saturday 2pm to 6pm) offering more than 3,800 canvas of the famous Brazilian Jewish painter.

Tips in the City:

First of all, do not expect to see the whole city in only one week. Since it's really BIG (its metropolitan populations gets up to 15 million while the state makes 41 millions), you'll need at least 14 days or so to feel like you saw it everything.
Sao Paulo is dangerous, really. While crime rates have been going down in the last years, it still remains high. Try not to walk alone at night.
Sao Paulo is safe if you know where to go. Paulista people love to talk to the foreigners. Don't be afraid if somebody talks to you either on the street or someone ask you for directions in the subway. If you don't speak Portuguese, remember to say 'Eu nao falo português' so they'll understand you are not a local.
Always ask the police or security people if you ever get lost. If you can't find one, talk to the store attendants or people in the kiosks, but never try to get information from a person walking down the street. It might be dangerous.
Don't panic if you ever see some homeless sleeping at any time in the street. Brazil is known for its big poor population. The rule here is do not bother so they won't bother you back.
Also, don't panic if you ever see someone smoking drugs in the street. Brazilians abuse of crack and marihuana. Praca da Sé (the Main Square) is known to be a place of drug deals.
As in any other big city in the world, don't carry a very big amount of money with you. Most of the stores and museums will accept most of the American credit cards, but sometimes it can be difficult to pay cash in Dollars.
Take enough time to go anywhere. Although the public system of transportation works very well, distances are big. Just to give you an idea, going from the airport to the city center could take you up to three hours by bus and subway. The time isn't much better if you go by car.
Jewish Info: Sao Paulo has one of the biggest Chabad communities in South America. Also, you can attend services in almost any synagogue in Higienópolis / Santa Cecília area. Most of them will be frum. But bewere that Sefardi minhag is more popular than you would expect. If you are Haredi or full committed to Ashkenazi minhag, look for the proper minyan.
Mikvaot are also easy to find.
The Jewish cultural center is worth visiting: Centro da Cultura Judaica (Rua Oscar Freire, 2500 Sumaré Metro Station), the result of 35 years of cultural cooperation between Israel and Brazil that finally gave birth to an impressive massive building in Torah shape offering many courses and activities both in Hebrew and Portuguese. If you are lucky, you could catch some art exposition or theatre show. Its cafeteria is 100% kosher.