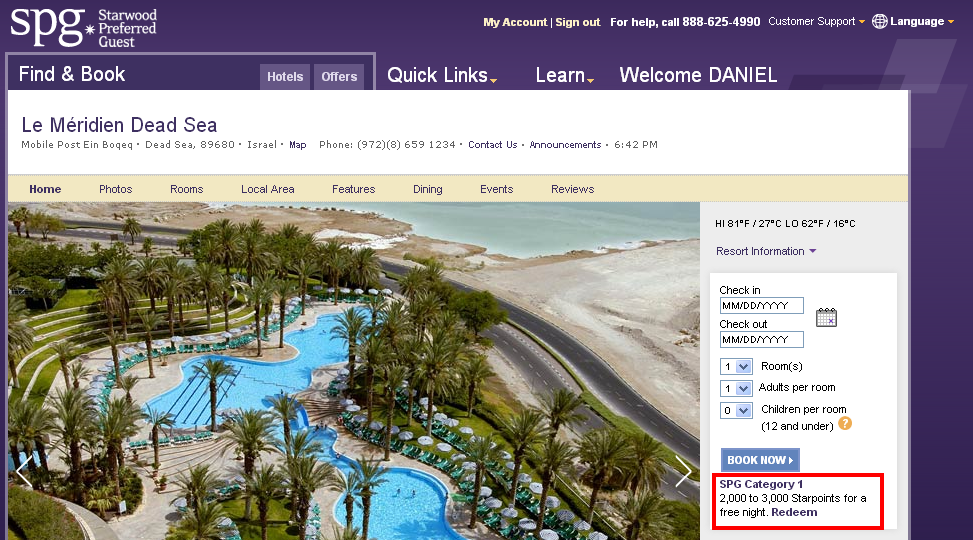 As some of you know, I'm always looking out for the best deals in Travel, especially as they relate to Jewish related Travel. I recently came across a post on Dansdeals that I immediately took advantage of.
Being a huge fan of Starwood hotels (and the SPG American Express card), I try and rack up points to use and spend within the SPG system. Earlier this summer I spent a few nights at the Le Méridien Montreal, and loved it. Later this winter when I head to Israel, I'll be spending a few nights at the Sheraton Tel Aviv, and now, thanks to the following promotion, will be spending a night at the Le Méridien Dead Sea … for 2,000 points (which is basically free)!
As a Category 1 SPG hotel, award nights tend to be on the cheaper end, and in this case, you can find many dates with award availability for 2,000 or 3,000 points per night redemptions! That's a steal, especially since many of the "point pundits" value SPG points at over $0.02 a point.
Click here for hotel / award redemption info
Sample 2013 dates with current award availability include:
January: All Saturday nights, select weeknights
February: The entire month except Friday nights
March: The first 2.5 weeks, except Friday nights (the days preceding and following Pesach are not available)
April: The entire month starting Apr 3, including Friday nights
May: The entire month except May 14-15
June, July, August: Entire months currently available
September: Half of the month is unavailable due to the holidays
October: The entire month
November: The entire month until Nov 26
December: The entire month starting Dec 6