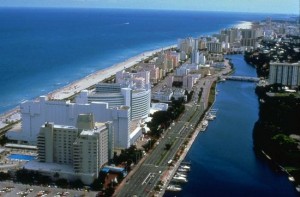 Contributed by: Dani Klein | Last Date of Travel: December 2011 (Special Thanks to @DaniOpp)
Kosher Info: One of the many reasons there are so many frum travelers to Miami Beach is the fact that there's a lot of kosher food available. In fact, we're it not for the huge influx of steady New Yorkers (and other northerners) down to the Miami Beach area, the local community could not support the vast amount of Kosher options they currently have, which is disproportionally large compared to the native Kosher observant population.
Having said that, there are actually some really great kosher options for locals and visitors alike.
There are a few areas where kosher restaurants can be found. And chances are, when you find one, others are likely not far away.
Scroll down below for an interactive map of the restaurants
1) Miami Beach
The main hub of the Miami Beach Jewish community centers around 41st street. Numerous Shuls and restaurants line 41st street and the surrounding blocks.

A favorite of many visitors (especially before and after Pesach) is Shem Tov's Pizza, which until recently was the only kosher pizza game in town. Now, they have competition down the block at Jona's Pizza, which is also quite good.

For breakfast, there's a popular café right off of 41st called Tasty Beach Café. It's a typical brunch style place where eggs, pastries, coffee and the like are on the menu. Locals were particularly adamant about their lunch menu as well. Much like Shem Tov's, Tasti used to be the only game in town for breakfast, salads, sandwiches, coffee in a relaxed café setting. However, that has all changed with Montefiore Café opening just one block west. While the menus in the two cafés seem similar, only Monefiore can boast comfortable seating for 30 inside, as well as 4 outdoor tables.

Around the corner, there's actually a kosher Dunkin Donuts, should you need something quick to go.

Two fancy restaurants on 41st were highly recommended to me: Grill House and Rare Steakhouse. While I didn't get to try Rare, everyone I encountered gushed about their high-end food (and prices). I was able to try Grill House, which is on the corner of Alton Rd. & 41st. The ambiance is really nice, and the portions are large, with each dinner coming with all 4 side dishes offered.

2) South Beach
South Beach has a smaller offering, about 10 Minutes south of the 41st street area.

An old favorite is Pita Loca located on 8th street, gives you the Israeli flavor that is so popular down in Southern Florida. Pita Loca is a small shwarma joint.

On the other side of Lincoln Rd. further west is Seventeen Restaurant, formerly "T 4 Two" from Brooklyn, with much of the same menu. We dined there on Motzei Shabbat, where the restaurant was packed. There's a large outdoor eating section, where we enjoyed our meal in the warm Miami evening weather. While the restaurant has equally large sushi and Italian menus, we stuck with the Asian fare and were not disappointed. Each of the sushi and other raw fish dishes we ordered were tasty and presented beautifully. (Click to read full review)

3) Surfside / Bal Harbour
Nearly all of the kosher restaurants in this area are on a 2 block span on Harding Ave, one block west, parallel to Collins Ave.

Technically in Surfside, this area, about 15 minutes north of 41st, serves a relatively higher end customer from the nearby Bal Harbour area. The restaurant and their prices do reflect the high end nature of the area.

Lotus is a relatively new Asian fusion restaurant on Harding, with a beautiful interior and ambiance. The food there was delicious and quite different. I definitely recommend trying it.

Cine Citta Grill was recommended to me by a friend who lives in the area, but warned that they are pricey, but worth it.

4) Aventura

The Aventura area boasts several nice dinning choices in the beautiful shopping center known as "The Waterways". China Bistro, an asian fusion restaurant, has a great menu with steaks, lo mein dishes, and delicious sushi. Just down the walk is Weber Café, a nice French inspired café with pasta dishes, Paninis, and pastries. With outdoor seating, patrons can enjoy the beautiful ambiance, breeze off the water and array of fountains. On the other side of the fountains, Gigi's, a Mediterranean/Italian inspired restaurant serves breakfast, salads, fish, pasta, sandwiches, falafel, and fresh fruit smoothies. The collection of restaurants and open air shopping makes The Waterways a nice midday or evening destination.

Just south of The Waterways, off of Biscayne Blvd., FresKo, a dairy gourmet restaurant serves pastries, sandwiches, wraps, and gourmet pizza. FresKo is just south the of the Aventura Mall and just north of Loehmann's Plaza, making it a convenient stop for that mid-afternoon lunch fix. In Loehmann's Plaza, there's Pita Plus of Aventura which is a solid Israeli shwarma/falafel joint.

Over to the west side of Biscayne Blvd. lie Jonas Pizza and Jonas Grill. The side by side restaurants (dairy and meat, respectively) offer delicious food and daily specials. The portions are large and satisfying. Sandwiches at Jonas Pizza are so large you will need two sittings just to finish one. Jonas Grill offers shwarma, and other Israeli grill items that are common place in your standard Israeli grill places. However, Jonas Grill also has a full sushi menu, making it a great choice even if you aren't in the mood for grilled chicken skewers.

Finally, while not a restaurant, Winn Dixie supermarket in Aventura (just north of the Aventura Mall) has a full service glatt kosher deli counter (deli meats, fried chicken, rotisserie chicken, etc.) as well as a full service kosher bakery (fresh breads, challah, cookies, birthday cakes, etc.) Stocking up with kosher food, at supermarket prices, can't be beat!

5) Hollywood

At the Stirling Road Kosher Shopping Plaza at 56th street, there are several choices for the kosher consumer. There is the Achla Bon Ami dairy restaurant, which is open 24 hours, serving pasta, sandwiches, fish, sushi, and more. Next door is the Achla Pita Grill (formerly known as Sunrise Pita Too) which has the best falafel and shwarma in town. If you go, make sure to try the lamb shwarma laffa, you can thank me later. On the other side of Achla Bon Ami, is Jonas Pizza. The Hollywood location (formerly JP Bistro/Sir Taco) has the same menu as the Miami Beach and Aventura/NMB locations but not the same specials. The sit down service and presentation is quite nice but I found the waiter service to be slow.

Across the street from the Stirling Plaza is Avigdor's Mozart Café. This dairy restaurant resides in a reconstructed home on the north side of the street. They serve gourmet pizza, pasta, sandwiches, salads, and other delicious dairy fare.

Closer to I-95 is the only remaining Sara's Pizza franchise. The menu has all the familiar favorites for those who grew up on Shmoppers and Pizza Lizzas. The ambiance leaves much to be desired and the food items are not as tasty as they were at the original Sara's Pizza location (but that could just be the nostalgia talking).

View Kosher Miami / Hollywood in a larger map