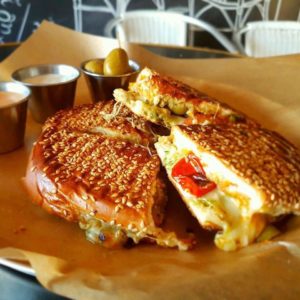 UPDATE: THIS RESTAURANT HAS CLOSED
Melbourne has a brand new kosher restaurant. Bagel Bar 55 opened up in March and is serving up Pas Yisroel and Cholov Yisroel goodies.
Menu items include bagels and baguettes of all kinds. The "Make Your Own Baguette" comes with home made pesto, cheese, a choice of four toppings (onion, corn, capsicum, black or green olives, and tomatoes), and a side of a tomato, cucumber, and pickle salad.
Customers can also build their own salads or try the Middle East, Cold Pasta, Nicoise, or the 55's salads. Side dishes include chips and onion rings.
Coffee is also available with fresh borekas.
They are open daily from 9:30am and closed on Saturdays.
Bagel Bar 55 is certified by Kosher Australia (KA).