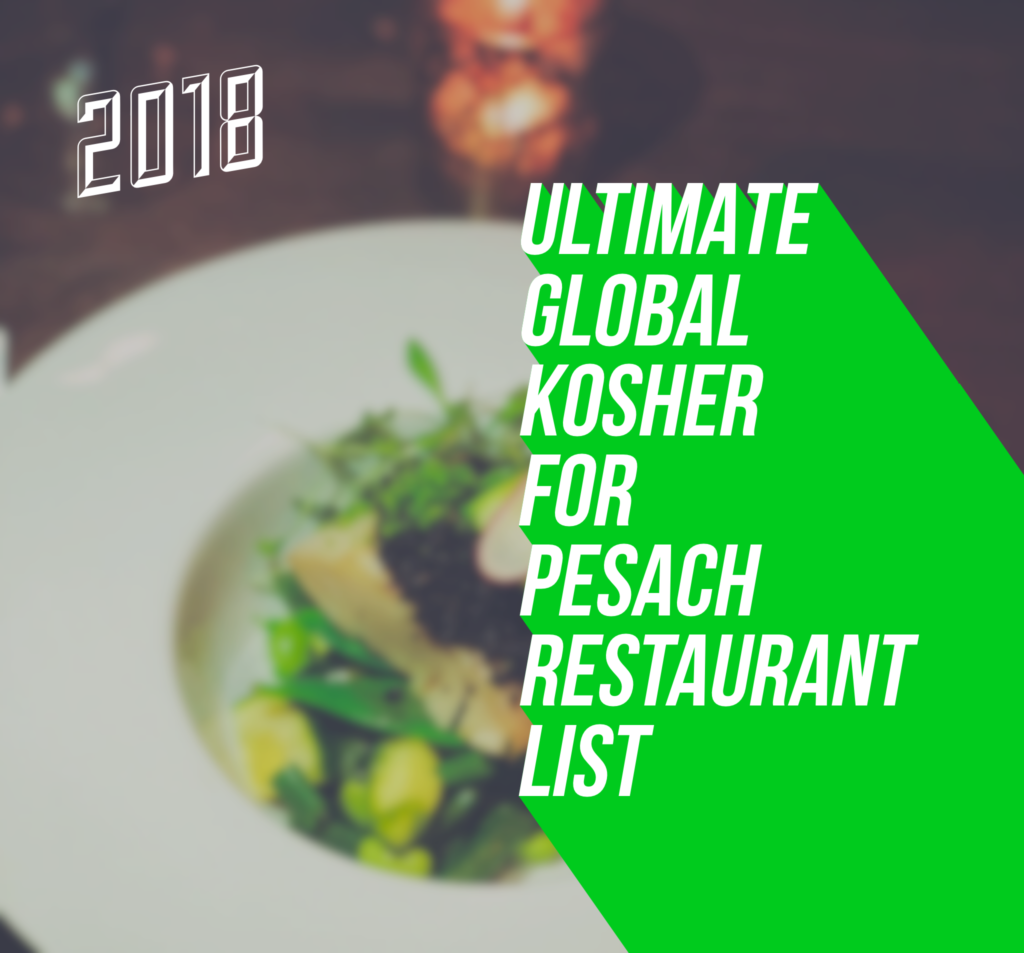 Your ultimate guide to kosher for Pesach / open on Chol Hamoed Restaurant Guide is here! A forewarning … this list is never finished … we will be adding additional restaurants to this list from around the world daily through chol hamoed.
This list is something that takes a long time to compile, and a lot of sources (including many you) make it happen.
The same rules apply to what I stated last year, so I will repeat it:
Before diving into the list below, please note the following:
We will be continuously updating this list through the first days of chol hamoed (obviously not on chag), so check back and refresh this page.
If you use an ad-blocker, we ask you kindly to turn it off for our website. Just allowing ads to appear will allow us to earn revenue for our hard work compiling information for you.
All restaurants are kitniyot-free (outside of Israel), unless stated otherwise. This may not be the case in France and Queens, NY, so check with each restaurant.
It is highly advisable to call in advance to verify the hours of operation as well as making a reservation (if possible), as many of these restaurants will be in high demand!
We recommend using the Chase Sapphire Reserve card (or the Chase Sapphire Preferred) at all restaurants (globally) which earns you 3x points at all restaurants (and travel) purchases, with no foreign transaction fees. The card also comes with a $300 annual travel credit and other perks.  (Disclosure: We may earn referrals from some of the links here, which helps support this site.) 
The following list is not a recommendation of the restaurant or its kosher certification.
To receive our email updates about kosher restaurants and kosher travel tips & advice, subscribe here.
The 100+ restaurants below are organized geographically and alphabetically by Country, State, City, and Restaurant Name (in that order). The current list includes restaurants across the US, Canada, UK, Israel, Italy, France, Panama, South Africa, and Australia. More coming soon.
If there are any restaurants missing from this list, please comment below and it will be added. Thank you!  (PS – On a smartphone, this list is easier to read if you tilt the phone sideways)
| | | | | | |
| --- | --- | --- | --- | --- | --- |
| Restaurant Name | City | State | Country | Kitniyot ? | Hosting Seder |
| Katzy's Food Factory | Sydney | NSW | Australia | | |
| Daneli's Deli | Melbourne | Victoria | Australia | | |
| Kimberley Gardens | Melbourne | Victoria | Australia | | Yes |
| Ba-Li @ Four Points Sheraton (ballroom) | Niagara Falls | ON | Canada | | |
| Elite Salads @ Four Points Sheraton (ballroom) | Niagara Falls | ON | Canada | | |
| My Zaidy's Bakery | Toronto | ON | Canada | | |
| Pop Up @ Adath Israel (4/2 & 4/3 only) | Toronto | ON | Canada | | |
| BSTRO | Montreal | QC | Canada | | |
| Ernie & Ellie's | Montreal | QC | Canada | | |
| Kahn Famous Deli | Boulogne-Billancourt | | France | | |
| Lev's | Juan-Les-Pins | | France | | |
| 126 | Paris | | France | | |
| Asiati-k | Paris | | France | | |
| Berbeche | Paris | | France | | |
| Chez victor | Paris | | France | | |
| Douieb | Paris | | France | | |
| Guest | Paris | | France | | |
| Japan eat | Paris | | France | | |
| Kahn Famous Deli | Paris | | France | | |
| L'aile ou la cuisse | Paris | | France | | |
| Ma poule aux oeuf d'or | Paris | | France | | |
| Manathan | Paris | | France | | |
| Moses | Paris | | France | | |
| Neuilly traiteur | Paris | | France | | |
| Noblesse traiteur | Paris | | France | | |
| Pilpel | Paris | | France | | |
| Rest o fleg | Paris | | France | | |
| Vicky | Paris | | France | | |
| Burgers Bar | Ashdod | | Israel | | |
| Aresto | Caesarea | | Israel | | |
| Koya | Caesarea | | Israel | | |
| 5th Avenue | Eilat | | Israel | Kitniyot | |
| Burgers Bar (BIG) | Eilat | | Israel | | |
| Burgers Bar (Pnina) | Eilat | | Israel | | |
| Karibu | Eilat | | Israel | Kitniyot | |
| Ranch House @ The Royal Beach Hotel | Eilat | | Israel | No Kitniyot | |
| Bistro56 | Herzlia Pituach | | Israel | No Kitniyot | |
| Fresh Kitchen | Herzlia Pituach | | Israel | | |
| Papagaio | Herzlia Pituach | | Israel | No Kitniyot | |
| Angelica | Jerusalem | | Israel | No Kitniyot | |
| Ben-Ami | Jerusalem | | Israel | No Kitniyot | |
| Black | Jerusalem | | Israel | No Kitniyot | |
| Burgers Bar (Machane Yehuda) | Jerusalem | | Israel | | |
| Burgers Bar (Old City) | Jerusalem | | Israel | | |
| Burgers Bar (Shamai) | Jerusalem | | Israel | | |
| Burgers Bar (Yafo) | Jerusalem | | Israel | | |
| Cafe Landwer | Jerusalem | | Israel | No Kitniyot | |
| Cafe Nocturno | Jerusalem | | Israel | | |
| Corky | Jerusalem | | Israel | No Kitniyot | |
| Crave | Jerusalem | | Israel | No Kitniyot | |
| Fresh Kitchen (Mamila) | Jerusalem | | Israel | | |
| Grand Cafe | Jerusalem | | Israel | | |
| Greg Cafe (Cinema City) | Jerusalem | | Israel | No Kitniyot | |
| Greg Cafe (Mamila) | Jerusalem | | Israel | No Kitniyot | |
| Hachatzer | Jerusalem | | Israel | No Kitniyot | |
| Jacko's Street | Jerusalem | | Israel | No Kitniyot | |
| Joy Bistro | Jerusalem | | Israel | No Kitniyot | |
| Kampai Street Wok | Jerusalem | | Israel | | |
| Kedma (Mamila) | Jerusalem | | Israel | No Kitniyot | |
| Kinor Bakikar | Jerusalem | | Israel | No Kitniyot | |
| La Boca | Jerusalem | | Israel | No Kitniyot | |
| Luciana (Mamila) | Jerusalem | | Israel | No Kitniyot | |
| Luigi (Katamon) | Jerusalem | | Israel | No Kitniyot | |
| Medita | Jerusalem | | Israel | No Kitniyot | |
| Meuchas | Jerusalem | | Israel | No Kitniyot | |
| Mike's Place | Jerusalem | | Israel | No Kitniyot | |
| Oshi Oshi | Jerusalem | | Israel | Kitniyot | |
| Papagaio | Jerusalem | | Israel | No Kitniyot | |
| Pasta Basta | Jerusalem | | Israel | Kitniyot | |
| Pompidou | Jerusalem | | Israel | No Kitniyot | |
| Roza | Jerusalem | | Israel | | |
| Roza (Moshava) | Jerusalem | | Israel | | |
| Sam's Bagels | Jerusalem | | Israel | | |
| Scala | Jerusalem | | Israel | | |
| Sushi Rechavia | Jerusalem | | Israel | Kitniyot | |
| Tmol Shilshom Cafe | Jerusalem | | Israel | | |
| Valero | Jerusalem | | Israel | | |
| Village Green Vegan | Jerusalem | | Israel | Kitniyot | |
| Waffle Factory (Cinema City) | Jerusalem | | Israel | | |
| Waffle Factory (Emek) | Jerusalem | | Israel | No Kitniyot | |
| Haroeh BaCafe | | | Israel | No Kitniyot | |
| Esh Besh | Kiryat Shmoneh | | Israel | | |
| Burgers Bar (Azrieli Mall) | Modi`in | | Israel | | |
| Luciana | Modi`in | | Israel | No Kitniyot | |
| Beef Bar Steak House | Netanya | | Israel | | |
| El Gaucho, Netanya | Netanya | | Israel | No Kitniyot | |
| Kitchen Bar | Netanya | | Israel | | |
| Red Burger Bar | Netanya | | Israel | | |
| Souvlaki | Netanya | | Israel | | |
| Black (Hasivim) | Petach Tikva | | Israel | No Kitniyot | |
| Black @ Big Mall | Petach Tikva | | Israel | No Kitniyot | |
| Cafe Neto | Petach Tikva | | Israel | No Kitniyot | |
| Borochov 88 | Ra'anana | | Israel | No Kitniyot | |
| Brenner Wine Bar | Ra'anana | | Israel | | |
| Cafe Neto | Ra'anana | | Israel | No Kitniyot | |
| Nagisa Raanana | Ra'anana | | Israel | | |
| Panko | Ra'anana | | Israel | | |
| Blackstone @ Indigo Hotel | Ramat Gan | | Israel | | |
| El Gaucho | Ramat Gan | | Israel | No Kitniyot | |
| Burgers Bar | Rishon Letzion | | Israel | | |
| Campania | Rishon Lezion | | Israel | No Kitniyot | |
| Hatzok | Rosh Hanikra | | Israel | | |
| 99 Hayarkon | Tel Aviv | | Israel | No Kitniyot | |
| Armando | Tel Aviv | | Israel | | |
| Burgers Bar @ Azrieli Tower | Tel Aviv | | Israel | | |
| Caffe Yaffo | Tel Aviv | | Israel | | |
| Canaan | Tel Aviv | | Israel | | |
| Fisherman's Restaurant @ the Port | Tel Aviv | | Israel | | |
| Fresh Kitchen | Tel Aviv | | Israel | | |
| Goshen | Tel Aviv | | Israel | | |
| Hungarian Blintzes | Tel Aviv | | Israel | No Kitniyot | |
| La Lasagna | Tel Aviv | | Israel | | |
| Lechem Basar @ the Port | Tel Aviv | | Israel | | |
| Lentrecote | Tel Aviv | | Israel | | |
| Mapu | Tel Aviv | | Israel | No Kitniyot | |
| Nini Hachi | Tel Aviv | | Israel | | |
| Oshi Oshi | Tel Aviv | | Israel | | |
| Pankina | Tel Aviv | | Israel | | |
| Paradiso Sarona Cafe | Tel Aviv | | Israel | | |
| Regina | Tel Aviv | | Israel | | |
| Yonita Cafe | Tel Aviv | | Israel | | |
| Spoons Salon Jaffa | Yafo | | Israel | | |
| Tanduka | Yokneam Hamoshava | | Israel | | |
| Casa Barone | Zichron Yaakov | | Israel | No Kitniyot | |
| Ghimel Garden | Venice | | Italy | | Yes |
| Club Shalom Mañanitas | Panama City | | Panama | | |
| Deli Kafe (in Deli K) | Panama City | | Panama | | |
| Mímate @ Sinagoga Bet-El | Panama City | | Panama | | |
| Prime Grill | Panama City | | Panama | | |
| Dug Fish | Johannesburg | | South Africa | | |
| Feigels | Johannesburg | | South Africa | | |
| Jozi Blue | Johannesburg | | South Africa | | |
| Tiberius | Johannesburg | | South Africa | | |
| La Fiesta | Golders Green | England | UK | | |
| Sami's | Hendon | England | UK | | |
| White House Express | Hendon | England | UK | | |
| 1070 Kitchen (inside Selfridge's Food Hall) | London | England | UK | | |
| Pesach Pop-up @ Hamstead Garden Suburb Synagogue (4/3 only) | London | England | UK | | |
| Pesach Pop-up @ Mill Hill United Synagogue (4/4 only) | London | England | UK | | |
| Segal's Oasis Grill (takeout only) | Phoenix | AZ | USA | | |
| The Café at the J @ Tucson Jewish Community Center | Tuscon | AZ | USA | | |
| Mexikosher | Los Angeles | CA | USA | | |
| Pico Kosher Deli (PKD) | Los Angeles | CA | USA | | |
| Shiloh's | Los Angeles | CA | USA | | |
| Tratoria Natalie | Los Angeles | CA | USA | | |
| Char Bar | Washington | DC | USA | | |
| SouperGirl (M Street) | Washington | DC | USA | | |
| SouperGirl (Takoma) | Washington | DC | USA | | |
| China Bistro | Aventura | FL | USA | | |
| Noma | Aventura | FL | USA | | |
| Butcher Block Grill | Boca Raton | FL | USA | | |
| Ditmas | Boca Raton | FL | USA | | |
| Pita n' Go | Boca Raton | FL | USA | | |
| Mozart Cafe | Dania Beach | FL | USA | | |
| Nava's Kosher Kitchen | Davie | FL | USA | | |
| Kosher Kiosk @ Marlins Park | Miami | FL | USA | | |
| China Beach | Miami Beach | FL | USA | | |
| China Kikar Tel Aviv | Miami Beach | FL | USA | | |
| Florida Grill Steakhosue | Miami Beach | FL | USA | | |
| Grill House | Miami Beach | FL | USA | | |
| Mimosa | Miami Beach | FL | USA | | |
| Montefiore Cafe & Restaurant | Miami Beach | FL | USA | | |
| Pita Hut | Miami Beach | FL | USA | | |
| Prime 41 | Miami Beach | FL | USA | | |
| Krudo | N. Miami Beach | FL | USA | | |
| Shalom Haifa | N. Miami Beach | FL | USA | | |
| Backyard BBQ | Surfside | FL | USA | | |
| Kosh | Surfside | FL | USA | | |
| Adam's Ribs (Food Truck) | Miami | FL | USA | | |
| Kosher Station (@ Baker Dining Commons) @ University of Chicago | Chicago | IL | USA | | |
| Kosher Cajun | New Orleans | LA | USA | | |
| BU Kosher Dining @ BU Hillel | Brookline | MA | USA | | |
| Cold Press | Brookline | MA | USA | | |
| MIT Kosher Dining @MIT Hillel | Cambridge | MA | USA | | |
| Al Haesh | Rockville | MD | USA | | |
| Dish Kosher Cuisine (4/3 dinner only) | West Bloomfield | MI | USA | | |
| Washington University Hillel | St. Louis | MO | USA | | Yes |
| Crispy Grill | Deal | NJ | USA | | |
| Park Place | Highliand Park | NJ | USA | | |
| Green Point Juicery | Morristown | NJ | USA | | |
| Teaneck Doghouse | Teaneck | NJ | USA | | |
| Green Point Juicery | Verona | NJ | USA | | |
| Crawford's | Brooklyn | NY | USA | | |
| Raw BK | Brooklyn | NY | USA | | |
| Re:JuiceBar | Brooklyn | NY | USA | | |
| Shuey's (Ave K) | Brooklyn | NY | USA | | |
| T Fusion Steakhouse | Brooklyn | NY | USA | | |
| Urban Pops (at Sephardic Community Center) | Brooklyn | NY | USA | | |
| Berrylicious | Cedarhurst | NY | USA | | |
| Cafe Chocolat | Cedarhurst | NY | USA | | |
| Cho Sen Village | Great Neck | NY | USA | | |
| Colbeh | Great Neck | NY | USA | | |
| Cho Sen Island | Lawrence | NY | USA | | |
| Bedford on Park | New York | NY | USA | | |
| Colbeh | New York | NY | USA | | |
| Eighteen | New York | NY | USA | | Yes |
| La Brochette | New York | NY | USA | | |
| Le Marais | New York | NY | USA | | |
| Mendy's (34th st) | New York | NY | USA | | |
| Mendy's (Rockefeller Center) | New York | NY | USA | | |
| Mr. Broadway | New York | NY | USA | | |
| My Most Favorite Food | New York | NY | USA | | |
| Paprika | New York | NY | USA | | |
| Talia's Steakhouse | New York | NY | USA | | Yes |
| Berrylicious | Queens | NY | USA | | |
| Cafe Muscat | Queens | NY | USA | | |
| Cho Sen Garden | Queens | NY | USA | | |
| Damikelle – Troyka | Queens | NY | USA | Kitniyot | |
| Gabriel | Queens | NY | USA | Kitniyot | |
| Holy Schnitzel | Queens | NY | USA | | |
| King David Restaurant | Queens | NY | USA | | |
| L'Amour Restaurant | Queens | NY | USA | Kitniyot | |
| MeO Hibachi | Queens | NY | USA | | |
| Prestige Restaurant | Queens | NY | USA | Kitniyot | |
| Colbeh | Roslyn | NY | USA | | |
| Oma's Sushi | West Hempstead | NY | USA | | |
| Mullenberg College Noshery (Campus Dining) | Allentown | PA | USA | | |
| Star of David Kosher Grill (food truck) @ Lower Merion Synagogue | Bala Cynwyd | PA | USA | | |
| Genesis Steakhouse & Wine Bar | Houston | TX | USA | | |
Read our other guides for Passover: