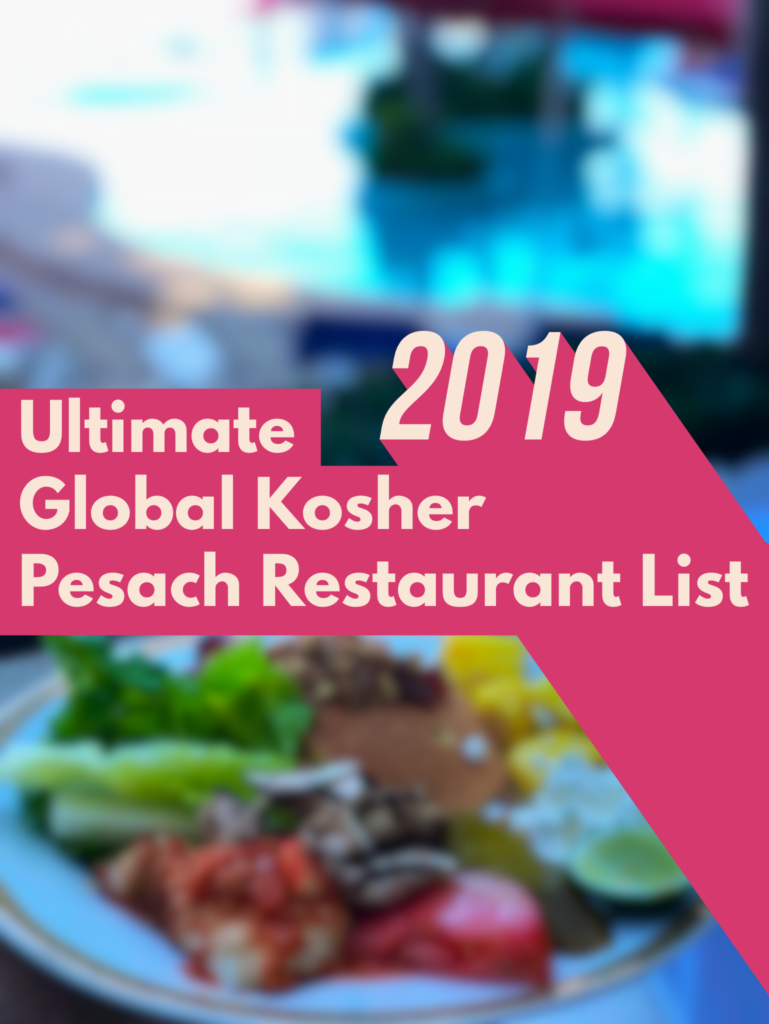 Here's the ultimate guide to kosher for Pesach / open on Chol Hamoed Restaurant Guide around the world!
A forewarning … this list is never finished … we will be adding additional restaurants to this list globally daily through the first days of chol hamoed.
This list is something that takes a long time to compile, and a lot of sources (including many you) make it happen.
The same rules apply to what I state every year, so I will repeat it:
Before diving into the list below, please note the following:
We will be continuously updating this list through the first days of chol hamoed (obviously not on chag), so check back and refresh this page.
If you use an ad-blocker, we ask you kindly to turn it off for our website. Just allowing ads to appear will allow us to earn revenue for our hard work compiling information for you.
All restaurants are kitniyot-free (outside of Israel), unless stated otherwise. This may not be the case in France and Queens, NY, so double check with each restaurant.
It is highly advisable to call in advance to verify the hours of operation as well as making a reservation (if possible), as many of these restaurants will be in high demand!
The following list is not a recommendation of the restaurants or its kosher certification.
Restaurants do not pay to be listed here. We will list any kosher restaurant that is open for Pesach Chol Hamoed in the world.
For those traveling for the chag, here are halachic Yom Tov guidelines for hotel guests. Click to read more.
To receive our email updates about kosher restaurants and kosher travel tips & advice, subscribe here.
The over 230+ restaurants below are organized geographically and alphabetically by Country, State, City, and Restaurant Name (in that order). The current list includes restaurants across the US, Argentina, Australia, Bulgaria, Canada, China, France, Germany, Israel, Italy, Jamaica, Mexico, Panama, Romania, Russia, South Africa, and the UK. More coming soon.
YeahThatsKosher wishes you a חג פסח כשר ושמח
If there are any restaurants missing from this list, please comment below and it will be added. Thank you! (PS – On a smartphone, this list is easier to read if you tilt the phone sideways)
Restaurant
City
State
Country
Kitniyot?
Menu
Seder?
Helueni
Buenos Aires
—
Argentina
Kitniyot
—
—
Cocomama's Cold Pressed Juices & Smoothies
Melbourne
Victoria
Australia
—
—
—
Daneli's
Melbourne
Victoria
Australia
—
—
—
Kimberley Grill
Melbourne
Victoria
Australia
—
—
—
Cap Away Coffee Cart (Krinskys Kosher Supermarket)
Bondi
NSW
Australia
—
—
—
Cap Away Coffee Cart (Wolper Hospital)
Woollahra
NSW
Australia
—
—
—
Jerusalem
Sofia
—
Bulgaria
—
—
—
My Zaidy's Pizza
Thornhill
ON
Canada
—
—
—
BSTRO
Montreal
QC
Canada
—
—
—
Sabra Restaurant (JCC of HK Garden Room)
Hong Kong
—
China
—
—
Yes
Le Flash
Bobigny
—
France
—
—
—
Kahn Famous Deli
Boulogne-Billancourt
—
France
—
—
—
Dai Dai Grill
Levallois-Perret
—
France
—
—
—
Seven Seventy
Levallois-Perret
—
France
—
—
—
King David
Neuilly sur Seine
—
France
—
—
—
Neuilly Traiteur
Neuilly sur Seine
—
France
—
—
—
Barback
Paris
—
France
—
—
—
Chez Papy
Paris
—
France
—
—
—
Chez Victor
Paris
—
France
—
—
—
Cook
Paris
—
France
—
—
—
Douieb
Paris
—
France
—
—
—
Japan eat
Paris
—
France
—
—
—
Kahn Boulogne
Paris
—
France
—
—
—
Kahn Famous Deli Paris
Paris
—
France
—
—
—
Kavod
Paris
—
France
—
—
—
L'aile ou la cuisse
Paris
—
France
—
—
—
Le Family 26
Paris
—
France
—
—
—
Le Gendre Du Boucher
Paris
—
France
—
—
—
Le Manhattan
Paris
—
France
—
—
—
Les Garçons Bouchers
Paris
—
France
—
—
—
Les Jardins du Belvedere
Paris
—
France
—
—
—
Ma P'tite Poule
Paris
—
France
—
—
—
Ma Poule aux œufs d'or
Paris
—
France
—
—
—
Natane Grill
Paris
—
France
—
—
—
Neuilly Traiteur
Paris
—
France
—
—
—
Noblesse Traiteur
Paris
—
France
—
—
—
O De Rose
Paris
—
France
—
—
—
ShenThaï
Paris
—
France
—
—
—
Shinzzo Manin
Paris
—
France
—
—
—
Shinzzo Voltaire
Paris
—
France
—
—
—
Vicky by Paco
Paris
—
France
—
—
—
Shinzzo Saint-Mandé
Saint-Mandé
—
France
—
—
—
Sergioh!
Sarcelles
—
France
—
—
—
Mazal Tov
Cologne
—
Germany
—
—
—
Restaurant Einstein
Munich
—
Germany
—
—
—
Roots
Akko
—
Israel
Kitniyot
—
—
Meat & Eat
Bet Shemesh
—
Israel
—
—
—
Aresto
Caesarea
—
Israel
—
—
—
Koya
Caesarea
—
Israel
—
—
—
5th Avenue
Eilat
—
Israel
Kitniyot
—
—
Jasper 08
Eilat
—
Israel
—
—
—
Olla
Eilat
—
Israel
—
—
—
Ranch House (Royal Beach Hotel)
Eilat
—
Israel
Non-kitniyot
—
—
Shipudei Eilat
Eilat
—
Israel
—
—
—
Bistro56
Herzlia Pituach
—
Israel
Non-kitniyot
—
—
Fresh Kitchen
Herzlia Pituach
—
Israel
—
—
—
Herbert Samuel @ the Ritz Carlton
Herzlia Pituach
—
Israel
Non-kitniyot
—
—
Papagaio
Herzlia Pituach
—
Israel
Non-kitniyot
—
—
Sheldi Dining Club
Herzlia Pituach
—
Israel
Kitniyot
—
—
02 @ the Inbal Hotel
Jerusalem
—
Israel
Non-Kitniyot
—
—
1868
Jerusalem
—
Israel
Non-Kitniyot
View menu
—
Angelica
Jerusalem
—
Israel
Non-Kitniyot
—
—
Ben Ami
Jerusalem
—
Israel
Non-kitniyot
—
—
Black
Jerusalem
—
Israel
Non-Kitniyot
—
—
Café Gan Sipur
Jerusalem
—
Israel
Non-Kitniyot
—
—
Cafe Landwers (Cinema City)
Jerusalem
—
Israel
Non-Kitniyot
—
—
Crave
Jerusalem
—
Israel
—
—
—
Eucalyptus
Jerusalem
—
Israel
—
—
—
Fresh Kitchen
Jerusalem
—
Israel
—
—
—
Greg Cafe Cinema
Jerusalem
—
Israel
Non-kitniyot
—
—
Greg Cafe Mamila
Jerusalem
—
Israel
Non-kitniyot
—
—
Jacko's Son
Jerusalem
—
Israel
Kitniyot
—
—
Jacko's Street
Jerusalem
—
Israel
Non-kitniyot
—
—
Josef Burger
Jerusalem
—
Israel
Kitniyot
—
—
Joy Bistro
Jerusalem
—
Israel
Non-Kitniyot
—
—
Kedma
Jerusalem
—
Israel
Non-Kitniyot
—
—
Kinor Bakikar
Jerusalem
—
Israel
Non-Kitniyot
—
—
La Regence @ the King David Hotel
Jerusalem
—
Israel
Non-Kitniyot
—
—
Luciana
Jerusalem
—
Israel
Non-Kitniyot
—
—
Meat & Eat
Jerusalem
—
Israel
Non-Kitniyot
—
—
Mikes Place
Jerusalem
—
Israel
Non-Kitniyot
—
—
Mirror Bar @ the Mamilla Hotel
Jerusalem
—
Israel
Non-Kitniyot
—
—
Naya
Jerusalem
—
Israel
Kitniyot
—
—
Oshi Oshi
Jerusalem
—
Israel
—
—
—
Papagaio
Jerusalem
—
Israel
Non-Kitniyot
—
—
Pompidou
Jerusalem
—
Israel
Non-Kitniyot
—
—
Rooftop Restaurant @ the Mamilla Hotel
Jerusalem
—
Israel
Non-Kitniyot
—
Yes
Roza Moshava
Jerusalem
—
Israel
—
—
—
Scala @ the David Citadel Hotel
Jerusalem
—
Israel
Non-Kitniyot
—
—
Seoul House
Jerusalem
—
Israel
Non-Kitniyot
—
—
Sushi Rechavia
Jerusalem
—
Israel
Kitniyot
—
—
Valero
Jerusalem
—
Israel
—
—
—
Village Green Vegan
Jerusalem
—
Israel
Kitniyot
—
—
Waffle Factory
Jerusalem
—
Israel
—
—
—
Waffle Factory
Jerusalem
—
Israel
—
—
—
Zuta Bar
Jerusalem
—
Israel
Non-Kitniyot
—
—
Haroeh BaCafe
Kfar Haroeh (near Hadera)
—
Israel
Non-Kitniyot
—
—
Alto Dairy Cafe
Kibbutz Shomrat (near Akko)
—
Israel
—
—
—
Ikea Kiryat Atta
Kiryat Atta
—
Israel
—
—
—
Amigos
Kiryat Shmoneh
—
Israel
—
—
—
Luciana Modiin (Ishpro Center)
Modi'in
—
Israel
Non-Kitniyot
—
—
Michalis (Ishpro Center)
Modi'in
—
Israel
Non-Kitniyot
—
—
Gillis Steakhouse
Moshav Nov (Golan Heights)
—
Israel
Non-Kitniyot
—
—
Ariel Bakery
Nahariya
—
Israel
—
—
—
Atza Sushi
Nahariya
—
Israel
—
—
—
Bordo
Nahariya
—
Israel
—
—
—
Cafe Cafe
Nahariya
—
Israel
—
—
—
Beef Bar Steak House
Netanya
—
Israel
—
—
—
Cafe Landwer
Netanya
—
Israel
—
—
—
Chubbys
Netanya
—
Israel
—
—
—
El Gaucho
Netanya
—
Israel
Non-kitniyot
—
—
Ikea Netanya
Netanya
—
Israel
—
—
—
Red Burger Bar
Netanya
—
Israel
—
—
—
Lechem Basar
Netanya
—
Israel
—
—
—
Moshe Segev
Netanya
—
Israel
Kitniyot
—
—
Souvlaki
Netanya
—
Israel
Non-kitniyot
—
—
Black (Hasivim)
Petach Tikva
—
Israel
Non-kitniyot
—
—
Black (Big Mall)
Petach Tikva
—
Israel
Non-kitniyot
—
—
Cafe Neto
Petach Tikva
—
Israel
Non-kitniyot
—
—
Brener Wine Bar
Ra'anana
—
Israel
—
—
—
Cafe Neto
Ra'anana
—
Israel
Non-kitniyot
—
—
Mandarin
Ra'anana
—
Israel
—
—
—
Nagisa
Ra'anana
—
Israel
—
—
—
Panko
Ra'anana
—
Israel
—
—
—
Blackstone
Ramat Gan
—
Israel
—
—
—
Campania
Rishon Lezion
—
Israel
—
—
—
Ikea Rishon Lezion
Rishon Lezion
—
Israel
—
—
—
New York Steakhouse
Rishon Lezion
—
Israel
—
—
—
99 Hayarkon
Tel Aviv
—
Israel
Non-kitniyot
—
—
Armando
Tel Aviv
—
Israel
—
—
—
Blue Sky by Meir Adoni @ the Carlton Hotel
Tel Aviv
—
Israel
Non-Kitniyot
View menu
—
Canaan
Tel Aviv
—
Israel
—
—
—
Carmen
Tel Aviv
—
Israel
—
—
—
Deca
Tel Aviv
—
Israel
Kitniyot
—
—
Fish Market by Meatos
Tel Aviv
—
Israel
Kitniyot
—
—
Fresh Kitchen
Tel Aviv
—
Israel
—
—
—
Goshen
Tel Aviv
—
Israel
—
—
—
Hungarian Blintzes
Tel Aviv
—
Israel
Non-Kitniyot
—
—
La Lasagna
Tel Aviv
—
Israel
—
—
—
Lentrecote
Tel Aviv
—
Israel
—
—
—
Lumina by Meir Adoni @ the Carlton Hotel
Tel Aviv
—
Israel
Non-Kitniyot
View menu
—
Malka
Tel Aviv
—
Israel
Kitniyot
—
—
Mapu @ the Prima Hotel
Tel Aviv
—
Israel
Non-Kitniyot
—
—
Nini Hachi
Tel Aviv
—
Israel
—
—
—
Nomi
Tel Aviv
—
Israel
Non-Kitniyot
—
—
Oshi Oshi
Tel Aviv
—
Israel
—
—
—
Pankina
Tel Aviv
—
Israel
—
—
—
Paradiso Sarona Cafe
Tel Aviv
—
Israel
—
—
—
Regina
Tel Aviv
—
Israel
—
—
—
Rendezvous
Tel Aviv
—
Israel
—
—
—
Resto
Tel Aviv
—
Israel
Kitniyot
—
—
Sefora
Tel Aviv
—
Israel
Kitniyot
—
—
West Side @ the Royal Beach Hotel
Tel Aviv
—
Israel
Non-Kitniyot
—
—
Yakimono @ the Hilton Hotel
Tel Aviv
—
Israel
Non-Kitniyot
View menu
—
Ahrele
Tzfat
—
Israel
—
—
—
Cafe Baghdad
Tzfat
—
Israel
—
—
—
Seudat Gan Eden
Tzfat
—
Israel
—
—
—
Nina Bianca
Tzmoet Bilu
—
Israel
Kitniyot
—
—
Caffe Yaffo
Yafo
—
Israel
—
—
—
Tanduka
Yokneam Hamoshava
—
Israel
—
—
—
Casa Barone
Zichron Yaakov
—
Israel
Non-Kitniyot
—
—
Ba'Ghetto (seders only)
Rome
—
Italy
—
—
Yes
Cremeria Romano
Rome
—
Italy
—
—
—-
Su'Ghetto
Rome
—
Italy
—
—
Yes
Bella Carne
Rome
—
Italy
—
—
Yes
Ghimel Garden
Venice
—
Italy
—
—
—
Kosher Hot Spot (Chabad take out)
Montego Bay
—
Jamaica
—
View menu
Yes
Chabad of Cancun Restaurant
Cancun
Quintana Roo
Mexico
—
—
—
Gaucho Grill
Mexico City
CDMX
Mexico
—
—
—
Prime Grill
Panama City
—
Panama
—
—
—
Dr. Sandwich
Panama City
—
Panama
—
—
—
Moise's
Bucharest
—
Romania
—
—
—
Mogen Dovid
Moscow
—
Russia
—
—
—
Avron's
Cape Town
—
South Africa
—
—
—
Feigels
Johannesburg
—
South Africa
—
—
—
Jozi Blue Cafe
Johannesburg
—
South Africa
—
—
—
Kosher World Pop up
Johannesburg
—
South Africa
—
—
—
Nando's
Johannesburg
—
South Africa
—
—
—
Premier Hotel
Sea Point
—
South Africa
—
—
—
La Fiesta
Golders Green
England
UK
—
—
—
Sami's
Hendon
England
UK
—
—
—
Hampstead Garden Suburb Synagogue (4/23 pop-up)
London
England
UK
—
—
—
Mill Hill Synagogue (4/22 pop-up)
London
England
UK
—
—
—
Disneyland (Select Restaurants)
Anaheim
CA
USA
—
View details
—
Eilat Cafe
Los Angeles
CA
USA
—
—
—
Kabob by Faraj
Los Angeles
CA
USA
—
—
—
The Ktchn
Los Angeles
CA
USA
—
—
—
Lieder's (La Brea)
Los Angeles
CA
USA
—
—
—
Lieder's (Pico – to go only)
Los Angeles
CA
USA
—
—
—
Our Kosher Table (UCLA Hillel)
Los Angeles
CA
USA
—
—
—
Trattoria Natalie
Los Angeles
CA
USA
—
View menu
—
Char Bar
Washington
DC
USA
—
—
—
Brooklyn Sandwich Co. (Food Truck)
Washington
DC
USA
—
—
—
Soupergirl (Dupont Circle)
Washington
DC
USA
—
—
—
Soupergirl (Takoma)
Washington
DC
USA
—
—
—
Dixie BBQ
Aventura
FL
USA
—
—
—
Noma
Aventura
FL
USA
—
View menu
—
Soho Asian Bar & Grill
Aventura
FL
USA
—
—
—
Chez Rene et Gabin
Bal Harbour
FL
USA
—
—
—
Meat Bar
Bay Harbour
FL
USA
—
—
—
Butcher Block Grill
Boca Raton
FL
USA
—
—
—
Ditmas
Boca Raton
FL
USA
—
—
—
Pita Xpress Subs & Grill
Dania Beach
FL
USA
Non-Kitniyot
View menu
—
Pita Xpress Subs & Grill
Hollywood
FL
USA
Non-Kitniyot
View menu
—
China Beach
Miami Beach
FL
USA
—
—
—
Florida Grill
Miami Beach
FL
USA
—
—
Yes
Grill House
Miami Beach
FL
USA
—
—
—
Mimosa (CU catering)
Miami Beach
FL
USA
—
—
Yes
Pita Loca (phone orders only)
Miami Beach
FL
USA
—
—
—
Pita Hut
Miami Beach
FL
USA
—
—
—
Prime 41
Miami Beach
FL
USA
—
—
Yes
Krudo
North Miami Beach
FL
USA
—
—
—
Walt Disney World (Select Restaurants)
Orlando
FL
USA
—
View details
—
Mozart Grill
Sunny Isles Beach
FL
USA
—
—
—
Kosh
Surfside
FL
USA
—
View menu
—
Mesa Bar & Grill
Surfside
FL
USA
—
—
—
Serendipity
Surfside
FL
USA
—
—
—
UChicago Baker Dining Commons Kosher Station
Chicago
IL
USA
—
—
—
Kosher Cajun
New Orleans
LA
USA
—
View menu
Yes
Boston University Hillel
Boston
MA
USA
—
—
—
Pure Cold Press
Brookline
MA
USA
—
—
—
Harvard University Hillel
Cambridge
MA
USA
—
—
—
MIT Hillel
Cambridge
MA
USA
—
—
—
Chazzano Café Ebraica
Ferndale
MI
USA
—
—
—
University of Maryland Hillel
College Park
MD
USA
—
—
—
Al Ha'esh
Rockville
MD
USA
—
—
—
Crispy Grill
Deal
NJ
USA
—
—
—-
Park Place
Highland Park
NJ
USA
—
—
—
Princeton University Dining Center for Jewish Life
Princeton
NJ
USA
—
—
—
Berrylicious
Teaneck
NJ
USA
—
—
—
Glatt Express (Avenue Event Space)
Teaneck
NJ
USA
—
—
—
Teaneck Doghouse
Teaneck
NJ
USA
—
—
—
Binghamton University Kosher Korner
Binghamton
NY
USA
—
—
—
Crawfords
Brooklyn
NY
USA
—
Menu
—
The Juice Theory
Brooklyn
NY
USA
—
—
—
Jus by Julie (Ave M)
Brooklyn
NY
USA
—
—
—
Jus by Julie (Ave U)
Brooklyn
NY
USA
—
—
—
T Fusion Steakhouse
Brooklyn
NY
USA
—
—
—
Berrylicious
Cedarhurst
NY
USA
—
—
—
Cafe Muscat
Flushing
NY
USA
—
—
—
Citi Field Kosher Stand
Flushing
NY
USA
—
View details
—
Holy Schnitzel
Flushing
NY
USA
—
—
—
MeO Hibachi
Flushing
NY
USA
—
—
—
Cho-Sen Garden
Forest Hills
NY
USA
—
View menu
—
Da Mikelle
Forest Hills
NY
USA
Kitniyot
—
—
King David Restaurant
Forest Hills
NY
USA
—
—
—
L'Amour Restaurant
Forest Hills
NY
USA
Kitniyot
—
—
Mikihana
Forest Hills
NY
USA
—
—
—
16 Handles
Great Neck
NY
USA
—
—
—
Cho-Sen Village
Great Neck
NY
USA
—
View menu
—
Colbeh
Great Neck
NY
USA
—
—
—
Cho-Sen Island
Lawrence
NY
USA
—
View menu
—
Bedford on Park
New York
NY
USA
—
View menu
Yes
Colbeh
New York
NY
USA
—
—
—
Eighteen
New York
NY
USA
—
View menu
Yes
La Brochette
New York
NY
USA
—
—
—
Le Marais
New York
NY
USA
—
View menu
—
Mendy's (34th street)
New York
NY
USA
—
—
—
Mendy's (Grand Central Station – Meat only)
New York
NY
USA
—
—
—
Modern Bread and Bagel
New York
NY
USA
Kitniyot & Non-Kitniyot items
—
—
Mr. Broadway
New York
NY
USA
—
View menu
—
My Most Favorite Food
New York
NY
USA
—
—
—
Paprika
New York
NY
USA
—
—
—
Screme Gelato Bar
New York
NY
USA
—
—
—
Taam Tov
New York
NY
USA
—
—
—
Talia's Steakhouse
New York
NY
USA
—
View menu
Yes
Vino Levantino
New York
NY
USA
Kitniyot
—
—
Prestige Restaurant
Rego Park
NY
USA
Kitniyot
—
—
Colbeh
Roslyn
NY
USA
—
—
—
Holy Schnitzel
Staten Island
NY
USA
—
—
—
Decafe
Oberlin
OH
USA
Savvati Gourmet
Bala Cynwyd
PA
USA
—
—
—
Drexel University Cafe/Hillel
Philadelphia
PA
USA
—
—
—
Palace Royale
Philadelphia
PA
USA
—
—
—
Temple University Cafe/Hillel
Philadelphia
PA
USA
—
—
—
University of Pennsylvania Hillel
Philadelphia
PA
USA
—
—
—
Pita Planet
Myrtle Beach
SC
USA
Kitniyot & Non-Kitniyot items
—
—
Kosher Palate
Dallas
TX
USA
—
—
—
Genesis Restaurant
Houston
TX
USA
—
—
—
H/T Gavi Hoffman, Joanna Shebson, Elan Kornblum / GKR, Debbest Israel, eluna and so many others for their tips here