The author may earn credit from some referral links in this article.
The long Memorial Day weekend and Shavuot holiday may only be a month away, but it's not too late for many travelers to still plan a quick family getaway for the week, especially with only 2 working days for most American companies.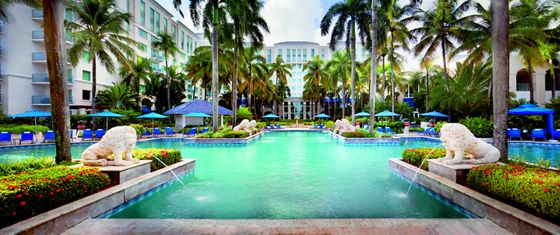 For those that want to get away, here are a few ideas to leverage either cash or points/miles to make the most out of your holiday week.
First thing to keep in mind is to ensure that wherever you go that you're within walking distance of a shul or Chabad offering services for the chag.
Secondly, pick a destination that will make it easy for you and your family or travel companions to get to and be comfortable for the during of the week which comprises 2 Yom Tov days and a Shabbat this year. This means a short walk to the aforementioned shul/Chabad and location food options or a rental with a kitchen.
Shavuos Travel Ideas:
South Florida – this is a no-brainer for many who can find a cheap flight to MIA or FLL and have a plethora of neighborhoods with shuls and Chabads. Whether you're staying at one of the many hotels or condos in Miami Beach or renting a villa in North Miami Beach, nearly everything down south has accessibility to what you need for the holiday. Click here for recommendations on kosher restaurants in the area, and click here for Shabbat / Chag meal options in Miami.
Puerto Rico – after consulting a friend and fellow credit card points enthusiast, our research indicated that the Chabad in San Juan is surrounded by major hotels and resorts on the beach, all within walking distance of the Chabad facility which provides both minyanim and kosher meals on and off Shabbat. The Chabad has come highly recommended by YeahThatsKosher readers and travelers. Hotels within walking distance to the Chabad include: Ritz Carlton, Courtyard Marriott, Intercontinental, Hampton Inn & Suites, and a few others. [If you're interested in staying at the Ritz or Courtyard, you can start planning for next year by signing up for the SPG American Express card (25k point bonus) OR the Marriott Rewards Visa (80k point bonus). The points from both cards can be merged at a 3:1 ratio SPG to Marriott.]

Volcano in Nicaragua [Image from Wikimedia]

Nicaragua – for the adventurous travelers, Nicaragua has become an increasingly popular off-the-beaten-path travel destination for those who enjoy hiking, swimming, surfing, volcano sledding, ziplining, and more. For chag & Shabbat, rent an apt or home via AirBNB near the Chabad in San Juan Del Sur, a tourist town on Nicaragua's Pacific coast, where the Chabad center is walking distance to the ocean. [Use this link for $40 of your first AirBNB reservation] The Chabad will be hosting services and meals for travelers. H/T to Rebecca, YTK contributor, who has plans to be with friends in Nicaragua for the chag. [Do not book this unless everyone in your party has a valid passport, or you are willing to pay extra to get it expedited.] 
Rhode Island – Newport is an amazing coastal New England town, especially in the warmer months. With access to numerous chain and independent hotels, and to the Touro Synagogue, the United States's oldest synagogue, which hosts daily orthodox services including Shavuot and Shabbat, there's little reason to not pay a visit. The beautiful seaside town is fully walkable and has a functioning eruv for part of the city.

New Hampshire

 – sometimes the best way to hack a travel program is to just attend one. The

new kosher hotel in New Hampshire

, the Arlington Hotel is open year round with a kosher kitchen and a shul next door and is hosting a de facto program. No work required and driving distance for most who live in the Northeast. The region is woodsy and beautiful with many outdoor activities when it is not chag or Shabbat.

Cancun / Riviera Maya region, Mexico

– the region boasts 4 Chabad centers (Cancun, Playa del Carmen, Cozumel, and Isla Mujeres) giving tourists options as to where to spend their vacation. Cancun, specifically, has access to the Red Heifer restaurant run by

Kosher Luxus

, which is a travel agency that helps book people at a number of nearby hotels for the holiday. All four regions have access to kosher restaurants, many of them run by the aforementioned Chabads, and all have a plethora of hotel options as well.

[Do not book this unless everyone in your party has a valid passport, or you are willing to pay extra to get it expedited.] 

Niagara Falls, Canada

– while the Chabad near the Niagara Falls tourist area is typically seasonal, and does not open its doors until the summer season, there may be the possibility that due to the schedule of this year's chag that they may open early or just for the long week. Follow up with the

Chabad of Niagara

before booking.

[Passports are now required for traveling to Canada from the U.S.]
Have a 1 week trip idea that you want to share? Add it to the comments section below!