If you're not following me on Instagram (hint hint, you should, over 36,000 people already do), you're missing out on my live posts from my galavanting around Miami at multiple kosher restaurants-a-day during Yeshiva Week. This post will be updated multiple times in the coming days with my reviews & recommendations of kosher restaurants I'm exploring in South Florida area.
Save this link or refresh it throughout the week… more content coming.
---
First up: After a longer than usual journey to FLL, we needed a late dinner and everything in Ft. Lauderdale & Hollywood was already closed. We drove further south to Surfside and hit up Rustiko, which opened up after my last big trip to Miami in January 2015. This upscale dairy restaurant, which was thankfully open until 11pm, came recommended and did not disappoint.
Dishes ordered by the table for our late night meal:
Mac & Cheese appetizer: adults liked it. Kids did not. (But what do kids know?)
Pumpkin Ravioli: best pasta dish I've had all year! Perfect al dente pasta and delicious filling + cream sauce
Butternut Squash soup: didn't taste like butternut squash, but it didn't matter, it was good
Pear & Parmesan salad: perfect light salad
2 "Teamonade" drinks: the "Mojito" and the "Detox": both were good, but the Mojito was the clear winner
Additionally, the restaurant noticed me there and sent us two dishes to the table (thank you Rustiko for sending it over, not necessary, but appreciated):
Mushrooms Panzerotti: a ravioli type dish that frankly was not my taste, but Arielle loved the sauce, so I'd imagine that others would indeed enjoy it
Dulce de Leche Cheesecake: amazing, worth going just for this dessert!
Click for Rustiko's full dinner menu
Overall, I loved the decor/ambiance, the inventive menu items, the house-made pasta, and their warm customer service. It's pricey, but worth your time. Great for date night or a meal out with friends.
---
For breakfast Thursday we walked to Tasty Beach Cafe, the only kosher restaurant serving Zak the Bread toasts (similar to what the ZTB cafe used to make). I didn't realize how extensive the Tasty Beach menu was, and it was pretty impressive.
I ordered the Eggceptional Toast, an avocado smashed onto sourdough ZTB bread topped with an egg (which I wanted over hard) topped with chili flakes. Was quite good. Wife ordered avocado omelet special with hash brown potatoes and the kids ordered pancakes which they all enjoyed. However, the owner of Tasty Beach was there and brought out an array of food for us to try and take with us. Here's a sampling of the other items we tried:
Chips & (warm) salsa – they bottle it themselves
Fruity Pebble pancakes – I was more excited for this than the kids were, and apparently this is a big seller on Uber Eats
Cinnamon French Toast
Ricotta Fresca Toast – house made ricotta & pesto, fresh basil & tomato on Zak the Baker toast – delicious!
A slew of in-house made pastries we ate for 2 days
Blended Fruit Bowl – Dragon fruit bowl – dragon fruit blended with pineapple, mango, banana, and almond milk, topped with bananas, coconut flakes, goji berries, and granola. First time having something like this and I liked it. Would go back to try other mixtures. Seems great for an early morning meal, high in nutrients.
Overall, I was impressed with the cafe's innovative options (albeit they have many options) and in-house made-from-scratch items which I did not know previously even though I had eaten here a few times in the past. Also, they have a drive-thru window via the parking lot next door in case you're in a rush.
(Needless to say, the owner did not allow me to pay for my meal, but I would go back for a brunch meal in a heartbeat)
---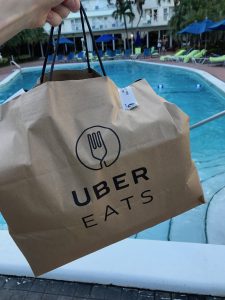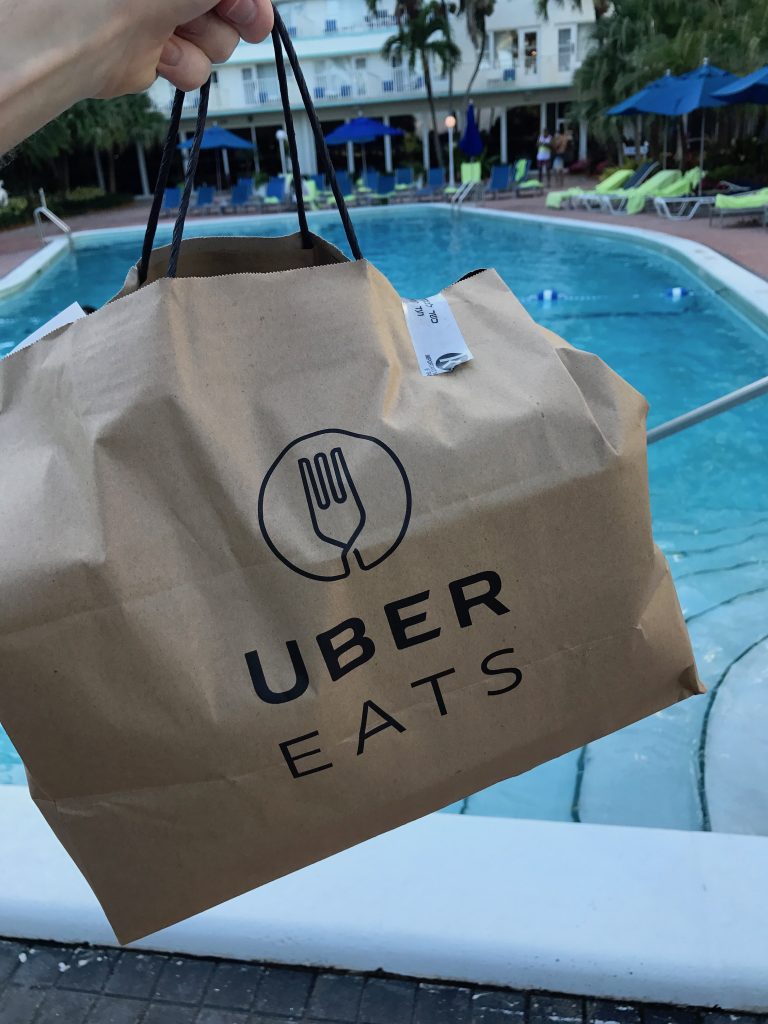 Since our brunch meal ended late, we weren't hungry for lunch until much later in the day. Sitting by the pool and not wanting to leave, we opted to order from UberEats and get it delivered directly to the hotel. In the mood for some fleishigs, we ordered from Pita Hut on 41st street which was not too far from the hotel, and received our food in approximately 30 minutes.
[New UberEats users can sign up using my code for a $10 discount:
eats-uberyeahthatskosher
– which must be used by
downloading their app
to your phone]
Pita Hut is a no frills Israeli shwarma joint serving the Miami Beach community for years and am glad they offer this serve for us tourists to enjoy a meal by the pool. The food received was lukewarm and decent. Nothing to write home about, but serviced us when we didn't want to deal with Miami traffic and had a big night planned anyway. Not sure I'm running to order from them again, but I'm glad the option is there.
---
Thursday Night: Hassid + Hipster rooftop pop-up dinner in Brickell, Miami – DETAILS COMING SOON
---
Friday breakfast: Zak the Baker – having just moved down the block to a larger facility in Wynwood, the new Zak the Baker bakery produces an array of delicious dairy pastries (non-Cholov Yisroel) and pareve breads and challahs. This facility no longer serves eggs or breakfast and is strictly a bakery and cafe that also serves an array of coffees. We tested out a number of the pastries including the buttery croissant, kouign amman, rugelach, gluten free chocolate almond cookie, and a gluten free coconut macaron – all were delicious and freshly prepared.
Zak the Baker's bakery is worth the visit for pastries, breads, and to pick up food for later. It's likely one of the best, or THE BEST, kosher bakery in the country.
---
Friday: Zak the Baker Deli – In the original Zak the Bakery cafe location resides the brand new Glatt Kosher deli where one can grab a pareve or fleishig meal. The first few weeks at the deli only offered a limited menu, with the menu expanding Monday (1/23). We tried the breakfast sandwich which includes a veggie omelet, topped with corned beef, sautéed onions, aioli, dill, parsley on Zak's sourdough bread (amazing); the Egg Platter served with potato latkes, cucumber salad, and toast (fairly standard and not exciting), and enjoyed a plate of corned beef (which even the kids enjoyed). All diners are served pickled cabbage, pickled tomatoes, and pickles which are brinier than the pickles I'm used to in NY. 
Overall, the ZTB deli is unique in its modern take on an old school throwback and is definitely worth visiting as they now have an expanded menu selection. ZTB Deli is open for breakfast and lunch for now. They are considering opening up for certain evenings in the future. Note: one can order a completely pareve meal at the deli by ordering eggs and/or smoked fish without any meat.
---
Friday night: Rare – DETAILS COMING SOON
---
Shabbat: Claudine Uzan Catering @ The Mimosa – DETAILS COMING SOON
---
Motzei Shabbat: Beyond by Shemtov's – Formerly Shemtov's Pizza a few years ago, Beyond has picked up the Miami Beach client base hungry for pizza motzei Shabbat. During busy times like Yeshiva Week and after Pesach it is imperative to get here early otherwise you should expect long waits to be seated or served due to the influx of customers. Beyond offers 2 dining options: pizza pies to go, or a full sit down waiter service, offering pizzas, pastas, salads, and more.
Being one of the first in the restaurant after Shabbat, we opted to dine in, ordering 3 personal pies: Pesto (for me), regular pizza (for the kids), and Funghi made Gluten Free (for the wife). While I enjoyed my pesto pizza (although it was a bit oily, and improvements could be made), the most impressive was the Funghi pizza on gluten free bread, which my wife extolled as tasty and just as good as regular pizza just thinner.
I do stress that when you visit Beyond during a busy time that you be patient. It's a large place and pizza can only cook so quickly.
---
Motzei Shabbat: The Frieze Ice Cream Factory – I've been going down to Miami on and off for years and this was the first time that I had even heard of The Frieze (thank you Daniel Rozner), which is located in South Beach, right off of the busy and popular hotspot: Lincoln Rd. The ice cream shop is KDM (Kosher Dairy Miami, non-Cholov Yisroel), but also offers pareve sorbet options which are equally delicious, especially the peanut butter, lychee, and champagne flavors. I opted for the dairy Coconut flavor which I enjoyed.
It was a very popular place after 10pm when we were there, and it appears to be a popular hotspot on a regular basis. Definitely worth visiting with or without the kids.
---
Sunday: Montefiore Cafe – Breakfast at Montefiore Cafe might go down as one of the worst kosher restaurant experiences I've ever had. I've been to Miami many times and this was my first time here. We ordered fairly simple items. Wife and I each ordered different omelets with cheese, which came with toast, side salad, and hash browns. Kids ordered pancakes.
The pancakes were awful, but the kids ate them, because … what do they know?
First, the toast arrives before anything else: cold and soft. I sent it back. It came back reheated: hot and hard, not crispy, hard.
Eggs & sides arrive. Forget the tiny portions for a moment, and they were oddly small for brunch food, the omelets were both served without cheese, even though the menu item specifically called out cheese omelets. (I'm not posting a pic of the dish here, but if you're dying to see it, click here).
Eggs were sent back and replaced, but honestly, it didn't matter because they were tasteless and yet the side salad (Israeli) was oversalted, go figure. Needless to say, we paid in full for our meal and left unfulfilled.
The wait staff was either new or entirely clueless, and I hate to put this on them. The issues here are either in the kitchen, or systemic in how the business is run.
Now, I'm only posting this negative experience for two reasons:
So that the business can truly hear, in detail, that they have issues that need fixing (beyond the many 1star reviews on Yelp and other sites.
To be protective of my fellow restaurant diners and customers. That's what I write everything I write, to give over my experiences with as little sugar coating as possible, so you can make informed decisions. It is the duty of a restaurant to provide a basic or average experience to its customers, and it's the customer's right to know if the restaurant provides that experience.
Hopefully they'll improve in the near future, but in the meantime, there are many other kosher breakfast / brunch places nearby that will offer a better experience.
---
Sunday lunch: Fuego by Mana – We visited Fuego after the lunch rush and enjoyed the nice atmosphere, which is much larger and nicer than their smaller location I last visited 2 years ago. Fuego is famous for their flatbreads, which we had and enjoyed last time, so I wanted to try something different.
We started with their Guava BBQ Chicken Wings which were delicious. Tangy sauce on hot wings made for a tasty combination, which was not very spicy.
For mains, between the two of us, we ordered a Fuego burger (8 oz. grilled patty served with a Sunny side up egg, crispy pastrami, caramelized onions, roasted tomato, banana peppers, lettuce and roasted garlic aioli) and their Fuego Center Cut steak (28 Days aged 12 oz pastrami wrapped center cut rib eye steak, grilled with a sunny side up egg, caramelized onions, served with a rub and with a choice of sauces). Needless to say that for the price of the burger and steak ($22 and $48 respectively), we were both disappointed. they weren't bad by any meals, but they weren't all that great either. The presentation is beautiful, but the meat on both mains was lacking in flavor and how it was cooked.
Overall, it was ok, but I'm not running back to Fuego so soon, except for flatbreads and those wings.
---
Sunday dinner: Foozo – Later that night, after a stop at the Aventura Mall,  we headed to Foozo in NMB, under 10 minutes from Aventura. I was excited to try their personal pizzas which I had heard good things about. We arrived relatively late in the evening, after 8pm, and due to the huge rush they received earlier in the day, they had run out of pizza dough by 7pm.
While initially upset, I used this as an opportunity to eat healthy and ended up trying their Arugula Salad (arugula & mixed greens, goat cheese, oven roasted beets, candied pecans, dried cranberries, green apples, and sunflower seeds). It was one of the best salads I've had in many years. This isn't a fancy restaurant, but they're putting out quality products. While there, I was also able to try their "Baked Tony" pasta that my kids ordered, and that too was very good.
So while I unfortunately did not get to try their pizza, it was clear to me that they put a lot of effort into their food and I would definitely recommend visiting Foozo for salads, pasta, and I'll go out on a limb and say pizza too.
---
Monday: Tasty Beach Cafe via Uber Eats – DETAILS COMING SOON
---
Monday lunch: Seventeen South Beach – DETAILS COMING SOON
---
Monday: 26 Sushi & Tapas – DETAILS COMING SOON
---
Tuesday: The Harbour Bistro – DETAILS COMING SOON
---
Tuesday: Acqua – DETAILS COMING SOON
---
Wednesday: Levy's Kosher of Hollywood – DETAILS COMING SOON
(These last 4 restaurants listed above were are amazing meals and all are recommended to try. Details coming soon)
---