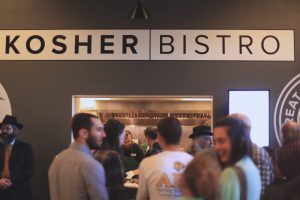 Colorado State University has introduced kosher food to its students and staff. Kosher Bistro, located in the Parmlee dining hall, opened its doors earlier this semester.
The eatery serves meat meals like hamburgers, hot dogs, stews, matzo ball soup, and  deli. Vegetarian options include falafel.
Hours of operation are Monday-Thursday from 11:30am-1:3opm and 5pm-6:30pm.
Kosher Bistro is certified by Rabbi Yerachmiel Gorelik.