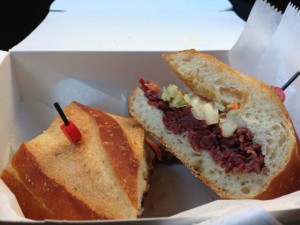 Brooklyn has become well known for being home to the infamous "hipster," a popular figure in today's 21st century culture.  According to UrbanDictionary.com, hipsters are "a subculture of men and women typically in their 20's and 30's that value independent thinking, counter-culture, progressive politics, an appreciation of art and indie-rock, creativity, intelligence, and witty banter."  There was even a popular blog that got started, Hasid or Hipster, in which people would post pictures comparing the bearded inhabitants of Williamsburg and guessing whether they were Hassids or Hipsters.
Frustrated with the same old kosher fast food options and "gourmet" restaurants, self-proclaimed Hassid and hipster. Yuda Schlass. decided to open up his own take-out only place, Hassid+Hipster.
Located in Crown Heights, Hassid+Hipster is open from 12:30pm-8:00 pm on Tuesdays and Thursdays only. He serves all types of artisanal sandwiches, soups, and small dishes. All orders must be made in advance on Mondays and Wednesdays, and the limited quantities usually sell out quickly due to their unique nature.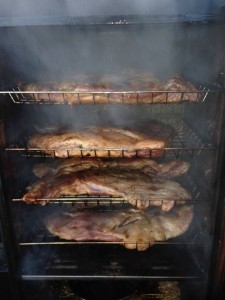 Yuda's website states:
A quest for a better sandwich led founder Yuda Schlass to open his own sandwich lab. Tired of the same old kosher fast food options and disappointed with the "gourmet" restaurants, Yuda decided to make his own gourmet sandwiches and make it truly awesome.

After experimenting with different breads, meats, aiolis and veggie combos Yuda came up with his unique crafted sandwiches and soups to make the best kosher sandwiches out there.
Because he operates out of his home kitchen, he currently does not have an official hashgacha, but Schlass states that all meats used are Glatt, produce is washed and checked, and breads are made either in house or purchased from Fairway and are Chof-K and Pas Yisroel. In classic hipster-like fashion, Schlass claims that "Most of the people who buy from me know me or know someone who knows me, so they trust me…Back in the day in Europe, everything was about trust — it wasn't about a company that would give the stamp of approval."
Due to the popularity of his food, we're expecting to see a Schlass-run restaurant in the near future.
Daily menus are posted on their Facebook page.