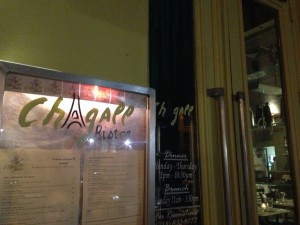 Review by Arielle Klein  [Check out the YeahThatsKosher Instagram feed for more photos from this meal]
Chagall Bistro was one of those places Dani & I were dying to try but just weren't getting to. I was set on having a nice date night there on a weekday, even though Saturday night was looking more and more like our best option. After seeing friends posting pictures to Facebook, I knew it was time to stop procrastinating and bite the Saturday-night-fleishigs-bullet, but I can tell you it was worth every delicious, meat laden bite.
When we arrived at the the restaurant, I was instantly charmed by the beautiful Park Slope location and the decidedly French bistro vibe the restaurant exudes. From the wood paneling and mirrored walls, to the marble tables and quaint old school wood chairs, Chagall Bistro has the sort of cozy vibe that's great for friends getting together, or a cozy romantic date for two.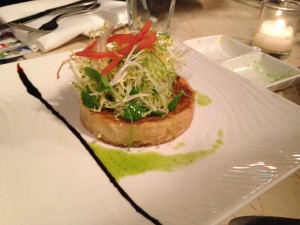 We were eating with another couple, and being that we're all good friends, we decided that we would all taste each other's food and share. For appetizer starters we had the Foie Gras Brulee: caramelized poultry "foie gras", fig compote & red martini syrup; Warm Beef Tongue: herb steamed beef tongue with red beet pickles & tarragon vinegar sabayon; Steak Tartare-Prime beef raw tartare with cornichons, capers, shallots, chives, yolks, mustard & purple potato chips. Sonia, the owner, also sent out an Onion Tart for us to try as well.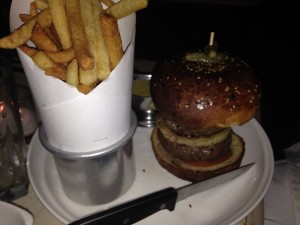 I happen to love chopped liver, foie gras's Jewish homelier cousin, so the foie gras dish was spectacular in my opinion. The fig compote and martini syrup added just the right touch of sweet and sour; to me this was perfection and maybe one of the best things I ate all night. The warm beef tongue was another standout, the meat was so soft it literally melted in your mouth and the sabayon was so creamy and smooth it was like liquid silk. The onion tart was light and full of the sweetness of caramelized onions, offset by the light and fresh frisee salad that topped it. I abstained from the steak tartare, but our friends devoured it. Overall, the appetizer course was perfect and I couldn't wait to get started on the mains.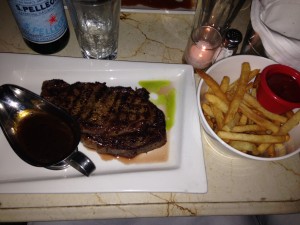 For the main course I ordered the Chagall Duck: a roasted duckling with pear and cinnamon, tower of root vegetable, and wine sauce. The duck was perfectly cooked and seasoned. It was served two ways with a sort of confit and duck breast. The confit was perfect; soft, tender, and just delicious. I wasn't as much a fan of the breast, but I think that was due more to personal preference than anything else. Our friend, Shira, ordered the Veal Ragout: veal shoulder, tongue, and sweetbreads with caramelized endive, potato & oyster mushroom. I only had a bite of this but it was delicious, the earthiness of the mushrooms with the tender veal, was a symphony for the tastebuds. Aaron, her husband, had the special of the evening, a Double Burger with foie gras and truffle, this burger was so huge no one was quite sure how to even eat it. Needless to say it was polished off, and the verdict: delicious. I also had a bite of Dani's Prime Rib Steak with brandy pepper sauce and fries. All I can say is heaven. I am of the opinion that all steak needs ketchup and this steak didn't need ketchup, not an ounce. You can infer from that what you will. Dani claimed it was one of the best steaks he's ever had.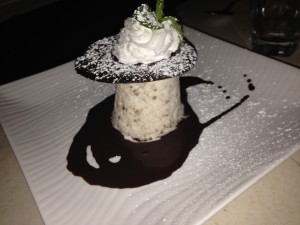 After all that food, we couldn't leave without dessert. We decided to share 3 desserts I did less sharing and more hoarding), and Sonia, being sweet as ever, surprised us by sending out a fourth dessert for us to taste on the house. We had the Chocolate Fondant: a warm chocolate and praline cake with almond vanilla coulis; the Baba Au Rhum: a brioche soaked in rum and vanilla syrup with pastry cream, fresh strawberries, and a shot of rum; the Nougat Glace with a cocoa tuile: very thin crisp wafer like cookie that was atop an ice cream "cake" made with nuts and nougat that made us gasp at its deliciousness; and then to refresh us all the Passion Fruit Sabayon served in a hollowed out passion fruit, which was utterly yummy. As a final palette cleanser, Sonia sent us over some delightful sparkling rose (and a sparkling Pomegranate Shirley Temple for me). I have to say that all things considered, this was probably course-for-course, one of the best meals I've ever had. I was so impressed with the warmth, service, and food that I can't wait to go back again. If you were on the fence or couldn't decide, this restaurant is one you definitely won't be sorry you came to.

View Chagall Bistro in a larger map