Written by: Eric Heine / Edited by: Talia Rona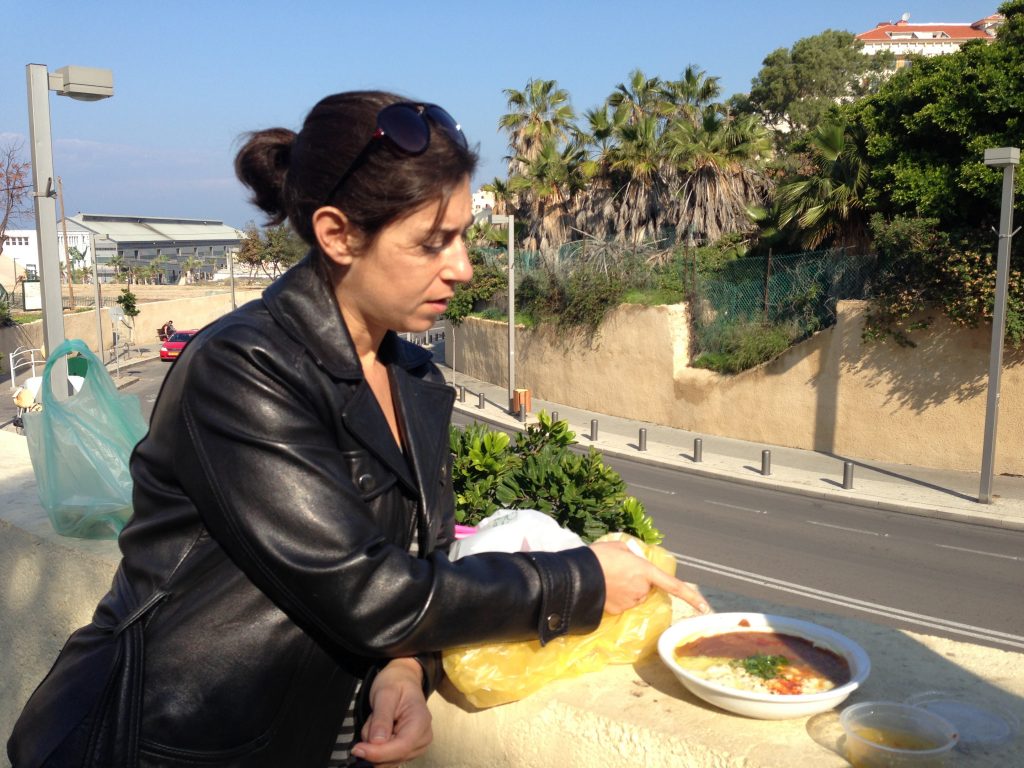 Most people like to do big things for their milestone birthdays, and I am no different. This year, my only problem was coming up with a good enough idea.
Those who know me know that I have a passion for wine, food, cooking and diving. Therefore, I decided to take a birthday vacation to Israel that combined all 4 of these passions. Lucky for me, Israel is well-equipped to provide fodder for all four of them.
The research was the key to success for this wonderful vacation. Since I am an avid diver, finding places to dive in Israel was not difficult, as I have gone diving in Israel several times before. My problem was finding good enough tour sites that would take me on food and wine tours. Luckily, with the help of Dani Klein of @YeahThatsKosher and the Internet, these troubles were soon over. Their combined help led me to a wonderful wine and food company called Delicious Israel. Delicious Israel specializes in allowing tourists (from novices to foodies) to experience Israel from a culinary standpoint.
Delicious Israel was established by Inbal Baum in 2011 as a way to share her love for Israeli food & wine, and the indulgent and fun lifestyle that exists throughout the country, with others. She provides an outlet for visitors to travel throughout Israel and taste from the riches of the land, eating and drinking the country's unique and high-quality foods, wines, and beers– and taste we did! However, I am getting a little ahead of myself. More about the tour later.
I emailed Inbal in January for information on prices and to set up an itinerary. The walking tours cost $90 per person and the travel tours cost $150-200 per person (depending on where you go). These prices apply when there are at least 4-5 people in group. Unfortunately for me, January was too early to plan for June, and she was unable to give me a commitment, especially since I was traveling by myself. However, this did not deter either of us. Inbal was determined to make sure I could experience her tours. She was more than confident that the culinary tours would pose no problem, as in June there are many requests for these tours (the walking tours in Jerusalem or Tel Aviv). It was traveling to the vineyards that she was not so certain about. However, she did not disappoint! Throughout the next few months, Inbal and I emailed back and forth. She was steadfast in making sure my food and wine tours could happen.
The first tour was called "The Eat Tel Aviv Safari". There were six of us, including Inbal–the elderly Canadian couple whose son took a tour with Delicious Israel and recommended his parents do so as well, the two girls who just finished Birthright and were looking for a fun activity to do for the day, and then myself–the self-proclaimed foodie. We began at the Jaffa Port which was the perfect place to start in order to zigzag through Old Jaffa and Tel Aviv. Inbal took us to several different neighborhoods teaching us all about Tel Aviv's history through food- i.e. Jaffa oranges, olive oils, spices, cherry tomatoes and , of course, hummus and shakshuka.
After the Jaffa Port, we walked to what can only be described as one of the best hummus spots in all of Israel–Abu Hassan. It was here that I got quite an education in hummus. Who would have thought that there were several different types of hummus and several different ways to eat hummus–in addition to pita, we all ate hummus with an onion! While we ate, we were told a wonderful story that described the history of the restaurant. It was definitely quite a treat.
From there we walked around other market areas, seeing and tasting the different foods that were in season. We stopped at bakeries, coffee shops and even an ice cream parlor. We were treated to fresh fruits, vegetables, olives and spices (za'atar being one of the most popular spices on the tour.)
As our last stop, we visited a small mom-and-pop Yeminite café for what we were told offered the best shakshuka in all of Israel. Iris, the proprietor, welcomed us with open arms (and more importantly cold water, as it was 90 degrees outside.) Over fresh watermelon and fresh squeezed orange juice, we learned the history of her small café. We then ate fresh shakshuka that Iris cooked right before our eyes, accompanied by a fresh pastry straight out of the oven.
Throug this 6-hour walking tour, every one of us was able to get a feel for Tel Aviv's history through their native foods. It was certainly worth every penny.
My second tour with Delicious Israel was called "The Levinsky Market Tour." This tour differed from the "The Eat Tel Aviv Safari" in both length as well as the types of foods we focused on. Whereas the the Eat Tel Aviv Safari allowed us to experience all types of foods from the Tel Aviv markets, the Levinsky Market Tour concentrated on fresh spices, dried fruits, fresh-roasted coffees, olive oils, nuts, meats and beer! Because the Levinsky Market dates back to the 1920s, we were able to visit stores that were run by several generations of the same family, often at the same time. Seeing grandfather, father and son working side by side is not something you get to see every day, and it was pretty incredible. Each shop keeper greeted us warmly, offered us treat after treat, and spent some time talking about the history of their shop. In addition to the shops, we also stopped by a synagogue that dated back to an earlier era. We ended our tour in a small deli where we snacked on sausage and beer. It was spectacular.
My last tour with Delicious Israel was a wine tour. Inbal took my friend and I to the Zichron Yaakov area where we visited two boutique wineries, a dairy farm and a spice farm.
The first vineyard we went to was called Bat Shlomo. The Bat Shlomo Winery is located in the moshava of Bat Shlomo, near the town of Zichron Yaakov. We were told that the Bat Shlomo Winery was created in an effort to revitalize the agriculture in that area. At first we met with some senior individuals who helped create and make the wine. They explained in exciting detail about the particular grape that the wine was created from. They specialize in making a superb Sauvignon Blanc, because in their words "white wine is a salute to the climate and food of our exceptional region". After meeting with the senior members of the wine team, we met and talked with high school students who worked in the vineyard in the mornings and went to school in the afternoon. These exceptional teenagers were being educated in the fields of wine and agriculture so that when they are ready to enter the work force, they are already trained in a particular field. After speaking with the teenagers over some homemade rugalech, we could see that they really enjoyed working at the vineyard.
After Bat Shlomo, Inbal drove us to Schwartzman's Dairy, located close by to the vineyard. The Schwartzman family has been in Israel for three or four generations, and their farmyard could easily be taken out of a picture book describing how things were once done in the past come to life. Hens were milling about, which only added to the experience, and we were told that the cows are still milked by hand, which allowed for a superior quality of milk and cheese.
When entering the shop, it felt as if we went back in time. We saw many family photographs, artifacts and furniture that were traced back to the British and Turkish Empires of the past.
While we were being entertained with family stories, we were treated to olives, olive oils, spreads and small amounts of all the different cheeses that the farm produces. Next came a sit down lunch that consisted of more of the wonderful olives, olive oils; fresh squeezed apple juice and a cheese platter with 12 different kinds of fresh cheeses (don't ask me to name all of them because I can't.) We could not have asked for a better day!
After the Schwartzman Dairy Farm, we went to another boutique winery. This one was called the Jezreel Valley Winery. We took a very nice tour of this vineyard and got educated in both wine and the equipment used to make it. They were particularly proud that they owned Israel's first egg fermentation tank! The Jezreel Valley Winery produces mostly rose wines, and while I may not be a fan of those, that does not mean that they do not produce a good rose. It was very refreshing on a hot day.
We ended our tour at a spice farm/market. Truthfully, I did not know what to expect when I was told that this was part of the tour. From the outside, the place did not look very impressive. In fact, I was told that not many tourists come to the market. However, once I stepped inside, my doubts were gone. It was unbelievable! Practically every spice that existed was located at this market place. They also carried fruits, nuts and tea leaves. It was quite a remarkable establishment.
All three tours I took with Inbal were unbelievable. What differentiates Inbal from all the other tour guides is not just her breadth of knowledge, but her relationship and overwhelming passion for what she is doing. Her relationships with many of the shopkeepers made the tours unforgettable. We were always warmly greeted and never left a store without a treat, and never feeling as if they were just humoring us by letting us in. She will work diligently to accommodate you and your party and will never make you feel as if you are burdening her with your requests. Most importantly, after listening to her for just a short amount of time, it is evident that she genuinely enjoys talking about Israel through food. She will provide you with interesting facts, insights, and history on the area that you tour. You will not just taste the food but will experience it and have a better appreciation of both the food and the country! Delicious Israel is a must for anyone interested in learning about Israel through food, those that are looking for a different type of tour, or are self-professed foodies. Take a tour with her–you will not regret it. Bon appetite!