Contributed by Shiri Berzack | Last Date of Travel: March 2013
Kosher Info:
Keeping kosher in Johannesburg, South Africa really isn't as hard as you would think. Due to the large Jewish community (around 70,000) there is a range of restaurants and every supermarket stocks some kind of kosher products. It is also important to know that there is only one Beth Din in South Africa, and that it is quite strict so if it bears the 'BD' stamp, it is definitely kosher.
I've decided to list the restaurants by order of my favorites, but they're all pretty much good so it really depends on your own taste.
Scroll down for a map of these restaurant locations.
Nandos (up-market fast food). Nandos is a large chain of Portuguese chicken restaurants, but there is only one kosher Nandos in South Africa, so be aware that you can't step into any of them! They serve top notch chicken but be sure to also try their beef burger (and order extra sauce). Phone: +27 11 885-1496.

Next Door (pizza, pasta and sushi). Next Door is rated as a top restaurant in Johannesburg, kosher and not, so you know it must be pretty good. It is usually full so booking is highly recommended. While their sushi may not be top class, their pizzas certainly are and, if you're around in Summer, definitely try their fish braai (barbeque in South African). Phone: +27 11 728-2577.

The Grill (Steakhouse). The Grill (formerly The Grill on Grant) is an up-market steakhouse that offers a relaxed atmosphere while also making sure their food is quality. Their ribs are a must have so go on an empty stomach! Phone: +27 11 728-7713.

Metzuyan (Steakhouse). Metzuyan is probably the longest running Kosher restaurant in Johannesburg. They have gone through names and addresses but their quality has remained. They're the perfect choice for a fancy family dinner or special occasion. See more on their website: metzuyan.co.za.

Pie Works (Deli food and Pie Specialty). I love Pie Works, the only reason it is a little down on the list is because it doesn't have too much variety, but what it does, it does well! Their pies (clearly) are the best kosher pies in the country and are perfect if you want to buy some to take hoe and reheat. Their burgers are delicious and the have a milk side with pizza that is really good. They're situated on what is known as the Kosher Strip, so any Jew will be able to direct you.

Mooz Brothers (Bakery and dairy restaurant). Mooz Brothers has some of the best dairy dishes around. It is also the best kosher restaurant to go to for a healthy meal. They have a range of salads or you can order healthy sandwiches. Be sure to try the Jap Salad, if you like sushi you'll love this! Phone: +27 11 485-5589.

Michelos (pizza and pasta). Michelos is the second best pizza restaurant. They are very centrally located (in the Jewish area of Glenhazel) and their food is nice. Never go there the night after Pesach because you'll wait hours but most other times are good, plus they serve chalav yisrael. Phone: +27 11 885-1500.

Dee-Jays (Deli and restaurant). Currently the only Kosher place in Sandton, Dee-Jays provides casual dairy food that is perfect for a breakfast out with the family. Their fishballs are really good and if you need a cake in the Sandton area, they're the place to go. Phone: +27 11 883-2265.

Corner Café (Coffee Shop). Corner Café is the best place to go (or maybe the only) for kosher gluten free muffins. I'm told they're very good. They also have great breakfasts and pastas, but I usually stick with a toasted cheese and chips. Phone: +27 11 440-3160.

Frangelicas (Coffee Shop). This is the place to go for specialty muffins, the crunchie one is my favorite. Frangelicas has healthy and not so healthy dairy items and is the place to be if you want to bump into Jewish women of all ages. Phone: +27 11 887-7675.
While there are other smaller places, these are the main restaurants. However if you don't want to eat out and are more interested in cooking for yourself, then make sure to shop at Kosher World, the kosher supermarket situated on Long Avenue, Glenhazel.
However all supermarkets carry kosher goods which can easily be identified by the 'BD' logo. You can also confirm anything on this website: uos.co.za/kashrut.
The Pick 'n Pay in MorningGlen centre has a kosher bakery and kosher butchery if you are staying in the Sandton area, and if you are staying closer to Glenhazel, there are many kosher butcheries and bakeries around.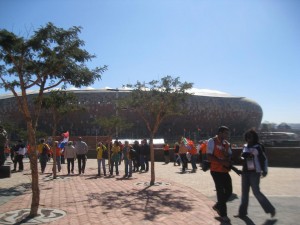 Travel Info:
Johannesburg isn't exactly the most tourist friendly city but if you're visiting South Africa then it's definitely worth the trip and here are some must sees:
The Apartheid Museum is situated next to the Gold Reef City amusement park. The museum gives a real feel for what people went through during the time of apartheid and how the country of South Africa rose up to create something of itself. See more http://www.apartheidmuseum.org/.
Sandton City is one of the largest shopping malls in the country. It has endless shops and restaurants and culminates in an open square with a large statue of Nelson Mandela. See more http://www.sandtoncity.com/.
The Lion Park is a unique experience where you are able to actually interact with lions by petting them in safe enclosures. You will also have opportunity to feed giraffe and see other wild animals. This is a great experience to with or without kids. See more http://www.lion-park.com/.
Montecasino is a shopping mall with a difference, it is based around a casino with a European feel of street shops. There are 2 theatres, a comedy club, cinema, arcade, restaurants and shops so every member of the family will find something to occupy themselves. See more http://www.montecasino.co.za/.
Sun City is a vacation resort a one hour drive from Northern Johannesburg. It is otherwise known as The Lost City. It has four hotels and a self-catering club all centered around The Valley of the Waves, a man-made beach with various water sport activities. If you have a day or two to spare then it is a definite must see! See more http://www.sun-city-south-africa.com/.
Jewish Info:
If you're spending Shabbat in Johannesburg there is one main Jewish hub. The greater Glenhazel area, where most of the restaurants listed above are situated, is where you will find a wide range of shuls for you to attend. You can contact the Mizrachi Shul, Ohr Somayach or Chabad on your preferences. There are also many smaller shuls in the area, however they aren't so easy to find if you don't have any friends in the area to show you. The Genesis Hotel is one of the very few hotels in walking distance of the shuls, they can also organize kosher breakfast if you request beforehand.
You may also want to be in the Sandton area, this is where most hotels are located. The main shul in that area is the Sandton Shul who you can contact for any information you require. There are two hotels that are 5 minutes walking distance from the shul and often will offer a discount and later check out times for people related to the shul. They are The Falstaff Inn and The Quatermain Inn.
Many of the main shuls have a mikveh and most are by appointment only, so just call up to check beforehand. The South African Jewish Community is a very friendly and helpful one, so if something you require isn't mentioned in this article then simply email or call one the organizations mentioned in this article and they can point you in the right direction.
Keeping Safe in Joburg
With regard to Jewish safety, there is very little, almost no, outward anti-semitism in the country. However, it is a dangerous city in general, so you must always be careful. Walking around during the day is fine in most areas (not in the central business district, known as "town"), but walking around at night is not encouraged.
You can ask your hotel what their specific area is like and they should be able to give you pointers.
Walking around on Shabbat is usually fine in the areas where the shuls are. In the greater Glenhazel area there is a security company, called CAP, that has a close relationship with the Jewish community and patrols the area on Friday nights and Saturdays. In the Sandton area you are usually safe close to the shul. If you are feeling anxious, simply contact the shul and they can ask their security company to send a car to follow you home and whatever time is appropriate for you.

View Kosher Joburg in a larger map