After last years playoff run, the Florida Panthers have an arena with a new name (the BB&T Center, formerly the Bank Atlantic Center) and a new menu at their Kosher food stand (see picture). The Florida Panthers have had Kosher food available at home games for a couple of years now, but last year, during the playoffs, they ended up serving "Kosher Style" food at the kosher kiosk.
After an deluge of tweets, Facebook posts, blog posts, letters, and phone calls to the Panthers and their front office, the Panthers have brought back actual kosher food to their kosher food stand under the ORB hechsher.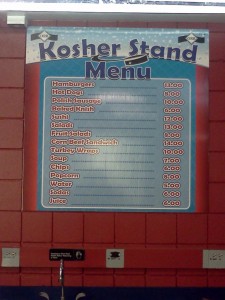 The new stand, located near Section 127, has a new extended menu with interesting items, including: sushi, popcorn, corned beef sandwiches, hot dogs, hamburgers, Polish sausage, fruit salad, potato knishes, and soup. Prices have increased since last year (about a $1 increase) but is on par with the other concession stands at the arena.
The stand is obviously NOT open for Friday night and Saturday afternoon games, but it is also NOT open for Saturday Night games.
There is also a maariv at the stand between the 2nd and 3rd period, though that is minyan permitting.
If you are planning to attend a Panthers game this season, just remember that they are now charging for parking – $20 per car. Something they have never done before during the regular season.
Post by @DaniOpp