Post by @DaniOpp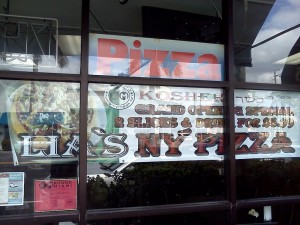 Just in time for the Pesach pizza rush, Lia's NY Pizza has opened on Miami Beach on 41st street. Taking over the old Jona's Pizza location, Lia's boasts a Cholov Yisroel Menu with Pizzas, Sandwiches, Breakfast all day, Salads, and Falafel. (menu)
While the food will be familiar to those who went to the old Jona's Pizza (the same "pizza guy" that worked at Jona's is working the counter at Lia's) the prices and specials at Lia's are new and will have you coming back over and over.
Their daily lunch special (1pm – 4pm) of an 18″ pizza pie for $9.99 can't be beat.
The Family Special – 18″ pie, fries or onion rings, and 4 sodas for $22.00 is also a great value.
With free local delivery, Lia's has reignited the Miami Beach pizza wars and brought some competition back just in time for the Pesach tourist season.
View Larger Map