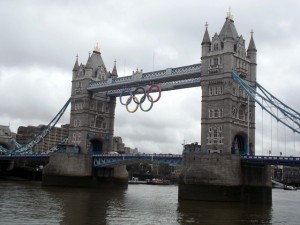 With the Jubilee celebrations in June, and the Olympics and Paralympics less than a week away, there has never been a better time to visit London. As a native Londoner here is a brief guide to where to eat and what to do during your stay, and where to find more information.
Contributed by Nadia Dellal (@NDellal)  |  London native
Kosher Info:
Olympics Venues
The most dedicated sports fans will be able to purchase and order kosher food during the games, with sandwhiches and other products from Kosher Suppliers being available at the main site. The London Organising Committee for the Olympic Games (LOCOG) has ensured that in planning menus and food options at Olympic Venues, consideration has been given to kosher dietary laws. If bringing food to the Olympic venues from outside, don't plan on bringing any liquids into the Olympics, you will be able to bring a small amount of food in a small backpack, following guidelines set out on your ticket. Corporate ticket holders in the corporate entertaining areas will also have kosher food available to them. For tourists and locals with smartphones, downloading the Kosher Food application listing all foods certified Kosher in the UK will assist with choosing suitable products (KLBD Kosher London App) that are available at the venues.
Avoid bringing food with you into the Olympic venues. They may allow it if it fits inside your bag, but be prepared to lose it if security doesn't allow it. Review the London Olympics security info here.
City Centre
When keeping kosher in London, the hardest decision will be where to eat, with so many great options available throughout the city. There are more kosher restaurants in the London area…  We are giving our recommendations below.
West End
I recently had lunch at the Deli West One, which opened earlier this year, and offers home cured salt beef, pastrami, turkey, as sandwiches or platters of meats which come with salads on the side. Their location in upscale Marylebone is close to museums and the centre of town, and is a little hub of New York in the centre of the city. Delivery available for shabbat food and during the week free within half a mile or to your hotel.    51 Blandford Street
Almost next door on the infamous Baker Street, made famous by Sherlock Holmes, is another household name: Reubens. Established in 1973, they have a formal dining menu and a deli/takeaway menu, offering both formal dining and a casual eatery upstairs. I love their chicken soup, perfect for a rainy day, the dover sole and quintessentially British Beef Wellington as mains. From the deli menu I enjoy the schnitzel, salt beef, and the lemon meringue pie sells out every day. You can also order for shabbat and pick up from the restaurant.  79 Baker Street W1.
Adafina has two branches, one in the food hall at Selfridges, selling sandwiches, bagels, fish, salads and prepared foods for those on the go. There is also a small section of dried products including crackers and snacks, and a Kosher wine selection, ideal for getting gifts. (400 Oxford Street W1). The second branch, located on Abbey Road, close to the Beatles crossing and Abbey Road studios in St John's Wood, a beautiful residential neighborhood. It has a full range of Ashkenazi and Sephardi favourites, wines, and has beautiful seating as a lunch stop. They also provide delicious prepared shabbat food, including chollent and roast chicken, and deliver to most central London and West End hotels.
Other restaurants include:
Bevis Marks The Restaurant: 4 Heneage Lane,  E1 7AA, London (SITUATED IN THE SQUARE MILE OF THE CITY OF LONDON. This is the right side of London with the Olympic stadium also in the East End of London.)
North London / Golders Green
Soyo is a fun and colourful new addition to the restaurant scene in Golders Green. I have sampled the quiches, the crepes and create your own salads, and all day breakfasts. The restaurant has outdoor seating, and is always buzzing, and is open until 1am. A copy of the menu is available here.  94 Golders Green Road, Golders Green
Pizaza is perfect for create your own pizza's, and the most delicious fries in North West London. Part of the fun includes ordering from an interactive screen, which has an app to take photos and upload to facebook of your meal. 53 Brent Street, Hendon & 100 Golders Green Rd.,  Golders Green
White House Express: Casual eatery offering Israeli grills. I go for a grilled schnitzel in a laffa or the tempting shawarma. During the Olympics, this is the place to grab a bite and watch the games being screened on the TV. 102 Golders Green Rd., Golders Green.
Other kosher restaurants include:
Aviv: 87 High Street, Edgeware
Eighty Six Bistro Bar: 86 Brent Street, Hendon
Isola Bella: Ariel Way, White City, Westfield (not to be confused with Westfield, Stratford)
Isola Bella: 111A-113 Golders Green Rd., Golders Green
Kaifeng: 51 Church Rd., Hendon
Met Su Yan: 134 Golders Green Rd., Golders Green
Orli: 295 Hale Lane, Edgeware
Other Kosher London notes:
Buying kosher food in central london, head to Waitrose Edgeware Road, John Lewis Waitrose, Sainsbury's Holborn, Waitrose Marlybone, or Holland and Barrett Health Food stores for Yarden products, hummous and light deli snacks.
In Golders Green, Stamford Hill, and Hendon there are several supermarkets and more restaurants to choose from.
Many products in the UK are Kosher, but may not be labeled. Refer to this KLBD site to search for a particular product.
Please note that while visiting the Visit Jewish London website, not all the restaurants listed are Kosher.
There are multiple hechsharim in London. While KLBD is the largest one, here is a full list on the London Kosher Guide website.
---
Tourist Info:
London is welcoming over one million people for the Olympics so public transport, the roads, and walking are all going to be much busier than normal. This applies especially to the areas hosting Olympics events, including Hyde Park, Wimbledon, Horse Guards Parade, Wembley, and the Olympics Site.
The London 2012 Festival is bringing world-renowned performers from around the world to London, and many events are scheduled until late September, including hundreds of free performances.
Tips for enjoying London during and post Olympics:
Plan accommodations in advance as most hotels sell out quickly.
Buy an Oyster card for travel. Fares drop from £4.50-7 for a single journey to £2-4.
Enjoy a drink in East End trendy Shoreditch.
Pick up a copy of Time Out for museum listings.
Don't do your shopping on Oxford Street,  head to Westfield for exactly the same stores in a more peaceful and less busy environment.
Special Olympics Tourist Tips:
Leave plenty of time in advance and plan your journey. Use this site to plan ahead. 
Be vigilant of pickpockets especially in the centre and inside the Olympics.
Remember Olympic tickets have complimentary travel-card's for travel to the Olympics, as the transport system will be carrying the majority of spectators to the games.
Bring your smart phone, free wifi on the underground during the Olympics!
Ask questions to the hundreds of Olympic volunteers stationed all around the city and at the airports to help you with enquiries.
Don't forget that although an expensive city, the best of London is free, including the parks and the museums.
Don't feel left out if you don't have a ticket to the Olympic games. There will be giant television screens in Trafalgar Square, and all over the city to watch the Olympics and cheer alongside hundreds of supporters.
Don't sell your Olympic tickets to strangers, and if you do transfer the ticket, have a phone number as security at the venue will call you to check you have sent a guest in your place.
Go sightseeing around London. Places of interest include:
The Houses of Parliament
Freud's House
Kenwood
Carnaby Street
The British Museum Collection of Mummies
The Science Museum
The Thames River
The Tower of London
The London Eye
Primrose Hill
Selfridges
Harrods
Fortnum and Mason tea and food hall
Jermyn Street
Paul Smith
Notting Hill
Buckingham Palace
A West-End musical
Top 5 viewing spots to view the London skyline & sights:
Sommerset House Bar + Terrace: view of Houses of Parliament, London Eye, River Thames
Primrose Hill: view from Canary Wharf to Battersea power station.
Westfield Stratford Mall: view of Olympic park
National Portrait Gallery Cafe and Restaurant:  Bird's eye view of cheering crowds at Trafalgar Square
Roof bar of Hilton Park Lane: Depending on access for the Olympics, you may need a reservation as security is tight, but a great view of Hyde Park and 360 view from Park Lane
A tip on getting from the airport to the city centre: Taking a black taxi can cost well over £50 ($100). So as a single/business traveler the express trains from Heathrow/Gatwick/Stansted is more suitable. If in less of a rush the Heathrow Connect service are also worth considering if you are less rushed, as these service is tremendously efficient, and get you into Paddington which connects on the underground "the tube" easily. The Easybus service is also tremendously efficient and needs to be booked in advance, connecting from Baker Street to the main airports. Getting to London is also easier with plenty of affordable airline tickets into the city.
---
Jewish Life:
London has a diverse Jewish scene, and the community is use to recieving tourists, visitors and business travellers throughout the year. Don't be shy to book a ticket and turn up to a couple of events to meet the local london community and other travellers and visitors to London. Both Chabad and Centre for Jewish Life offer many opportunities to network and socialise during the Olympics.
Chabad offers shabbat meals if you book online and locally, be sure to stop by during your stay.
The Centre of Jewish Life is a professional and social based hub of Jewish life bringing the local and international community together, with a great team of Rabbi's and an action-packed itenerary during the Olympics. Stop by their cafe in the heart of the West End with FREE WIFI providing delicious freshly made sandwiches, pasta & salads along with fine pastries. Also look at their website for details of talks, lectures, shabbat dinners and lunches during the Olympics and throughout the year.
Synagogues will be running services during the games, please be aware that all synagogues and community centres will have extra security, so do not be offended if you have to answer a series of questions before being allowed in.
The local history is interesting, and many Jewish themed special interest tours take place.  Click here for more details.
(We'll be adding a list of local shuls shortly.)
---
Wishing you a warm welcome, and enjoy London 2012 Olympics!