Contributed by Erica W. | Last Date of Travel: February 2011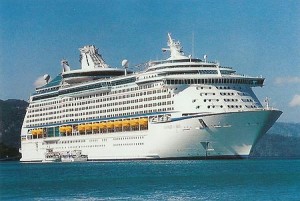 I am platinum of Royal Caribbean, so I always tend to favor their cruises because of that. We decided to book a cruise out of Miami for February, and because of our baby who was just under 10 months at the time, we decided to do a shorter cruise as a trial with her. I was a little paranoid about being on a week-long cruise with so many sea days in case we needed something.
We flew on a direct red-eye flight from SFO on Virgin America to FLL. It was a really nice flight, and it was even empty enough for us to bring our car seat on board even though we didn't buy the baby a seat. We arrived at 8:05 am in FLL and almost immediately SAS Transportation called me and asked me to call them back after we've picked up our luggage and were waiting at the curb. They came promptly and we asked them if we could stop to pick up some water on the way to the port. He promptly took us and the other couple on the shuttle to 7-11 and my husband was able to pick up 6 large bottles of water. We were concerned about having water to make the baby's formula and I did not trust the cruise cabin room water.
We arrived at the Port of Miami around 9:30am and it was still really hectic from all the previous cruisers leaving. I do not recommend getting there so early, but since our flight came in so early, we really did not have another choice. Royal Caribbean did let us go upstairs and sit in a waiting area outside the cruise terminal and my husband was able to nap for about an hour. At around 11:30 they let us go in and check in to the cruise. I got to stand in the Platinum line, which I really love, and they were really extra accommodating to us because of the baby. For example, everyone else was forming a line that would be allow people to board the boat, and they let us stay seated nearby with the baby and then let us go near the front of the line and directed us to the elevator.
Then we got on the boat and realized we had been a little too paranoid with carrying our own luggage. We had 2 carry-on size rolling suitcases, a large Britax Car seat and 2 backpacks and we had to lug this up to Windjammer and then to the pool deck until we were let into our cabin just before 1pm.  The only food that was kosher in the Windjammer was fruit, crackers and some vegetables.  Keep in mind if you are embarking early, that kosher meals will not be available until dinner on the first night.  The soft-serve machine was open, but ask your LOR about whether you can eat from it or not.
The cabin was tiny, as I booked the cheapest inside cabin available. I thought that maybe I would get an upgrade, because that happened on the Vision in 2008 when I got upgraded to a beautiful ocean view cabin automatically, however this didn't happen, as apparently the cruise was so full, no upgrades were doled out.
A few problems when we got there:
1. The pack n' play we ordered through the travel agent was not there.
2. The woman who booked my cruise said she requested a fridge for us for the baby, this never was delivered.
We immediately asked our cabin attendant, Francisco, if he could bring the Pack-N-Play (Standard Graco) and he really hesitated. He told us it was a bad idea, that it wouldn't fit and that we should just sleep with the baby in our bed. We thought this was weird, so we urged him to bring it, and he did. We set it up and it fit fine, but it literally took up the whole width of the cabin with the two twin beds made into the queen and the pack and play. He folded up a quilt into fourths and placed it in the bottom of the crib and covered it with a folded up sheet, which would make any paranoid moms be frightful of SIDS, but because our baby is already 10 months and very healthy we decided it would be better for her to be comfy than just sleep on the hard pack and play mattress. Our baby slept amazingly throughout the cruise, so the only issue was that it wasn't there when we arrived and that the attendant didn't want to bring it to us because he thought there wouldn't be enough room.
We asked him to take away the mini-bar since it took up so much of the desk, and the only thing he could do was move it up above our closet, which was frustrating. This may be why we received a $55 charge from "Majesty of the Seas" a day after sailing… even though we did not eat or drink anything in the mini bar (always check your statements and credit card bills!). We then went to the dining room to talk to the Head Waiters about our kosher meals and make sure they would be ready at dinner.
The muster drill was simple, we carried the baby up without the stroller and when we arrived at our station they told us we could go inside deck 7 and sit with the baby, so we didn't have to stand there. It was great. Then we took a nap in the cabin until our late-seating dinner.
We had requested a private table, and the three of us were placed at a table for four, which was excellent. Unfortunately, because we were kosher, we were virtually ignored by the wait staff, to the point that no was even pouring us water. The thing that made up for that was the fact that our headwaiter, Raj, was fantastic. He really took full responsibility for our kosher food and spent much of the dinner service time going back and forth getting our food, paper plates, and plastic cups, and serving us. I have been on a few cruise lines as a kosher cruiser and they all pretty much carry the same food.
There were about 10 options for meat entrees and about 4 dairy/parve options. All the food was either OU or OK Glatt and Chalav Yisroel.
Some of the meat entrees were:
BBQ Ribs (excellent)
Chicken in the Pot
Meatloaf
Chicken Shawarma
Brisket
Chicken Tenders
Hot dog on a bun
Chicken Moussak
The Dairy/Parve entrees were:
Lasagna
Pizza
Eggplant Parmesan
Fish
Gefilte Fish
They also had:
Apple turnover
brownies
carrot cake
dinner rolls
challah rolls
Royal Caribbean will also double wrap regular fish and vegetables and cut special salads for kosher travelers, but not all kosher cruisers will eat this. Do want you feel most comfortable with. I asked for a salmon double wrapped one night to see what it is, and one of the interesting things is that it came with Broccoli and Cauliflower, the types of vegetables some Orthodox Jews are paranoid about eating because of bug infestation problems, so it is definitely not for everyone. In the Windjammer they had sliced fruit (watermelon, cantaloupe, honeydew and pineapple) whole fruits, apples and bananas and some others, and packaged saltine crackers and Carr's crackers (OU).
Some complaints from Kosher cruisers: meals are only available in the main dining room unless the dining room is closed, such as at lunch on port days, in which case they will serve them to you at the Windjammer cafe. If you beg and plead they will deliver the meals to your cabin via room service, but they will never let you carry out the food yourself.
There were a lot of kosher breakfast options in the buffet and room service: Kellogg's cereals, milk (comes in individual cartons and marked OU-D), Yogurt marked OU-D, fruit, Thomas' Bagels and English Muffins – but you'll have to ask them for one before they toast them. They will give you paper cups for coffee or tea.
Key West:
The next morning we docked in Key West. We ordered room service for breakfast, and afterwards were able to get off the boat easily. We went to the Butterfly Conservatory and the Aquarium. We walked to both places, the butterfly place is only 1 mile away from the boat, and it was an easy and great walk, not sure why people pay for a bus… That night was the formal night, we took some cute pictures before dinner, and attended the Captain's Gala with the baby.
We spent the first 3 days of the cruise looking for the card room, only to realize it was the Library – a small alcove near the Purser's Desk. I was confident that the Monarch ship had a proper card room back in 1997 and convinced myself that RCCL removed it to add in one of their chargeable services like Latte-tudes or Johnny Rockets, etc. One of my favorite things to do on a cruise is to play board games and card games with my family for hours and hours, and there was no good place to do this. The cardroom/library is the only place on a cruise you won't be accosted to order drinks every 5 minutes.
Another complaint: no movie theatre! I actually have sailed on the Viking Serenade! Yes I'm that old-school, and they had a theatre playing movies all day, and it was a great source of entertainment for the young and old. When we sailed on the Vision of the Seas, they would play late night movies around midnight almost every night which added so much to my entertainment. Instead I was forced to sit in my room watching all the great movies: The Social Network, Eat Pray Love, Life as we Know it, Charlie St. Cloud, and Scott Pilgrim vs. The World. Great selection RCCL, but screen them also on a bigger screen if you can!
On day 3, we were invited to the secret cocktail party for Platinum and Diamond members which was at 11:45 and we attended after breakfast. It was a great little session and we got to ask questions. It seems like the older cruisers aren't too happy about RCCL's new branding: Dreamworks, and The Nation of Why Not. We prefer the older smaller ships, we prefer the less-commercialized days when the food was good, and there were midnight buffets every night. But I think the Dreamworks stuff and all the rock-climbing and ice skating will help attract families with kids and give Disney a real run for their money. But please do not become Carnival, RCCL. Stay classy!
We did not attend any Royal Babies events, but all they had was a nightly story time and the Fisher Price toy lending program.
Nassau
In Nassau we didn't really have a plan, and we realized Nassau kind of sucks without a plan. We started walking through downtown but then we realized it reminded us of Ensanada (Mexico), but a little cleaner and better developed. We ended up taking a taxi for $4 to the Atlantis Casino on Paradise Island which seemed like the only place to really go. My husband gambled a little bit, and we bought the expensive $39 per person pass to see the aquarium in The Dig, and Predator's Cove, which were actually pretty cool, but still overpriced.
That night we watched this terrible comedian magician, and we left early – he was that terrible. It's sad that RCCL treats Majesty and Monarch like the brunt of their fleet and gives them crappy entertainers. Perhaps I have been on so many cruises that I am biased… the first time cruisers who were drunk seemed to really enjoy everything.
CocoCay
On day 4 we got room service again, slept in a little bit and then went to the tender. There was no line which was great because we missed the rush. CocoCay was beautiful the weather was stunning, warm with a breeze, so perfect, but too cold to tempt me to swim. [CocoCay is an island in the Bahamas that is owned/leased by Royal Caribbean Cruises Ltd. is actually named Little Stirrup Cay]. We walked along the shore, stopped a few times to sit in lounge chairs and stare out on the ocean. We walked to the end of this stunning beach, where few cruisers were because it was so far, found this trail that looked like a hike, which led us to the Royal Caribbean service road, and walked along that back all the way passing all the "Staff Only" sections of the island, it was really interesting. We had some watermelon in Blackbeard's Diner, but had to go aboard to get our kosher meals. We did not take a stroller to CocoCay and just carried the baby in the carrier, which I think was an excellent idea. We had a nice kosher lunch in Windjammer (the food always arrived 10x faster in Windjammer) and then hung out on the pool deck and swam a little bit, it wasn't too crowded because everyone was still at the beach.
That night's show was Boogie Nights, the same show I saw on Vision in December 2008. Its actually a really enjoyable show, but I had already seen it so we left halfway through again. We watched the Love and Marriage Game show, always funny. We attended Karaoke twice.
Debarkation was easy. We stayed in our room until 9:15am because our baby was asleep, then we went to deck 7 and we just sat in some chairs near the atrium (our favorite spot on Majesty) and we waited to get off until 9:30am. They let us get perks because of the baby, like cutting in line etc. Customs were painless and we were able to get our bags right away. We ended up waiting curbside for an hour though because our ride was lost. But it was fine and enjoyable. Everyone was gone by 10am which was cool to see.
Here's where RCCL could have improved:
Activities that were lacking: Movies, ballroom dancing, napkin folding, ping pong tournaments, etc. I guess they cannot fit them all into a 4 day cruise, especially without any "at sea" days. Overall, I thought the cruise was a good value for the money. I did not even mind the tiny cabin because it was only for four days. We were also really close to the center of the ship and elevators so getting around was really fast. I like the size of Majesty because we could get around easily. We took a lot of walks around deck 7 with the stroller and it was great. The staff always brought us highchairs in the dining room and Windjammer, and our baby dropped a lot of Saltine Crackers on the floor. I would cruise again, but probably would not fly all the way to Florida again just for a four day cruise. It's too bad RCCL has cut a lot of their west-cast itineraries because I may be forced to change cruise lines.