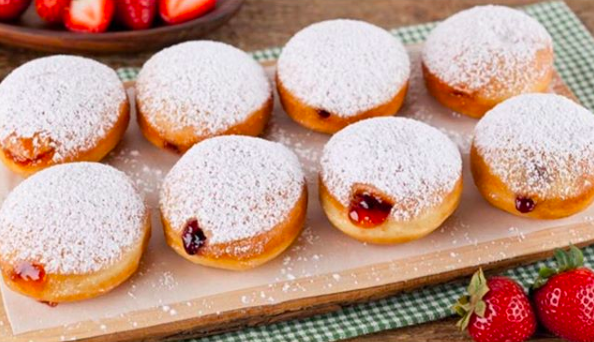 Sufganiyot are a type of jelly doughnut that is popular in Israel and amongst Jewish communities around the world, especially around the time of Hanukkah. The exact origins of sufganiyot are not well documented, but it is believed that they were introduced to Israel by Polish Jews who migrated to the country in the 19th and early 20th centuries. In Hebrew, the word "sufganiyah" means "sponge" or "spongy," which refers to the texture of the dough used to make the doughnuts.
Traditionally, sufganiyot are deep-fried and filled with jelly or jam. They are often dusted with powdered sugar and served warm. In recent years, sufganiyot have become a popular treat in Israel, with many bakeries and cafes offering their own unique variations on the classic recipe. Some common variations include sufganiyot filled with custard, chocolate, or other sweet fillings, as well as savory versions filled with cheese or vegetables.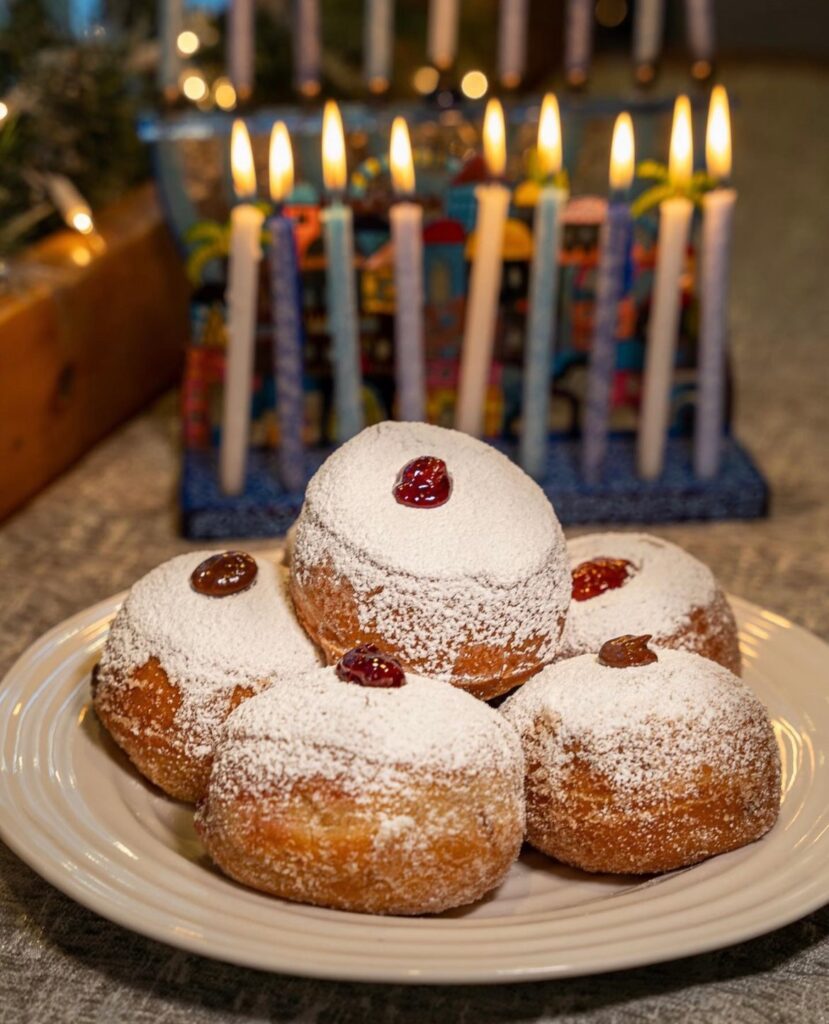 Today, sufganiyot are enjoyed by people of all backgrounds in Israel, and they have become a beloved part of the country's culinary culture. They are particularly popular during Hanukkah, when they are often served along with other fried foods like latkes to celebrate the holiday.
This recipe is designed for about 12-16 small to medium-sized sufganiyot with the ingredients listed in the shopping list below. However, this is just an estimate, and the actual number of doughnuts you make may vary.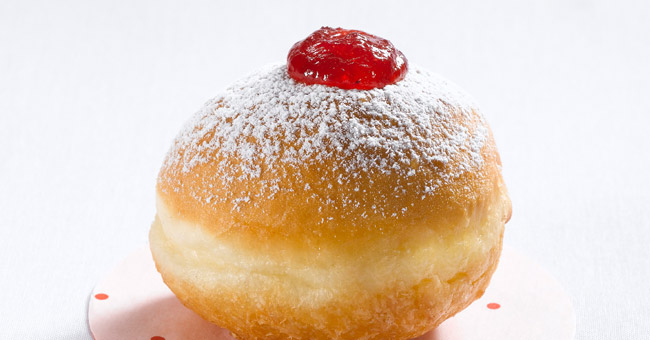 Ingredients:
1 cup warm water
2 1/4 teaspoons active dry yeast
1/4 cup sugar
1 teaspoon salt
1/4 cup vegetable oil
3 cups all-purpose flour
Canola oil, for frying
Jelly or jam, for filling
Powdered sugar, for dusting
Instructions:
In a large bowl, combine the warm water, yeast, sugar, and salt. Stir to dissolve the yeast and let the mixture sit for about 5 minutes, until it becomes foamy.
Add the vegetable oil and flour to the bowl and mix well to form a dough. Knead the dough for about 5 minutes, until it is smooth and elastic.
Place the dough in a lightly oiled bowl and cover it with a damp cloth. Let it rise in a warm place for about 1 hour, until it has doubled in size.
Punch down the dough and roll it out on a lightly floured surface to a thickness of about 1/2 inch. Using a round cookie cutter or glass, cut the dough into circles and place them on a lightly floured surface. Cover the circles with a damp cloth and let them rise for about 30 minutes.
In a deep fryer or large, deep pot, heat the canola oil to 375°F. Carefully place the doughnuts in the hot oil and fry them for about 1 minute on each side, until they are golden brown.
Remove the doughnuts from the oil and let them drain on a paper towel. When they are cool enough to handle, use a sharp knife to cut a small hole in the side of each doughnut and fill it with jelly or jam.
Dust the doughnuts with powdered sugar and serve them warm.
You can also try variations on the filling, such as custard or chocolate ganache, and experiment with different toppings like sprinkles or glaze. Enjoy!

Below you will find a shopping list with the ingredients you need in the right quantities and other materials:
| Ingredient | Quantity |
| --- | --- |
| All-purpose flour | 3 cups |
| Active dry yeast | 2 1/4 tsp |
| Sugar | 1/4 cup |
| Salt | 1/2 tsp |
| Milk | 1 cup |
| Egg | 1 large |
| Vegetable oil | 1/4 cup |
| Water | 1/4 cup |
| Jelly or jam filling | 1/2 cup |
| Powdered sugar | 1/4 cup |