I spent the day on the Upper West Side of Manhattan yesterday visiting some kosher eateries I hadn't had a chance to visit yet. The neighborhood is constantly bringing in new kosher options, and in a time when working from home is more prevalent, finding good places for all meals, and places to sit and hang out have become all that much more important.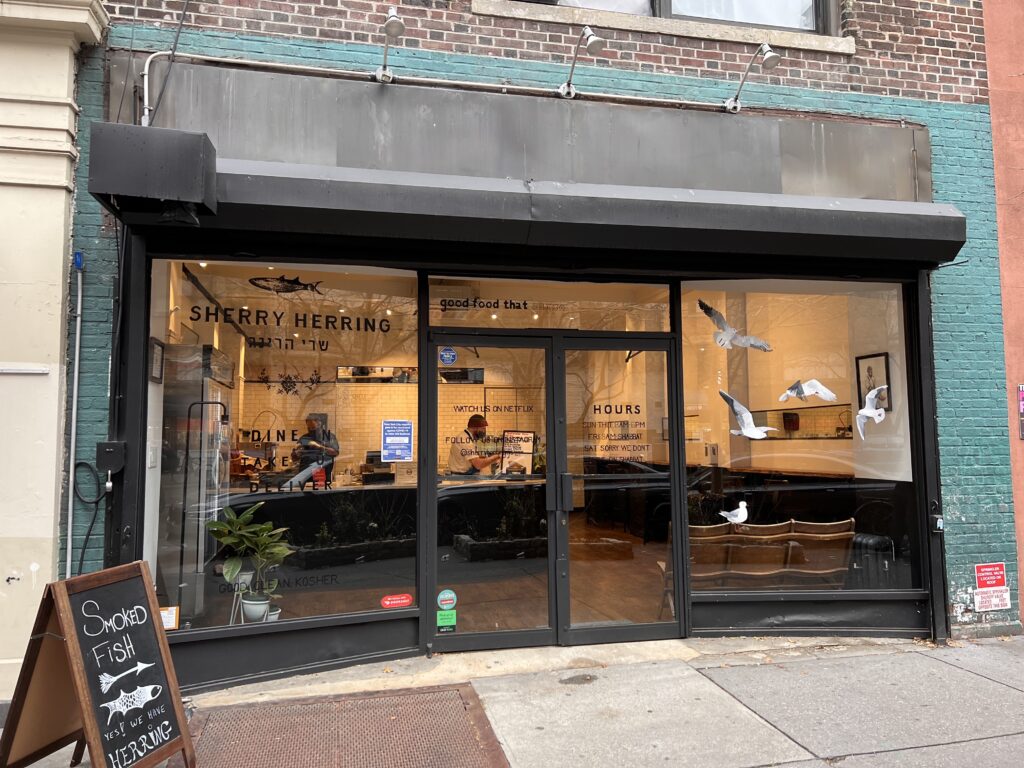 First up: Sherry Herring, the Tel Aviv-born herring sandwich phenomenon, with its original shop at the Tel Aviv Port (Namal, although that location is not kosher certified) opened a shop in NYC in the past month and is recently kosher certified. Any fish and/or herring lover needs to try the sandwiches here.
Unfortunately, no real options for Gluten-Free folks unless you just buy the fish and eat it at home, although the ownership is looking into bringing in GF bread options. The French bread used is from Patis Bakery, and is crunchy and delicious. A few seats along the wall are available to enjoy your meal in the restaurant if desired. I tried both the matjes herring and smoked tuna sandwiches. Both were delicious, pungent, and flavorful. Read more details about Sherry Herring (kashrut, location, etc) here.
Second: I needed a spot to do work for a few hours and walked to the Patis Bakery / Cafe inside the Arthouse Hotel that opened last year. Loved the space there, with free Wi-Fi, and heated semi-outdoor seating. Pastries and coffee were great and it was the perfect spot to work (or study if you need) for a few hours. I got to try the blueberry danish and the almond croissant, and both were great. Read more details about Patis Bakery at the Arthouse Hotel (kashrut, location, etc) here.
Lastly: I headed to Sushi Skooba (part of New Amsterdam Burger Bar) a new upscale sushi-grade fish – think fatty salmon, toro tuna, etc. I tried the sashimi, nigiri, ceviche, and one of their unique custom rolls, and all were fresh and delicious. Additionally, their kosher sake imported from Japan was quite enjoyable. Sushi Skooba is run by chef Yossi Charlap and the offering is of the better quality sushi options you'll find in Manhattan. Read more details about the new Sushi Skooba (kashrut, location, etc) here.

Glad to see that there's still plenty of great kosher food & restaurants in the city.