For those of you who love smoked meats, this article for you. After many years the trend has finally caught on, and id becoming a very popular trend around the world. In the US you can find places like Izzy's in NY or Milt's in Chicago, but in Israel, there are plenty of places you can find smoked meats to perfection.
Tel Aviv & Central Israel
Meat Kitchen
We have already written about Meat Kitchen in the past (click click here for the article), but to remind you, Meat Kitchen is a high end gourmet meat restaurant in Tel Aviv. Here's a sampling of the smoked dishes they offer: Smoked pastrami on a bruschetta with an eggplant cream; a smoked boneless chicken, marinated in sumac and za'atar served on a bed of smoked potatoes and sweet potatoes. There is also smoked duck that is sliced thinly and put on a salad.
Kosher Rabbanut Tel Aviv
Meat & Meat
Located in the Modi'in Industrial area is Meat & Meat, offering a platter of smoked meats at a fixed price. For 130 shekels a person you will receive a pound of smoked meats including: duck, rib eye steak, short ribs and chicken breasts served with campfire potatoes, chimicchuri sauce, freshly baked bread, and lightly smoked vegetables. There are other options on the menu where you can receive a large portion of what is offered inclusing a larger portion of rib eye, short ribs, fillet minion and more.
Kosher Rabbant Modiin
Greater Jerusalem Area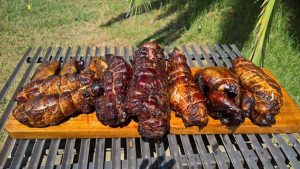 BishiQ
BishiQ is another relatively new restaurant in Mishmar Ayalon that opened earlier this year.  There are 3 different ways to enjoy the all-you-can-eat smoked meats and bottomless beer & wine. Each one has a different price and it varies from 175-250 shekels. You'll find meats like homemade sausage, marinated chicken, kabobs, steaks and much more.
Kosher Rabbanut Gezer
Hacnaanit
Located in Mishor Adumim, right next to Maale Adumim, is Hacnaanit. Hacnaanit is an outdoor restaurant that offers you an experience where food meets the desert. Their specialty, though, is their smoked meats. You can find a half smoked chicken or veal ribs marinated in miso and dates served with campfire potatoes. You can find steaks on the menu as well as a kids menu, so there is something for everyone.
Kosher Rabbanut Mateh Yehuda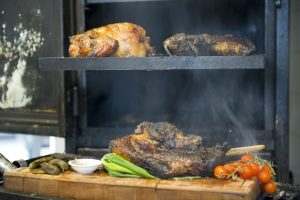 Yoel's Smoker
In the heart of the Judean desert, right off the road that connects Jerusalem and the Dead Sea, is Yoel's Smoker. The concept is a crossover of a deli and a bistro all surrounding the 'art of meat.' You can order a smoked meat platter that was smoked on wine barrels and house made sausages smoked to perfection. You will also find many grilled items on the menu, but we urge you to opt for the smoked meats!
Kosher Rabbanut Mateh Yehuda
North
Tanduka
Tanduka is a culinary institution in the old moshava of Yokneam up north. Located at the entrance to a beautiful forest, you will taste how the restaurant was able to connect the nearby nature into its smoked dishes. Check out the smoked lamb shoulder served on a bed of pureed Jerusalem artichokes or the smoked short ribs served with a reduction sauce and root vegetables. Tanduka also offers vegetarian dishes, a large variety of grilled meats, chicken scalopini, and even a kids menu. If you find yourself traveling up north with the family, then Tanduka is a great option for you.
Kosher Rabbanut Yokneam
Chavat Habokrim
In the Golan heights you'll find a great establishment that offers not many dishes off the smoker, but at Chavat Habokrim, they do have a few dishes smoked to perfection. You will find short ribs off the bone that have been smoked for over 12 hours, and a whole chicken served with chimicchuri sauce, as well as veal spare ribs.   The restaurant is part of a holiday village, so if you need a place to stay you can look up the Marom Golan Tourism page.
Kosher Rabbanut Ramat Hagolan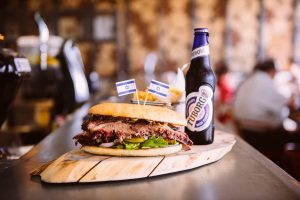 Brisket Bar
On one of Israel's main highway's, route 4 by Chadera is a gas station that has opened up a couple of restaurants. The one you should check out though is Brisket Bar. The restaurant has recently opened and features a great selection of meat & beer. [Read up on kosher restaurants at gas stations in Israel]
Kosher Rabbanut Chadera
Tishbi Winery
Who would have thought to put a winery together with a food truck that served smoked meats? Well, every Friday at the Tishbi Winery, the winery opens their "Food Truck BBQ" and offers a feast of smoked meats to be paired with their wines. They offer a small variety of meats like brisket, shoulder, ribs, and whole chicken. You can enjoy the meat in a sandwich to dine there, but the highlights are the smoked meats to take home for Shabbat. Nothing can make your Shabbat better than some smoked chicken and brisket!
Kosher Local Rabbanut
Note: For those that only eat Mehadrin, sadly there are no kosher mehadrin smokehouses in Israel yet.