At New York's 11th Annual Kosher Food & Wine Experience (KFWE NY), Feb 13 at Chelsea Piers, a gourmet spread will be served to complement the more than 30 brands of world-class kosher wines and spirits being poured by the Royal Wine Company that evening.
KFWE participants will be able to sample a variety of appetizers, entrees, and desserts from the menus of top kosher eateries and gourmet specialty food companies from the tristate area.  Among the more than 30 on hand will be traditional favorites such as Abigael's and Le Marais, to the unique flavors of Wandering Que and Koshe Poke.
Are you attending next week?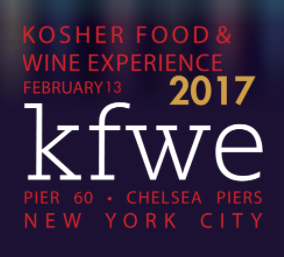 Tickets are available here and are expected to sell out. 
KFWE NY 2017 Restaurants/Caterers/Food Co.
Silverleaf Caterers
Glatt A La Carte
Bedford Kitchen & Bedford on Park
Pomegranate
Wandering Que
Marani
Teaneck Doghouse
Grow & Behold
Le Marais
Graze
Abigael's
T Fusion Steakhouse
Pitopia
Sushi Tokyo
The Nuttery
Miami Beach Chocolates
Susan Sez "Say it With Cake"
Mr. Penguin
Shlomie's Heimesche Bakery
etc. steakhouse
Promenade Bar and Grill
Koshe Poke
Brooklyn Beans Coffee
Judd's Memphis Kitchen / Judd's Holy Rollers
Great Falls Bistro
Sprinkles
Reserve Cut (only in the . VIP Lounge)