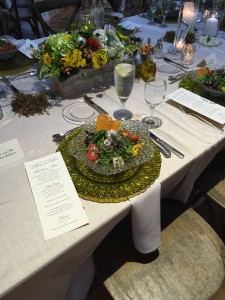 Kosher travelers to Miami (as well as locals) can now enjoy gourmet Friday night Shabbos dinners at one of the most popular hotels on the Miami Beach boardwalk, the Eden Roc.
The pre-paid meals are catered by Danziger Kosher Catering, where the "wedding-like" meals (according to the caterer) are held in an extravagant dining room with a lavish buffet which includes nice kosher wines and all soft drinks.
[
This is in contrast to Shabbat meals at nearby Rare Steakhouse inside Tower 41, which also serves Friday night meals but is waiter service, like a traditional restaurant. We had a Friday night dinner at Rare back at the busiest Shabbat of the year during Yeshiva Week in January earlier this year, and while it was completely packed and hectic, everyone enjoyed a quality meal and left satiated & satisfied.
]
The Shabbos meals at the Eden Roc are available weekly to all (not just Eden Roc guests) starting the last Friday in October until Pesach. It is $100 per adult and $50 per child 11 and under.
For reservations, contact Kelly at 305.674.5577 or [email protected]