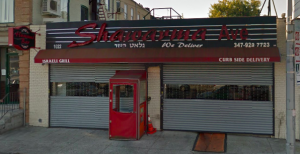 My Grill Bar opened today in Brooklyn, replacing "Shwarma Ave" on Ave P, but from the looks of the menu, it sounds like the food they'll be serving won't be too far off from the restaurant it is replacing.
MGB's menu includes Israeli staples like shwarma, schnitzel, shish kabobs, and also includes burgers, grilled chicken, and salads. Any of the aforementioned meats can be served in a wrap, pita, baguette, salad, or platter.  [Click here to view the menu]
My Grill Bar is being run by the same owners as Joseph Dream Burger and Retro Grill, both Brooklyn fleishig eateries. The restaurant is Glatt Kosher/Beit Yosef under the supervision of Rabbi Gornish. 
H/T Elan Kornblum