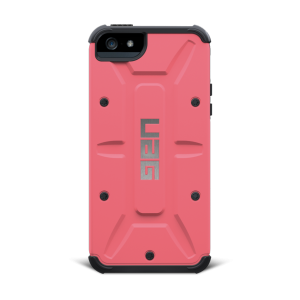 Earlier this year, I was approached to try out a new line of cases and was able to test out the UAG (Urban Armor Gear) cases for my wife's iPhone 5S and an iPad Mini. It was especially important to protect my wife's iPhone as my kids always tend to grab her phone and disastrous things have occurred in the past.
She's been using the UAG "Valkyrie" case for the iPhone 5S for a few months now and it's been phenomenal. It's protected her phone in basically every situation (not water of course) keeping her phone's body & screen fully intact.
In fact, the case was so good that after my case didn't do its job in protecting my phone, I opted to purchase one for my iPhone 6 from UAG. The hard plastic body and hard rubber corners fully protect my phone from all mishaps and I totally love it. It's definitely on the rugged end of case designs, but I've realized that that is what is necessary to protect these devices.
Here's a tip for train commuters like myself: get the clear case and put your railroad pass on the inside. I just flash the back of my phone to the train conductor and I'm good to go. 
UAG also makes cases for the top Samsung phones as well that are just as protective.
As a piece of additional advice, I also recommend getting a tempered glass screen protector, which I also purchased and has prevented any scratches to my beautiful iPhone 6's screen.
Here's a list of cases they offer, and I definitely recommend them to protect your phones from most mishaps.
Curious to hear about your favorite cases that we should try. Hit up the comments below.