If you have an Android, you can save $6 through March 31st when ordering using Google Wallet from the Eat24 app.  (Thank you DansDeals for the tip)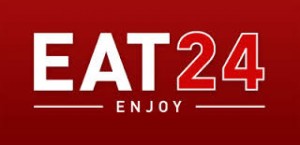 For an additional $2 off any order through March 28, 2014, use the coupon code RELAX when checking out.
Although the full discount may not show up on the final checkout page, it will work and you will see that you save $8 on your credit/debit card statement.
Kosher restaurants available to order from on the Eat24 app are:
Houston:
Suzie's Grill
Livingston, NJ:
Fumio Grill & Sushi
Los Angeles:
Beverly Hills Thai Kosher
Bibi's Bakery & Cafe
Bodhi Kosher Thai Kitchen
Chick 'N Chow 
Delice Bakery
Elite Cuisine 
Got Kosher (Memphis-Style BBQ beef sandwich for $6!)
Habayit
Haifa Restaurant
Meshuga 4 Sushi 
Meshuga 4 Sushi 2
Pico Cafe 
Pizza World 
Shanghai Glatt Kosher
Miami Metro:
Beit Burger
China Beach
Lul Grill Cafe
Seventeen Restaurant
NYC Metro:
18 Restaurant 
Colbeh
Crisp Grill 
Empire Grill
Gottlieb's
Kosher Deluxe: Save 20% on top of all offers here!
Nish Nush
Perizia Kosher Pizza 
Pizza By The Bay 
Shalom Bombay 
Shuk
Philadelphia Metro:
Burger.Org
Providence, RI:
Veggie Fun
S. Antonio:
Green Vegetarian Restaurant
Washington DC Metro:
Eli's Restaurant
Nut House Pizza