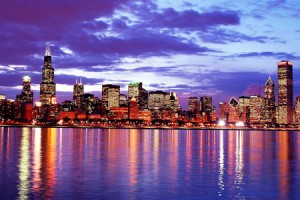 Contributed by: Dani Klein | Last Date of Travel: April 2010
Kosher Info:
Chicago's large Jewish community allow it to host a sizable number of Kosher restaurants, albeit mainly in the suburban communities of Skokie and West Rogers Park. There is one Kosher restaurant downtown, not too far from the Willis Tower called Metro Klub (733 West Madison St). Unfortunately, when I was in the area after Pesach, they were closed for business.
In Skokie, I had the opportunity to try a few good Kosher places. For breakfast, Bagel Country (9306 Skokie Blvd) is a large bagel shop, with a large array of tasty New York style bagels, which I was happy about. I tried the unusual za'atar bagel, which was quite savory and tasty.
Ken's Diner, a famous "greasy" burger joint, was a definite treat. The atmosphere was of a true diner – something you don't see in most Kosher places. The food was greasy- as promised- but amazingly delicious. The burgers and fries are top notch. Highly recommended.

Next door to Ken's Diner is a Kosher dairy / pizza joint: Malibu Pizza, which I did not have the pleasure of trying, but the atmosphere was very beach-like.
On motzei Shabbat we headed to Slice of Life, a large dairy restaurant that serves Chicago style deep dish pizza. You can't be in Chicago and not have some deep dish pizza, right? The food was good with a nice atmosphere. Slice of Life is attached to: Hy Life Bistro, a nice meat restaurant that we did not have the opportunity of trying.
I also tried Taboun (the one in West Rogers Park – which has since closed – but one remains open in Skokie). Taboun is a Middle Eastern style restaurant with delicious home made pita, chummus, and other such dips, as well as amazing kabobs, meat, baby chicken, and the like. If you like Israeli / Moroccan / Syrian / Sefardic style food, you'll enjoy Taboun.
Other well known Kosher places in the Skokie / West Rogers Park area that I was not able to try include:
Shallots Bistro is a famous fancy eatery that everyone raves about. It's a beautiful restaurant with a mouth watering menu.
Romanian Deli, which all of my Chicagoan friends rant and rave about. It's on my hit list on my next Chicago visit.
The local hechsher in Chicago is the CRC.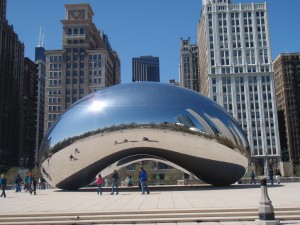 Tourist Info:
The city of Chicago is well known for it's skyline & architecture. Numerous tours of all kinds are available to experience and learn about Chicago's architecture and history. We decided to hop on one of the many boat tours that ran along the Chicago River, and had great views throughout.
Due to it's prominent skyline, tourists have a choice to visit the top of some of the largest buildings in the United States: Willis Tower (formerly the Sears Tower), the Hancock Building, the Trump International Hotel and Tower, and the Aon Center, amongst numerous other skyscrapers. Watching a lightening storm hit the city is quite majestic.
We loved visiting the Museum of Science and Industry, which is great for both adults and children; and also the Art Institute of Chicago, which is a great all around art museum in the center of town.
Chicago also has a great high end shopping district known as Magnificent Mile, which is somewhat similar (although not as robust) to 5th Avenue in NYC. The one caveat about shopping in Chicago, is that the taxes are some of the highest in the US, so you may want to shop at home.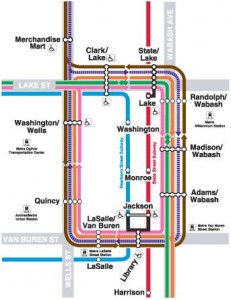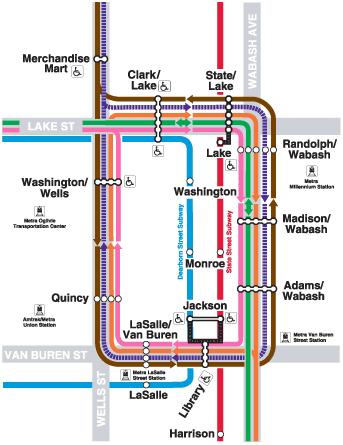 Other points of interest include: Riding the "el" through the downtown "loop" (really old school subway), the metal bean at Cloud Gate / Millennium Park, comedy clubs – the city is known for producing many members of Saturday Night Live so be sure to check out it's Improv comedy scene.
It's also worth noting that because Chicago sits on Lake Michigan, it's known for being quite cold and rainy. Do check the weather reports before your visit. And while Chicago is know as the "Windy City" – yes it can be very windy – but the name also comes from the Chicagoan politicians. I'll leave it at that.
Jewish Info:
Chicago has one of the countries largest Jewish communities. The Orthodox populations and communities are clustered in the Skokie and West Rogers Park areas. Lakeview and further south near the downtown areas also have Orthodox. Refer to the Chicago Shul list here.