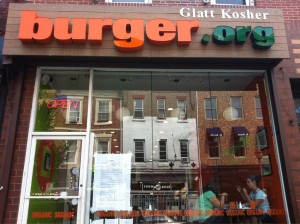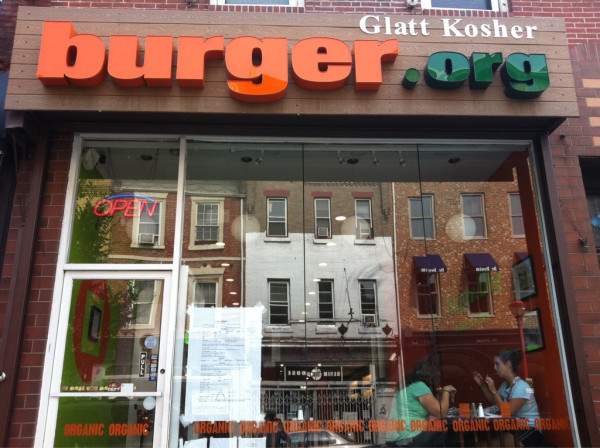 This past Labor Day I spent a few days checking out Philly and it's growing Kosher scene. Brand new in downtown Philly is Burger.org and Chicken.org – sister restaurants around the corner from each other offering meat and fowl menus respectively. Don't bother visiting the websites at ".org" as they don't own them. I was explained by the owners that ".org" means "organic". This is only the beginning of the woes in store here. (Burger.org's website is actually http://burgerorg.com – go figure)
{We wrote about the opening of these places not long ago: Burger.org Opening and Chicken.org Opening}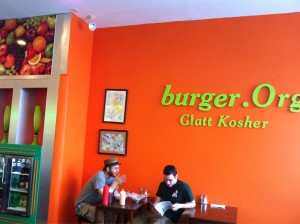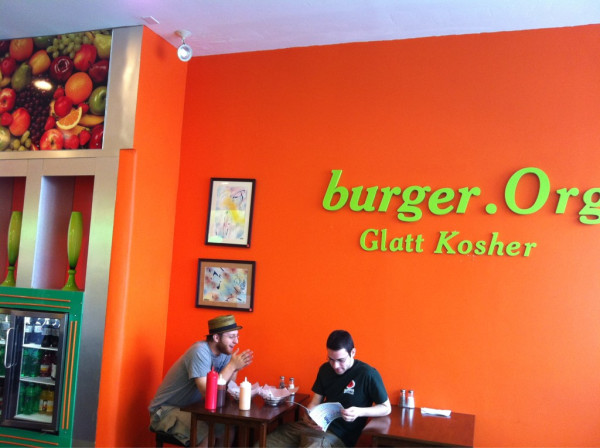 Walking from center city (specifically the Independence Mall area) it's a 10-15 min walk to South Street where both of these restaurants are located. I first stopped by Chicken.org. The first thing I noticed was the lack of A/C. A big no-no in my book. I can't enjoy a meal indoors if I'm being cooked along with the food. Secondly, there were numerous trays of different types of chicken dishes behind the counter. I couldn't tell if this was a sit down restaurant or a take out place. The seats and tables imply restaurant … But lastly I notice that the place was empty. Not one person sitting and eating. I also didn't see a menu.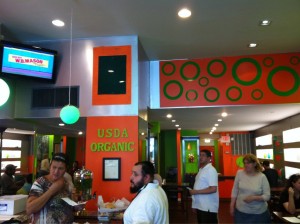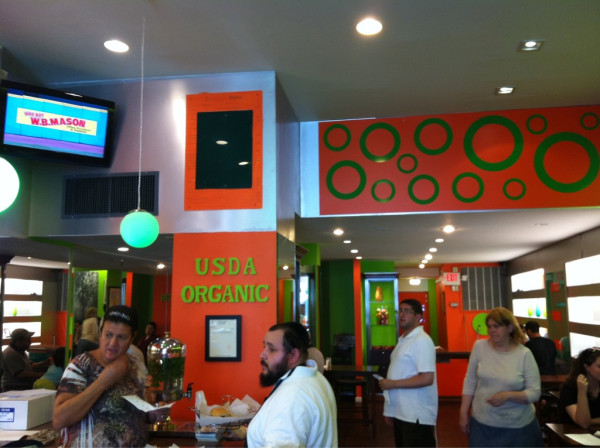 I proceeded to try my luck at Burger.org around the corner. As I walked in it was truly a breath of fresh air. Not only was the place air conditioned, but it was bright, colorful, inviting, packed with people and smelled great. I couldn't wait to check out the menu and start the meal.
I ordered the El Mariachi Burger (on organic beef) and my wife ordered a Steak sandwich on a baguette. My burger was to come with a Mexican salsa, guacamole, chipotle as well as the regular lettuce, tomato, and pickles. Her steak sandwich was just with lettuce, tomato, and pickles. We also ordered a mix of regular fries and sweet potato fries.
After a fairly decent wait, our food arrived. Here's where I have some beef (no pun intended) with Burger.org:
My burger was small. No way around it, it's a small portion. It wasn't particularly expensive, but I'd rather pay a few dollars more for a larger portion (bigger burger or double burger) than have to reorder and wait another 20mins. And if you know me, I'm not a big guy. This was just plain small.
(I had a look at the "3 Mini Burger" dish which was $3 more expensive than my burger – each burger was so tiny I could've likely ordered 3 plates of it.)
Considering what I ordered, I was expecting a tasty, different sort of burger. I found it nearly flavorless. I needed to add multiple sauces they had available (which were also tasteless) and it didn't really help. The burger itself was fresh and definitely tasted less processed, as it was organic, but it didn't make up for its lack of flavor.

Next, my wife's steak sandwich: I wasnt exactly expecting an actual cut of steak in a baguette, but perhaps strips of steak? Nope. It was ground meat. Looked like Sloppy Joe sort of meat. Flavor was OK.
Our basket of fries arrived at the table and first I was underwhelmed. If you want to impress me, there should be an abundance of fries, but here, the basket wasn't close to being filled with fries. On top of that, the fries were lukewarm. I sent them back and made them bring out fresh fries. When we got them back, they were good, albeit soggy not crispy. That was the only tasty thing we ate there.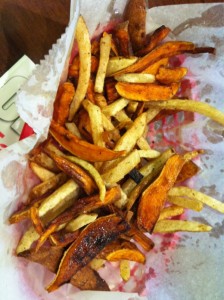 Other notes:
There was a large TV playing sports keeping me occupied while I waited for my food. Not bad.
There's a glass jug dispenser filled with water and nana mint leaves that is free for anyone to take. Nice touch.
The place is clean.
There's no system for delivering the food to the people who order it. This needs to be fixed. The current system is shlocky and messy.
Everything is organic which is a huge plus.
Prices are low, especially considering it's organic – but thus far, you get what you pay for.
This review sounds pretty bad I know. I normally don't write such disparaging posts but in this case, we were so disappointed that I needed to get the above points out to kosher travelers in downtown Philly, and especially to the owners. Please keep in mind that these places are really new (less than a month) and it's possible that within a short time many of these kinks will have been worked out. Please report back and comment below if you've experienced something different than I have. I hope so!
Special Note to the owners:
Please do not take offense to this post. I am hoping that you can use the critique presented here to better your products and restaurant experiences.
Chicken.org isn't a proper restaurant. I don't know what it is. It needs a major overhaul.
Burger.org has promise to be a great restaurant but it isn't currently. I recommend serving larger portions at higher prices. No one wants to leave hungry or dissatisfied. I'd gladly pay another $3-4 for a large tasty burger that leaves me satisfied.
The kitchen should call out the order numbers and have people come pick it up themselves in the back. This will save everyone from the confusion I experienced.
The flavors of your meat and sauces need to be reworked. It was very bland all around.
I also recommend coming up to NYC and visiting one of the Burger's Bars there. There's a lot you can learn from them and you'll likely be compared to them by many of your kosher customers.

I hope you take some of these suggestions seriously and I hope to see a new and improved Burger.org soon!

(Oh, one more thing, please do something about the name! Burger.org makes no sense unless you own the domain name!)
~Dani